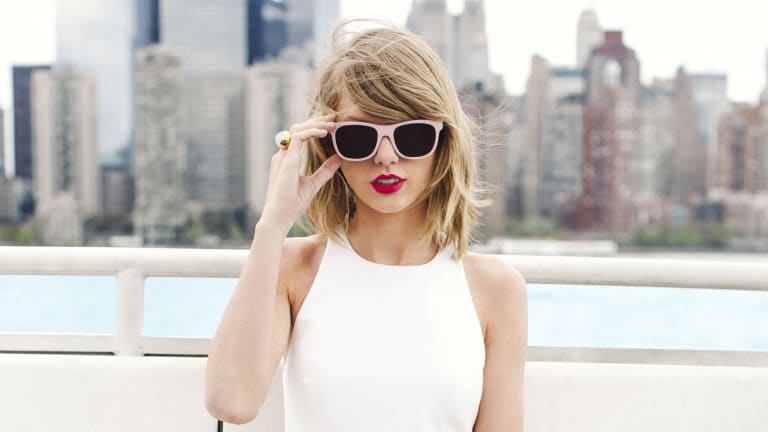 Taylor Swift's Trial Makes An Important Point About How Women React in the Moment of Assault
She won her sexual assault trial, despite her smile being used against her.
Taylor Swift had a major victory this week, and it wasn't just for her. Swift won her case against DJ David Mueller, who lost his job in 2013 after Swift accused him of assault. Mueller sued Swift for $3 million in damages; she counter-sued, standing her ground and maintaining her assault complaints. As the case concluded late last week and yesterday, the jury sided with Swift. Being awarded just her requested $1 in damages for assault and battery—oh, all the options at Dollar Tree!—it's clear that this victory wasn't for material gain. What Swift won this week was a gift for us all—an important statement about sexual harassment and assault. 
Four years have preceded this moment for Swift—a moment to stand for the principle that sexual assault is wrong; women are not objects for male consumption; and such behavior must be accounted for. 
As a refresher, the ordeal began at a concert in Denver, Colorado, in 2013. Mueller and his girlfriend attended a pre-show meet-and-greet and were granted a photo op with Swift. Mueller proceeded to reach under Swift's skirt and grab her butt as the camera flashed. That photo, later made public, showed Swift forcing a smile and sidled up to Mueller's girlfriend, trying to scoot away from him, his arm and hand visibly well below her waist. 
While Swift is a highly successful woman with no need for financial remuneration, it's worth noting the sacrifices she made in order to make this statement—sacrifices that many average women are unable to make. The legal costs, the time required, the risks to one's reputation simply for coming forward—these were surely not small costs for Swift, but they are probably far more intimidating to women without the wealth and protection celebrities know. In a statement, Swift said: "I acknowledge the privilege that I benefit from in life, in society and in my ability to shoulder the enormous cost of defending myself in a trial like this. My hope is to help those whose voices should also be heard. Therefore, I will be making donations in the near future to multiple organizations that help sexual assault victims defend themselves."
In addition to helping people through donations, Swift's testimony also has done a great service to the public awareness of the nature of assault. Violators bank on women staying quiet, on the hassle and public scrutiny it takes to make a fuss. Of course in the middle of a meet and greet, Swift would feel pressure to keep an even keel, to not make a scene. This is how so many violators get away with assault. In countless assault cases women are judged on whether they reacted as strongly and dramatically as we might arbitrarily imagine they should, with little acknowledgment for the myriad psychological and physiological responses that happen in those moments—including numbness and freezing.
What if no one believes me? Swift showed that women have good reason to think this this way—questioning why Swift didn't more forcefully make a scene at the moment of the violation was part of the defense's strategy. Mueller's lawyer used the photo, in which Swift is smiling—even if uncomfortably so—to say that she must not have really been assaulted. During the closing arguments, E! reports that Mueller's lawyer held the image and, "asked if that was the face of a woman who has just been assaulted."
The answer, we now can all say, is: Yes, that is the face of a woman who had just been assaulted. Just because a woman can keep her composure after being violated, doesn't make it less of a violation. To me, it only makes it more sad. 
So yes, Swift smiled through the photo and kept her cool immediately afterward. Then she took action that led to a just verdict. As her lawyer, Doug Baldridge, so aptly said in closing statements, Swift's rewarded damages are "a single symbolic dollar, the value of which is immeasurable to all women in this situation." 
Photo via NPR