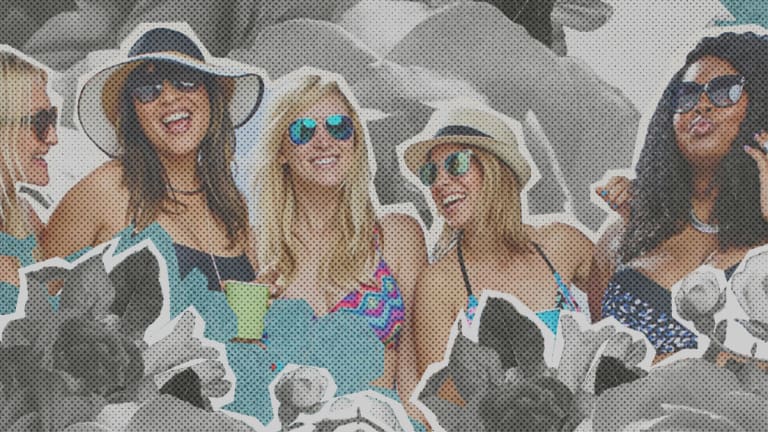 This Unexpected Ad From Target Saved My Summer
Sometimes inspiration comes from unlikely places
In late July, Miami Swim Week took place. The bathing suit version of fashion week features bronzed bikini-clad models strutting around in what we're told will be next year's hottest trends. This year, though, one runway switched things up: Sports Illustrated. The magazine-turned-swimsuit-brand launched its 2018 collection with a new lineup of plus-size suits modeled by the women they were designed for—in other words, women who don't fit the size 2 mold.
SI Swimsuit editor MJ Day told the New York Post after the show, "I think [the attendees] were shocked because you don't typically see that at fashion week . . . especially at swim fashion week. . . . Some people [in the audience] were moved to tears because they saw themselves represented on the runway, which they never thought they would."
While it's great to see swimwear made to fit a variety of women's shapes and sizes, it probably goes without saying that even this new inclusive collection, with chest-baring silhouettes reminiscent of Baywatch, remains ever glued to the SI mantra: Sex sells. And that's why even amid all the efforts various swim brands have shown this summer toward body diversity, there's one that really stood out to me: Target.
When Target released its latest swim campaign at the start of summer, I realized I was witnessing the body diversity ad campaign I've been waiting for—that is, an ad campaign where even I could fit in as a model.
Expanding the imagery in advertising to include women of different shapes and sizes is not a new phenomenon. Dove set a new standard with its ad campaigns in 2004, and others have followed, such as Aerie for American Eagle, Lane Bryant, and even more bespoke lingerie brands like Naja. While many of these are steps in the right direction for breaking molds of unrealistic imagery in media, I can't help but sometimes feel that even the "plus-size" models depicted in campaigns like these are still unattainable—they may be larger women, but they generally have thinner waists and pin-up style curves that are often sexualized in skimpy outfits. But even now, as we inch closer to fall, Target still holds the top spot for the season's most inclusive and inspiring looks (at least, in my opinion). No other brand matched that perfect balance of relatability and ease of self that I think so many of us are dying to see more of from the brands we shop.
The girls featured in Target's swimwear campaign have bodies I would actually see at the beach; thighs that touch each other, tummies with stretch marks, faces with pores—in other words, real-life women. In the photos, the models are all smiles, sitting without concern for cellulite or other visible "imperfections."
It turns out I'm not alone, as many women have been posting photos of themselves on social media with the #targetswim hashtag all summer. And they look just as lovely as the women in the professional photo shoot.
For years, swimsuit ads have featured aspirational images of models, with flat tummies, not a drop of sweat, and skin as hairless as if they were born yesterday. Even the "Aerie Real" campaign, hailed for its refreshing take on real beauty, seemed far from attainable to me. Aerie may not use Photoshop, but their models seem to only have "cute" imperfections such as freckles and messy hair. Lane Bryant, meanwhile, heralds the cause of body acceptance activist Ashley Graham, but there's not a dimple or bump in sight in their swimwear images.
Which is what makes Target's campaign so delightful for me.
I understand that many magazines and ad campaigns intend to be aspirational, and in some ways other-worldly. But aspirational doesn't always mean inspirational. Target, of all places, hit that mark. Their campaign made me feel the most inspired to take on the beach with my normal sweaty, stretch-marked, and freckled self, and through it all be happy. The swim campaign inspired confidence in me, and even led me to purchase one of the suits for myself—and have my first confident outing to the beach in years.
We know ads have the power to make us feel. This is just the first time a swim ad made me feel good—not like I was staring at the body of a mannequin. Which is the point, after all. We're not objects to be ogled at on the pages of glossies, or on the beach for that matter; we're perfectly unique women just here to enjoy the waves.