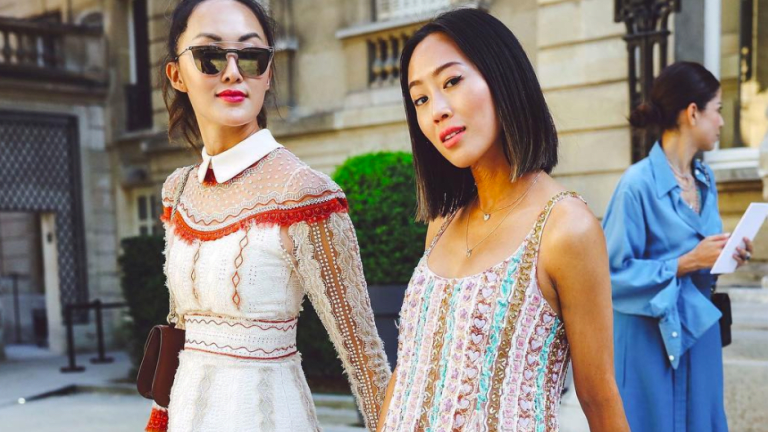 5 Hacks for Looking Cute Even When You're Melting in the Heat
What to wear when you don't want to wear anything
Admittedly, it's been a pretty mild summer, but there's no escaping it: August feels like a never-ending road of hot asphalt with no escape. With temperatures rising and the humidity out with a vengeance, we're finding ourselves in the sweaty puddles and wondering what to wear. Don't give up all hope yet! Here are a few hacks for maintaining your cool (even when it's 90 degrees).
Get Creative with Breezy Proportions //
Normally, instinct says to create a balanced silhouette by cinching the waist. This summer, however, try some experimental silhouettes that go with the flow—literally. Try wearing a breezy top with a breezy skirt or pants for a more artistic, tiered look. If you're afraid of the look coming across as frumpy or lazy, wear matching colors to create an intentional monochrome outfit, and wear a pair of dressier shoes. 
Pull Back Your Hair //
This is a must. Hair can be heavy and sticky, so forget about a sleek blowout. Go for a classic top knot, or get creative with a braided up do look. By simply putting a little more effort into your hairstyle, your entire outfit can be transformed to look more pulled together. Try our favorite hot weather hair tutorials here.
When in Doubt, Tent Dress //
Less is definitely more during a heat wave. Forget complicated outfit combinations and stick to the one-and-done dress. Better yet, swap out form fitting dresses that restrict air flow and go for the tent dress. With optimal ventilation and breeziness, the tent dress simply feels like a lightweight piece of fabric.
Never Underestimate the T-Shirt and Skirt Combo //
Unfortunately, a closet full of dresses isn't always practical. The second most comfortable and breathable option? The skirt and tee combo. Equally cute and classy, the T-shirt and skirt outfit is easy to throw on and doesn't sacrifice your style. The cotton tee won't trap in heat,  and the skirt will catch any summer breezes coming your way!
Compensate with Bold Accessories //
If you're rocking a super simple getup and want to elevate your look a bit, go for bold accessories. Your most plain tank top will suddenly look regal when paired with bright statement earrings or necklace. Get creative with handkerchief scarves by tying them to your purse, wrist, or belt loop. Throw on a bunch of rings and swipe on a rouge lipstick before heading out the door!