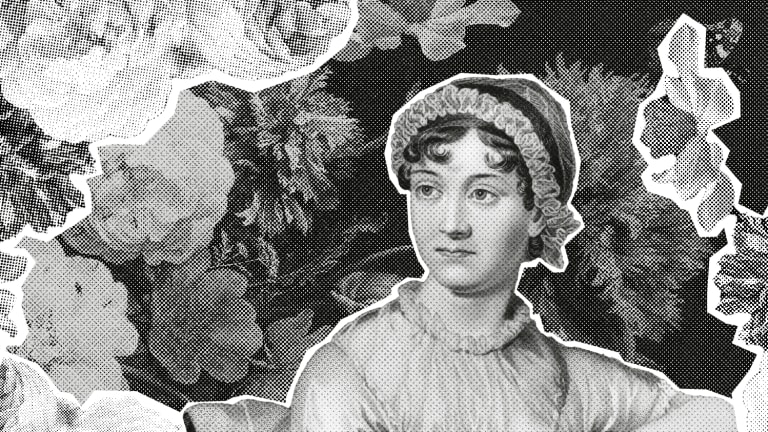 No Matter What the New Pride and Prejudice Is Like, Here's Why It's Going to Be OK
Worried about the new 'darker' adaptation of your favorite novel? This will help.
By now Jane Austen fans everywhere have heard the news that a new TV adaptation of Pride and Prejudice is in the works. Although it's unlikely that the new series will be hitting screens in the U.K. before 2020—an air date has not been announced yet, nor has a U.S. run—it has already been sparking its own fair share of controversy since the announcement was made a few weeks ago.
The adaptation will be handled by the team who created the hit costume drama Victoria, and it will be the first time in TV history that a company other than the BBC has made a version of this much-loved classic novel. Already, fans have reason to worry; the production's writer, playwright Nina Raine, commented that "Pride and Prejudice is actually a very adult book, much less bonnet-y than people assume. I hope I do justice to Austen's dark intelligence—sparkling, yes, but sparkling like granite."
While I'll be among the first to protest a bodice (and bonnet?) ripping version of Pride and Prejudice, perhaps it won't be as bad as all of that; after all, even the most hardcore Austen fans have to admit that a little artistic license here and there is not always a bad thing. In fact, some of our favorite on-screen Austen memories embellish a bit from the source material. So, in the interest of keeping an open mind—and as a reminder that no bad adaptation can ruin the original novels—here are ten departures from the book that various on-screen versions of the story have made over the years.
01. Mr. Darcy's infamous wet shirt scene 
(Pride and Prejudice, 1995, BBC miniseries featuring Colin Firth as Mr. Darcy)
He needed to get back to nature, OK?
Yes, the 1995 BBC miniseries of Pride and Prejudice was a true classic, and pretty much flawless in my mind. But no, Jane Austen didn't write that bit where Mr. Darcy takes a dip in his lake and then encounters Lizzy in his soaking wet white shirt. I think most of us can agree, though, this is a pretty good addition.
02. That time the Bennets and the Lucases had a horse-and-carriage race to meet Mr. Bingley 
(Pride and Prejudice, 1940, film starring Laurence Olivier as Mr. Darcy)
"I may not be subtle, but I'm not that crazy."
Don't remember this bit from the book? That's because it's not there. Of course it's not; sure, they're all desperate to meet the latest eligible bachelor in town, but there are also certain social norms to follow, which even the terrible Mrs. Bennet adheres to.
03. Ridiculous historically inaccurate costumes
(Pride and Prejudice, 1940, film starring Laurence Olivier as Mr. Darcy)
Oh, I do declare!
While we're on the topic of the 1940 movie version, it's hard to avoid the glaringly obvious, and seemingly totally random, decision to set the story thirty years later than the book, resulting in wildly historically inaccurate costumes. Maybe the costume designer just really didn't like the whole empire line waist look; whatever the reason, it just adds to the whole flouncy, giggly, bizarrely un-Austen-like effect.
04. A very different Lady Catherine de Bourgh
(Pride and Prejudice, 1940, film staring Laurence Olivier as Mr. Darcy)
1995 Lady Catherine does not like this one bit.
OK, the 1940 movie version is just such an easy target; one of the most major changes it made to the story was to portray Lady Catherine de Bourgh as someone who secretly admires Lizzy's guts and gumption. "She's right for you, Darcy. You were a spoiled child, and we don't want to go on spoiling you. What you need is a woman who can stand up to you. I think you've found her," she tells Darcy near the end of the movie. Needless to say, the end of the movie is radically different from the novel.
05. Darcy's first proposal in the rain 
(Pride and Prejudice, 2005, film starring Keira Knightley as Elizabeth Bennet)
Because everything's more dramatic in the rain.
In the novel, Darcy stands awkwardly and tensely in Mr. Collins' parsonage during the first proposal scene; in the 2005 film version, he catches Elizabeth unaware as she shelters from a thunderstorm on a Grecian-style folly. There's nothing quite like a bit of pathetic fallacy to add some drama to a scene, after all.
06. That time they managed to make Pride and Prejudice yawn-worthy
(Pride and Prejudice, 1980, BBC miniseries)
"What are men to rocks and mountains?"
It may be true that much of the novel takes place inside various ballrooms and drawing rooms, but Elizabeth Bennet's spirit is one of the outdoors; she's described as being hugely energetic, always taking long walks and revelling in the grand beauty of the wild. The 1980 adaptation was filmed like a play, largely inside and with very little visual artistic interpretation; it's so stiff and boring, it almost manages to kill the classic (luckily that's not actually possible).
07. Mr. Darcy's bath
(Pride and Prejudice, 1995, BBC miniseries, starring Colin Firth as Mr. Darcy)
What? A man's got to get clean somehow.
Needless to say, Jane Austen does not describe Mr. Darcy having a bath and then watching Lizzy frolick in the gardens of Netherfield in his dressing gown at any point. I guess even screenwriters can swoon for Colin Firth, but definitely a case of artistic license.
08. The most awkward post-proposal scene ever 
(Pride and Prejudice, 1967, BBC miniseries)
Don't forget, friends: You can't beat a good old-fashioned letter.
In the 1967 TV adaptation, Darcy doesn't send Elizabeth a letter to explain his "dealings with Wickham" after his first disastrous proposal; instead he tells her the whole story face-to-face, complete with her own accompanying blank stares and awkward interjections. And yes, it really is as cringeworthy as it sounds.
09. "Your hands are cold." 
(Pride and Prejudice, 2005, film starring Keira Knightley as Elizabeth Bennet)
"I'll warm them up for you!"
Love it or hate it, Lizzy's "Your hands are cold" response to Darcy's second proposal was entirely an invention of the film, as was the early morning walk in her nightdress in the mist. But, you know, it's beautiful and all.
10. Zombies. So. Many. Zombies.
(Pride and Prejudice and Zombies, 2016, film starring Lily James as Elizabeth Bennet)
Yes, yes, we get it; she's a strong female lead.
OK, so technically this is straying into the realm of Bridget Jones-style spin-offs, but I figured since we're talking dark and adult, this one was worth a mention. Because surely, no matter how much of a departure from the book the new miniseries is, it can't be worse than the zombie version of P&P. Right? So bring it on, ITV, we're ready for you!