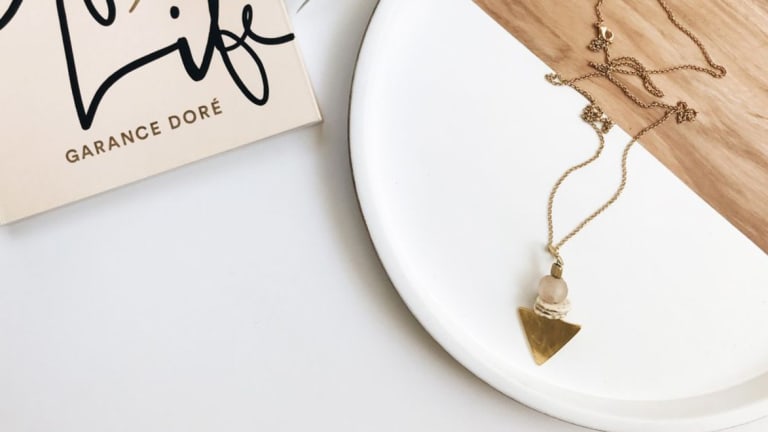 If You Love Madewell and Etsy, You'll Love Natalie Borton
The California-cool designer on style, body image, blogging, and motherhood
The way we dress is often a reflection of how we feel on the inside. For Natalie Borton, San Diego–based jewelry designer, blogger, wife, and mother of two, personal style was a long, tedious road.
Having struggled in the past with anorexia, Natalie knows firsthand what it's like to feel uncomfortable in your own skin. But through recovery, she came to appreciate a style all her own—one that makes her feel confident and herself. With just a glance at her Instagram or website, you'll see Natalie's flair for simple elegance. Neutral tones, California vibes, and natural textures are her way of life—and they're reflected in all of her handmade jewelry pieces.
Natalie started as a lifestyle blogger but moved on to try her hand at jewelry design in 2015. Her designs have been featured in pop-up jewelry shops at her favorite clothing store, Madewell, and you can buy her limited edition and staple pieces online. Between drop-offs at preschool and stolen moments during nap time, Natalie is an artist balancing family life and a budding career. We spoke to Natalie about her business, confidence, and how she makes life look so beautifully simple.
Gabriella Patti: Where did your love of style and beauty begin?
Natalie Borton: I think back to high school, and I don't really remember caring that much (about fashion). But I recently found an old yearbook, and in one of them was the fashion page, and I was featured on it. It was the worst—so ugly! I laugh thinking that what I had on was considered stylish at one point.
I didn't start paying attention to it personally until I got engaged when I was 23. I was working in an office, and fashion blogs were just becoming a thing. I was reading Kendi Everyday, I bought my first item from J.Crew, and I began to explore my true style (instead of following along with what they were selling at Abercrombie & Fitch). Through that self-discovery phase, I found that I love minimalist, casual, comfortable styles that are also chic. I like to look put-together but not spend too much time on it.
GP: Who is your favorite fashion designer or street style blogger?
NB: I love Jess Ann Kirby. Her style is similar to mine—neutral, casual, comfortable, and cool but not overly masculine. I also love Crystalin Marie.
GP: What inspires your designs?
NB: It always starts with me getting dressed and thinking, "What piece of jewelry do I want to wear with this outfit?" I think about what I'd like to wear, and I create it for others. Everything I've made up until now has been limited edition—maybe I will only make twenty to thirty. Then if it sells really well and people like it, I will make a similar version but maybe with different beads. I am loving recycled glass right now, bone beads, wood beads. I just go to a local bead shop where I source most of my beads, and I look at everything, I feel everything. At the end of the day, I feel confident in every piece that I send out because I made it myself.
GP: What does a day in the life look like for you?
NB: My work days are usually shooting photos, making jewelry, getting my newsletter ready, doing emails, and then I pick up my son from school. When he comes home, I feel like I can mentally check out, which is really nice. If I have a new product, I prepare for that. Lately I've been launching new products every week on Friday. My mom-only days are a lot more casual and laid-back than my work days.
GP: Some of your proceeds go toward the National Eating Disorder Association. How does that cause inspire you?
NB: I really enjoy being able to have a business, to earn an income and donate to those causes. I struggled with anorexia in college. My style didn't become something I enjoyed or focused on until I was in recovery, but there has been a lot of freedom in the aftermath, in all the years of healing and developing confidence to wear something that I enjoy. I like to be comfortable in my skin.
A lot of my body confidence came after having a baby. Even though my recovery from anorexia was before I got pregnant, I still didn't feel confident in my own skin. The birth of my own son made me able to view my body in a totally different way. I don't really struggle with body image anymore after seeing what my body was capable of with my son. It helped me get outside of my head.
Doing things outside of yourself is really good for perspective. Perspective is important. Sometimes it's nice to step back and realize that our bodies aren't everything—what they look like isn't everything. It's important to soften the pressure we put on ourselves to look a certain way or feel a certain way. If we all looked the same, it would be really boring. Our culture is so about conformity, but there is so much beauty in diversity, taking time to focus on the things that make us unique. There is a lot of beauty in that uniqueness.
GP: What encouragement would you give women who want to follow your path of being a mom and self-employed career woman?
NB: It is becoming so much more common now to see women being part-time worker/part-time mom. It used to be a full-time of one or the other. But having both does require a lot of balance and a lot of planning and scheduling.
Don't feel guilty about doing work that you love; there is nothing wrong with that. I am a better mom, wife, and friend because I am doing work that I am excited and passionate about. My work days are like a break; I have time for myself, and it feels different than being so emotionally "on" during those mom days.
You can totally do both of the things (motherhood and work), but if you have young kids, your kids should really come before your work. In the long run, you will be happier to fail at work than to fail at family. It is totally OK (great, even!) to work, but let work be work, and let home life be home life. Let yourself be immersed; be in the moment.
Love Natalie's designs? Enter our giveaway to win this stunning necklace below!