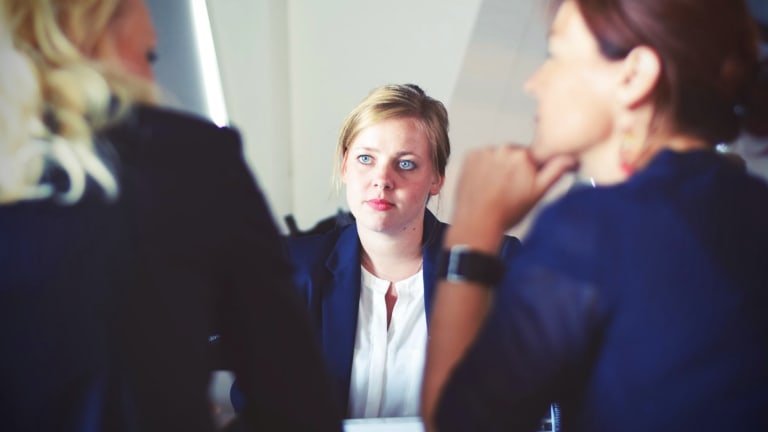 This New Book Reminds Us Femininity Is Our Asset, Not Our Enemy, in the Workplace
There's more to success than just being aggressive.
As more and more women aspire to land (and keep) leadership roles in the workplace, one tactic that seems to always emerge is that we must "act like a man." Men are more aggressive in negotiating raises. Men are more assertive. Men have less drama, less family distractions . . . or so we're always told.
As a young woman just starting out in her own career, I resent this thinking. It implies there's something inherently wrong with a stereotypically female approach to things. And it undermines the unique qualities women bring to the table, in business or otherwise. I can't help but wonder why I should have to force myself to fit some kind of masculine mold that doesn't reflect who I am as a woman and a professional in order to have a shot at career success.
Thankfully, I'm not the only one. And many women are poised to change the status quo.
Maureen Chiquet, former Global CEO of Chanel, recently chronicled her experiences as a female executive in Beyond the Label: Women, Leadership & Success on Our Own Terms. As a girl, she spent summers in France, soaking up the culture and living with enigmatic women who embraced a bold femininity, which she recalls in her book. For Chiquet, those early experiences followed her into her career, where she navigated her way to the top in a typically male-dominated field.
What I took away most from Chiquet's book was something I didn't expect—the encouragement to view femininity as an asset for success. Here's how she did it.
Being inclusive is good for business.
Research shows women bring different and unique skills to the table, including ones that Chiquet frequently used herself. Global consulting firm Caliper studied more than fifty female leaders from some of the top companies around the world. They found that they were more inclusive and more likely to listen to their team members than men.
As she describes in Beyond the Label, Chiquet tried to unsuccessfully launch a leadership initiative at the start of her time as CEO of Chanel. She hired consultants, planned an office retreat, and created a teaching plan without any input from the rest of her team. The schedule included awkward ice-breaker games and work groups with leading questions designed to conveniently reflect Chiquet's preconceived notions about what the company needed.
"My team wasn't having any of it, " Chiquet writes. "I was now the one trying to control everything. What's more, I was pushing for leadership values that encouraged empathy, listening, agility, and curiosity while demonstrating the opposite."
Chiquet walked away from the retreat with a disgruntled office and a new realization: she couldn't just dictate good work tactics, she had to be the example for her team as well. The next time around, she worked alongside her team to create the cultural change they needed, and she helped them strategically solve the problems their industry faced, rather than just demanding they figure it out and report back.
Stopping to listen is essential.
Chiquet also describes another lesson she learned, which involved embracing the tendency for women to be more relationally in tune than men.
Before leading Chanel, Chiquet was merchandising manager for the women's denim department at the Gap. After a strenuous meeting with her manager that had her convinced she had lost her job, the manager called Chiquet back. He explained that she had spent so much time trying to make her point clear she hadn't heard a word he had said. "I am just asking you to stop, open your ears, and hear what people have to say," he told her.
Chiquet took that lesson to heart. "At that moment I understood that if I was going to succeed not just as a merchant but in life, I would have to practice listening; not just sometimes, but all of the time; not just to him, but to my teams, my customers, and other stakeholders," she writes. What followed was a stint of successful years at Gap, where she continued to rise in rank and was an integral part of the Old Navy launch in the nineties.
Similarly at Chanel, Chiquet regrouped and spent as much time as possible listening to her team. She worked to adjust the culture of the Chanel office, encouraging employees to bring ideas to the table so that the whole group could discuss it together. She brought new speakers to broaden people's ideas and mentored team members one-on-one. "I didn't know it then, but I was working my way toward a form of leadership considerably different from the one typically handed down from one CEO to the next," she writes.
You can't be anyone but yourself.
Shortly before she was offered the position at Chanel, Chiquet shared how she learned the hard way how counterproductive it was to force what she calls a "male power move." She had interviewed with Chanel but hadn't heard back, and in the wake of new changes happening at the Gap, Chiquet's mentor recommended she "act like a man," and advocate to Gap higher-ups to be the president of Banana Republic. It worked—she got the position—but she felt that she had forced the promotion out of a sense of entitlement. Chiquet shares that she learned being competitive for competitiveness' sake is useless. The only goals worth striving toward are the ones that ring true to who you are.
She ended up being offered the role of CEO at Chanel, which she realized was a much better fit. Ultimately, working in France for a company as focused on feminine beauty as Chanel helped her get in touch with her femininity in a more fearless way than ever. "I couldn't help considering how my own femininity has also been the single biggest source of strength," she writes. And true equality won't happen "until we go beyond the worn-out labels"—until people take feminine leadership skills as seriously as masculine ones.
Chiquet has since moved on from Chanel, but says the lessons she learned getting there and while there have forever changed her view on women who work. She's quick to point out the bumps along the road and places she probably did the wrong thing. And many of those mistakes, she says, happened in times where she tried to quiet her feminine traits. There is, of course, no one formula that will work for us all, but it's great to see a woman coming forward to prove that in the world of work, it's not just a man's world.
Image Credit: Tim Gouw