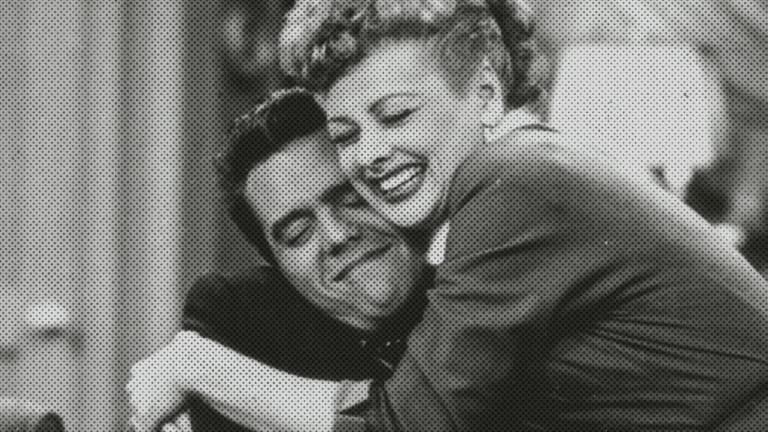 Why We Still Love Lucy 60 Years Later
The comedienne who paved the way.
These days, when I peruse comedies on Netflix, I am sure to find shows with hilarious women front and center. From the earnest and ambitious Leslie Knope of Parks and Recreation, to the quirky and kind Jessica Day of New Girl, to the bubbly and lovable Kimmy Schmidt, female-led sitcoms have everyone laughing. Even in the stand-up world so often dominated by men, I have been delighted that more women are finally getting noticed. It's not just Amy Schumer out there—Ali Wong, Miranda Hart (the beloved "Chummy" from Call the Midwife), and Anjelah Johnson have been getting more screen time, just to name a few.
Recently I watched Wong's special Baby Cobra, in which she performs while seven and a half months pregnant. Between tears of laughter, I recalled another comedian who, more than sixty years ago, performed pregnant without even being allowed to say the word "pregnant": the queen of comedy, Lucille Ball.
It's been six decades since I Love Lucy aired its final episode in 1957, but as last week's announcement of Amazon's forthcoming film Lucy and Desi reveals, the public's love the red-headed comic has not lessened. Earlier this month, Ball's hometown of Jamestown, NY, hosted the 26th annual Lucille Ball Comedy Festival featuring comedians such as Jim Gaffigan, Kevin James, Lisa Lampanelli, and Trevor Noah. Meanwhile, re-runs have kept I Love Lucy on the air for generations, and outlets such as Rolling Stone consistently deem it one of the best TV shows of all time. There are numerous reasons why we still love Lucy today. Here are just a few.
01. She went there.
When Lucille Ball became pregnant, executives thought the show might have to end. They did not want to show a pregnant woman on television, but, at Lucy and Desi's insistence, the show went on, and ultimately the pregnancy storyline received rave ratings and reviews.
The iconic 1953 episode when Lucy gives birth, "Lucy Goes to the Hospital," was watched by more than 44 million people. The country experienced Lucy mania, and it's not hard to understand why. The birth episode is funny and touching, and Lucille Ball actually gave birth the same night the episode aired. Her performance while pregnant helped paint motherhood and pregnancy as a natural and wonderful part of life. Not only could a woman be funny, but also an "expecting" woman could still be hysterically human.
02. The chemistry was real.
Lucille Ball wanted to work with her husband, Cuban actor Desi Arnaz, on the show to be able to spend time together. Executives felt that audiences wouldn't believe Lucy the character would be married to a Cuban man, despite the fact that the actress was actually married to him. Their cross-cultural relationship was broadcast into millions of people's homes and helped normalize a relationship that raised some eyebrows in the conservative 1950s. As with the pregnancy, executives were wrong about audiences' reactions, and Lucy and Desi became a Hollywood "it" couple. Although the stardom did strain their rocky relationship (Arnaz shared in his memoir that he struggled with alcohol and womanizing) and they ultimately divorced, they remained amicable. Toward the end of his life, Arnaz wrote from the heart: "I Love Lucy was never just a title." Despite their later separation, Lucy and Desi's onscreen interaction during their real-life marriage is a joy to watch, and it is a proud legacy of the show that it broadcast an image of multi-culturalism in a time of much prejudice and racism.
03. Women were championed.
Groundbreaking in so many areas, Lucille Ball was more than the show's star. She was the first female executive to run a studio (Desilu Studios). Ball is unmatched when it comes to physical comedy, and both her performance on I Love Lucy and her career as a TV executive, mother, and comedian (or comedienne as she was called) were groundbreaking for women. One of the show's co-creators and screenwriters was also female. A highly unusual profession for women at the time, Madelyn Pugh's work behind the screens on Lucy garnered her three Emmy nominations.
Despite the show's portrayal of Lucy as a housewife trying to get into show business, Lucille Ball was a working mom who fought for her work and her children. It's thanks to her that re-runs were invented. While pregnant, Ball couldn't film as many episodes that season, so producers decided to air old episodes, much to the delight of audiences who before had no way of watching episodes they loved again—just another creative solution Lucy found to balance her work and motherhood.
I Love Lucy continues to be funny so many years later with its hilarious situations and antics. Helping to pave the way for female comics today, the incomparable Lucille Ball is not a bad gold standard to strive for. So maybe next time when you're about to skip over the Lucy re-runs on TV Land, take a second to let a woman who made TV history make you laugh. Let Lucy's humor, exuberance, and joy rub off on you. You'll find it doesn't get old.