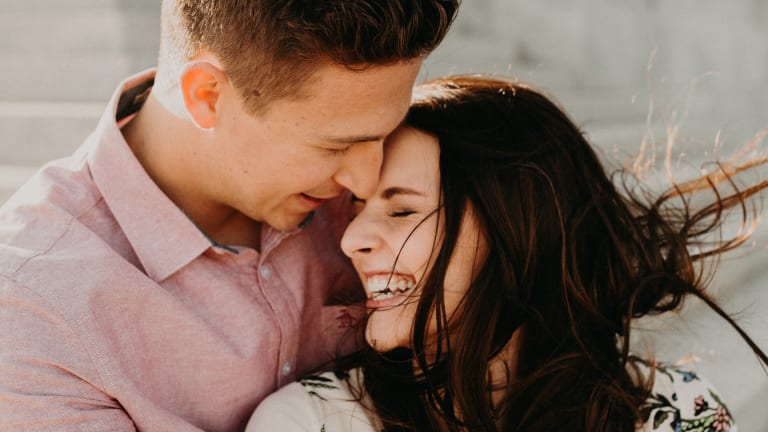 I Took a Chance and Flirted with a Guy 2,000 Miles Away, and Everything Changed
Could fear of long distance be getting in the way of finding love?
It was a beautiful fall Saturday morning. I was sipping my coffee, perusing online dating profiles. To be honest, on this particular Saturday morning, I was drained by online dating. Like many love-weary souls, I had become fatigued with one too many non-matches. I decided to take a more laid-back approach. My scroll goal: Find a warm smile.
With this new sole search criteria, I lazily made my way through dozens of profiles. Click, click, click.
Curious, I expanded my search beyond my current town, a first for me. I tried just a little beyond my usual borders, and then kept expanding, until I was met with faces from the entire forty-eight contiguous states. I told myself it was just for fun, but deep down I was intrigued. Scrolling to page thirteen (which takes concerted effort, I assure you), I discovered a friendly, gentle smile staring back at me. Fully bearded, he looked like he was about to embark on an adventure. "He's cute!" I erupted to myself, aloud. "Oh, darn. Colorado? Really?!" Wah-wah. My immediate interest was suddenly deflated as I came to the quick realization that the guy who was gently smiling was, in fact, smiling from two thousand miles away.
Considering the many long-distance warnings from well-intentioned friends over the years, I almost closed my laptop right then and there. After all, it was a gorgeous day that demanded exploring! I glanced back at the guy on the screen and decided that the outcome didn't matter. I would send a message for fun because I could. 
"I think you have a great smile." Boom. Shakespeare.
This one (rather forward) comment turned into a handful of messages, which quickly grew into long emails, and then Christmas cards, and then Skype dates, and then finally flights across the country.
The online platform forced us to choose one another time and time again, despite whatever else was going on in our daily lives. Having few abilities to connect in person, we each committed ourselves to communication. We grew in deep friendship as we unpacked the nitty gritty details of the messiness of life and baggage. His gentle smile always pierced through the screen and dismantled whatever worries or anxieties I had, and I quickly discovered that my smile had the same effect on him. We laughed, we cried, we grew closer, we laughed, we misunderstood each other, we laughed, we prayed, we grew closer. We pursued one another.
I can't help but think, had I not expanded my search criteria so broadly, thrown my "check list" and my fear of long-distance dating to the wind, I would have missed out on all this. And that is really the moral of my story. It's not that if you do what I did you will finally find love. It's that finding love is about being willing, daring enough to go the distance.
Dating long distance is not without its challenges, but it hasn't held our relationship back the way I had feared. The solid foundation of friendship that was fostered through the long-distance phase remains steadfast and has contributed to a more fruitful and understanding partnership. We each cherish the other and are more willing to reconcile differences and work together as a team.
Fast-forward almost a year, and I am sipping coffee overlooking the beautiful Colorado Rockies. I am amazed to think about how my entire life changed that sunny morning in October all because I expanded my search options and took a chance.
So, sure, you don't have to look for your future mate on your computer (or cell phone). But wherever you look, consider broadening your search criteria to any guy with a warm smile and be willing to see where that might take you.
Take a cue from Mark Twain: "Twenty years from now you will be more disappointed by the things you didn't do than by the ones you did do. So throw off the bowlines, sail away from the safe harbor. Catch the trade winds in your sails. Explore. Dream. Discover." 
Photo Credit: Jordy B Photography