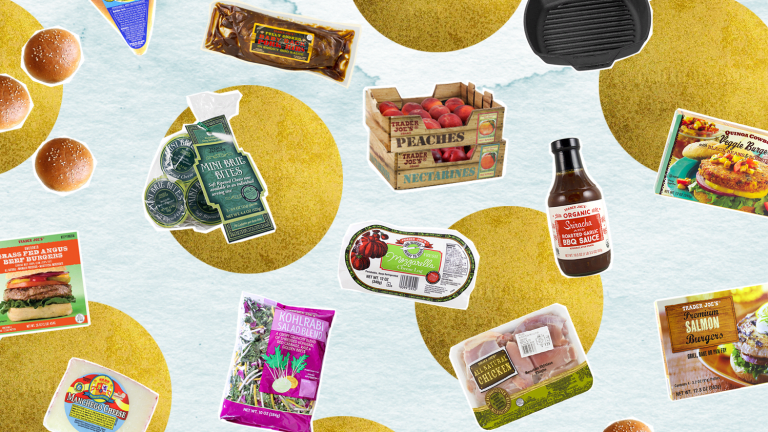 Ingenious Ingredients at Trader Joe's to Host a Backyard Barbecue (Even if You Have Neither)
Grilling without a grill is your secret weapon to ending the summer with relish.
Labor Day is summer's unofficial last hurrah—it also signals the end of the summer grilling season. But if all you've got is an apartment kitchen with neither a backyard nor a barbecue, all is not lost! With Trader Joe's and a little ingenuity, you can still get the best out of backyard grilling (without the grill). Here's how.
The Very Hot Pan Method
Trader Joe's Carne Asada Autentica is marinated in a traditional, northern Mexican–inspired citrusy and spicy blend. This perfect cut of trimmed sirloin cooks in minutes in a very hot pan. Using high heat actually seals in the flavors while quickly searing the outside, leaving a juicy, medium rare center inside. Serve it in burritos, fajitas, or tacos with your favorite fixings—lettuce, sour cream, guacamole, and cheese. You can even add grilled peppers and onions (we'll show you how below).
The Oven Broiler Method
The oven broiler is an underestimated "grilling" tool. Think of it as an upside-down barbecue, where the heat hits your food from the top rather than from the bottom. It's the perfect way to finish Trader Joe's Fully Cooked BBQ Baby Back Ribs. Pop them under your broiler for ten to fifteen minutes until they're crispy and crackly on the outside but tender and juice on the inside. Serve with a side of Organic Broccoli Slaw. Nobody has to know!
The Cast Iron Grill Pan Method
No indoor grilling aficionado would be complete without a cast iron grill pan. Grab a ribbed Lodge Grill Pan for less than $20 bucks, and you'll be able to get perfect grill marks on TJ's Premium Wild Salmon Burgers, vegetarian Quinoa Cowboy Burgers, or Grass Fed Angus Burgers on Honey Wheat Buns.
The Gas Stove Flame Method
TJ's High Protein Super Firm Organic Tofu steaks and side dishes like onions, peppers, and corn can all be brushed with olive oil, seasoned, and seared over your stove top fire. If this makes you nervous, first cook them in a pan the traditional way before quickly charring them over an open flame.
The Slow Cooker + Oven Method
Trader Joe's All Natural Boneless, Skinless Chicken Thighs are ideal for indoor grilling. They're boneless, which means they cook way faster than bone-in chicken. For super juicy and flavorful chicken, baste them with a marinade like TJ's Organic Sriracha & Roasted Garlic Barbecue Sauce. Then cook them over low heat or in a slow cooker before popping them in your oven to get that caramelized finish you thought you could only get on the grill. Serve with a side of speedily sautéed Kohlrabi Salad Blend.
For Dessert, Use the Oven Broiler or Grill Pan Method
You didn't think we'd leave you hanging for dessert, did you? No Labor Day barbecue would be complete without sweet, end-of-season stone fruits. Use the oven broiler or grill pan method to grill and caramelize plumcots, peaches, and nectarines. Serve with an assortment of your favorite cheeses like Queso de la Mancha Manchego, Brie Bites, unexpectedly amazing Unexpected Cheddar, Sliced Fresh Mozzarella, and Baked Lemon Ricotta. Offer accoutrements like honey, nuts, and TJ's Smoked Seasoning Blend for the finishing touch.
.