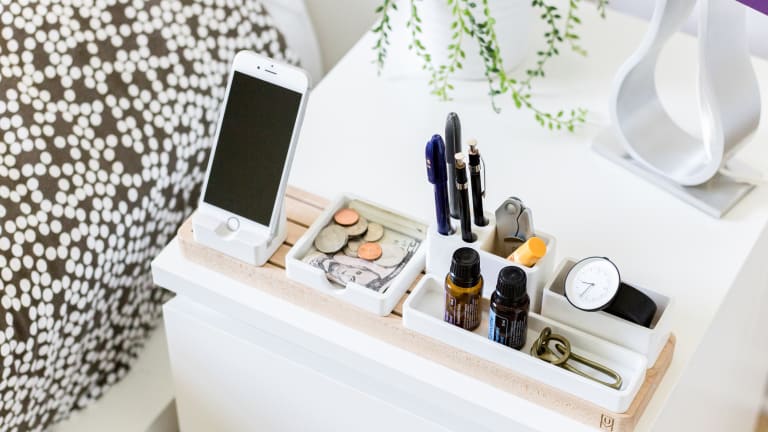 9 Effortless Organizing Hacks from Pinterest You Can Do in 5 Minutes or Less
You don't need much to achieve these game-changing organization hacks.
Ah, back-to-school season. While we may no longer be prepping our backpacks for a fresh new semester, we still love getting all our ducks in a row before the inevitable end-of-year rush arrives. To help us get organized in style, we turned to organizing expert Monica Leed, co-founder of Simply Spaced, a lifestyle company focused on transforming cluttered minds and spaces. Read on for Leed's favorite organizing tips and tricks from Pinterest. Bonus: These hacks are so simple that you can do them all and still have plenty of time for your (many) other end-of-summer plans.
All-Purpose Clips
Leed says, "Binder clips are an organized girl's best friend. We ALWAYS have these babies on hand for organizing everything from cords to paper and double duty as chip clips, money clips, toothpaste savers, and more."
All-Purpose Hooks
"Second only to binder clips, Command hooks are a no-brainer for any organized household. Make the most of cabinet space by hanging beauty tools out of sight behind the door."
Plastic Bins
Stop scrounging for items in the back of your cabinets or pantry. "It doesn't take a lot to turn a deep drawer into an easy access pull-out with the right plastic bins. This quick, affordable, and temporary solution (perfect for rentals!) does the job of a built-in pull-out bin in no time," Leed says.
Under the Sink
"Small spaces require expert order, and maximizing every inch is critical. A simple tension rod in an unexpected place can provide ample storage for awkward spaces like under the sink." 
Toiletries
"Don't underestimate the power of a landing spot for all your beauty products corralled in one place. We repurposed a dollar store ceramic platter for this tiny bathroom vanity." (Pro tip: You can do the same with a stray plate from your kitchen.)
Lady Items
"We love the use of repurposed jars, napkin holders, and pots for storing feminine products out of the package. Removing all the cardboard saves on space, and you'll always know what you have in stock."
Cosmetics
"Jars aren't a one-time deal. We love to repurpose everything from candle jars to jelly jars for organizing makeup and brushes. Two varying sizes can keep your dirty brushes separated from the clean ones and look pretty too."
Accessories
"We love to repurpose pant and scarf hangers for easy accessory storage that's organized and beautiful. Hang jewelry, sunglasses, and belts right inside your closet on a rod to keep your collection contained, or use a Command hook or nail to create the same look on display."
Clutter
Last but not least, Leed says, "Style with what you already own and love. Pair your practical purchases with beautiful books, repurposed jars, and a selection of your prettiest products to instantly transform any space that tends to get cluttered. Pro tip: Splurge on acrylic stacking organizers that can be found at the Container Store, Bed Bath & Beyond, or your local Homegoods." They're customizable and the clear acrylic makes it super easy to find what you're looking for.
Stock up on these simple supplies the next time you're at the store, and you'll have an organized home that would make even Marie Kondo proud.