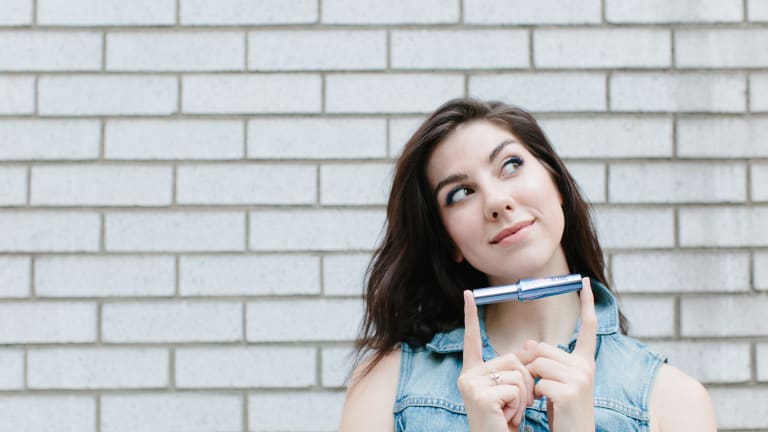 I Wore Blue Mascara for a Week, and This Is What People Said
'I'm blue, da ba dee da ba die'
Earlier this month, Maybelline launched its first-ever makeup collaboration with a social media influencer (as opposed to a celebrity). Shayla Mitchell (aka MakeupShayla) created a limited edition line. One of her most-hyped products? "Boomin' in Blue" mascara.
You might be thinking, blue mascara?! I know I was. One weekend recently, a commercial for blue mascara flashed across my TV screen. "Yeah, right, as if that could ever look normal," I scoffed to myself. Smurfette doesn't even have blue eyelashes. I was appalled for really no good reason. My indignation surprised me; I knew I had to try it.
Of course, Mitchell isn't the only reason blue eyelashes have made their way to a national TV audience. This makeup trend has been a long time coming. And, per usual, this isn't its first moment in the spotlight. The Fall 2017 New York Fashion Week (which happened back in February) offered the first mainstream reemergence, with models donning all manner of blue eye makeup. Shortly thereafter, trendsetters took the look to the red carpet instead of the runway. Ashley Graham wore it. So did Cara Delevingne and Kate Hudson.
But some of us would be surprised to learn that blue lashes, in fact, are not a new thing. Maybelline's cult Great Lash mascara (that famous pink and green tube) was offered in royal blue beginning in 1971! When the famous makeup behemoth discontinued it in 2014, people were LeAnn Rimes levels of blue—as in devastated. Allure reported that women were heading to eBay and paying upward of $35 a tube just to keep their peepers shaded in sapphire. London makeup artist Wendy Rowe recently told W Magazine, "In the eighties, that blue eyeliner and mascara look was super popular—something that Princess Diana always wore at the time."
But the seventies and eighties always come back; this we know. Great Lash Royal Blue is available again as of May (but only sold at Walmart until 2018). America's No. 1 selling mascara, L'Oréal Voluminous Mascara, also unveiled a new blue formula back in March. And who among us wouldn't want to test the meaning of "royal blue" by channeling the timeless glamour of Princess Diana, especially as we commemorate twenty years since her passing.
If ever there were a time for blue—it's now.
Out of pure experimentation, I decided to wear blue mascara for one week. At Sephora I purchased two shades of blue mascara: cobalt and navy.
"Just wait until my coworkers see how crazy I look!" I internally cackled as I entered post-lunch with freshly painted blue lashes.
"Oh, you're wearing it now? I can't even tell," they said, squinting.
And that's basically blue mascara summed up.
You can't really tell unless you're standing in the light. But that's kind of awesome. Yes, there were plenty of comments like "It's not that noticeable," but a lot of women went out of the way to say something about it. "Are you wearing blue mascara?! I love it!" the gal who cuts my hair said. "People are so afraid of color, but this is both subtle and bold!" A church friend of mine said, "I noticed that you were wearing it right away, but it didn't strike me as weird." Overall, the response was positive (but then again, I don't think anyone would say they hated it to my face).
My coworker even said to me, "You know, I think I actually want to buy some blue mascara now." She explained that she likes it because it allows those who are usually more timid with their makeup choices to try something a little bolder without committing to an intense look.
When she said that, I realized that the blue mascara had emboldened me to get more creative with the rest of my makeup as well. Whenever I wore it, I put in extra time creating a thick cat-eye flick and applying a bright red lip. Weirdly enough, I felt even more confident when I went out. And when confidence is a result of an experiment, I always consider it a success.