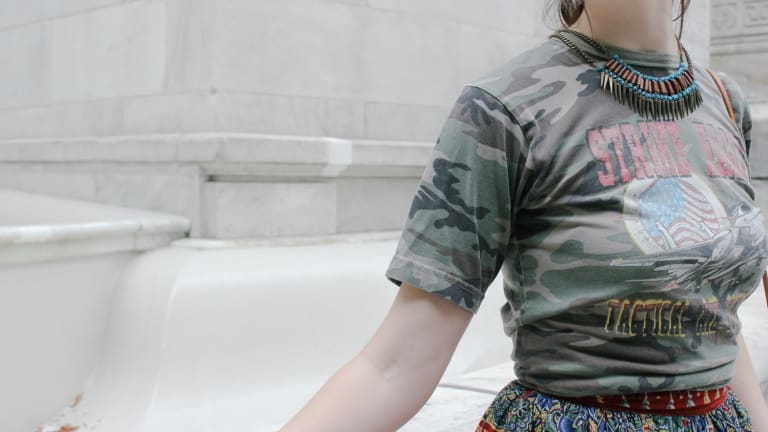 Simple Hacks for Making Your T-Shirt Look Classy (Really)
Yes, comfort and elegance can go hand in hand!
We all deserve a lazy-outfit day from time to time, but who says it can't be stylish? Comfort and class are priorities when it comes to dressing, and we're all about bringing those two factors together in an outfit. T-shirts have been unfairly written off as boring and uninspired, but upgrading your basic tee is easier than you think. Follow these simple tips below, and you'll be looking at your wardrobe with new eyes.
Go Bold with Accessories //
The easiest way to dress up a plain tee is to add some bling. The key is in the contrast. The statement necklace elevates the T-shirt, while the T-shirt dresses down the statement necklace. Layering is another go-to trick for dressing up a basic tee. Here, a vintage slip offers a fancy complement to compensate for the tee's casual nature. The result is a perfect balance of everyday class.
Color Coordinate //
If you're struggling to make your old shirt look classy, consider color coordinating your entire outfit. The problem with T-shirts is that they can look low-effort and like you don't really care. But if your outfit has a matching element, it will immediately look thoughtful. For example, here a red lip perfectly matches a bold T-shirt, while a black pencil skirt, heels, and scarf also coordinate. There is an overall unity in the look that takes the faded vintage tee up a notch.
Mix Prints //
This might be a look you wouldn't consider at first, but that's exactly why you should try it! Print mixing requires an element of harmony, even if the prints are totally different. Ironically enough, when the prints are so obviously mismatched, it creates an overall look of intentionality. The only thing you need to do is find one color in the contrary prints that coordinates. For example, the green in the army-print shirt matches the green in the skirt's paisley design. To really make a contrasting outfit come across as deliberate, wear a matching-color shoe to tie it all together.
Layer Fancy Fabrics //
Another easy way to dress up your casual T-shirt is to mix in some fancy fabrics. Similar to the statement jewelry tip, adding a silk, lace, or velvet layer immediately elevates your plain tee. The tee, on the other hand, tones down the intensity of the fancy fabric for a more versatile look that's appropriate for many occasions. A silky duster thrown over a white tee with simple jeans offers an upscale outfit that can easily go from day to night.