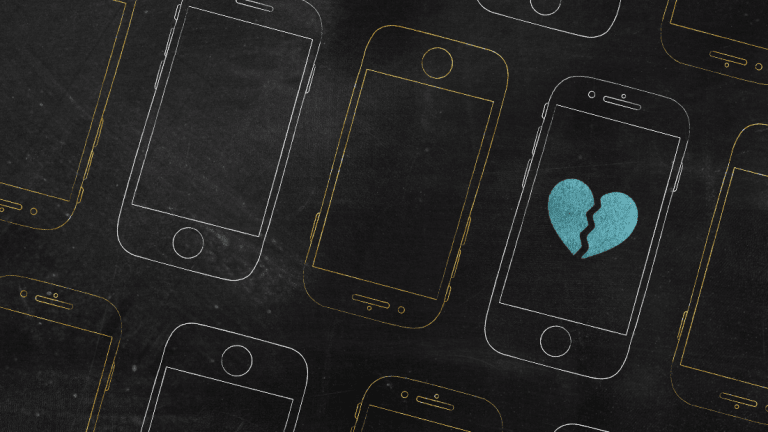 New Study Confirms Social Media Can Predict Depression. Here's What to Do If You See Alarming Signs.
If Sinead O'Connor was your social media "friend," what would you do?
This week, two researchers from Harvard and the University of Vermont published their findings about using Instagram to predict depression in the EPJ Data Science journal. They found that the filtered online world is actually better than doctors are at predicting whether a user suffers from depression—pre- or post-clinical diagnosis. 
In wake of the heart-wrenching video posted by singer Sinead O'Connor to her public Facebook late last week—in which she tearfully agonized over her deep state of depression and loneliness—this news is relevant for any of us who has wondered what role social media plays in our society's increasing public discourse on mental health. 
The Instagram researchers' algorithm examined 44,000 Instagram photos. Of the 166 study participants, 71 were diagnosed with depression in the past. Researchers used photo markers such as hue, filter use, and the inclusion of faces in photos as indicators of depression. The report states, "photos posted by depressed individuals tended to be bluer, darker, and grayer." Depressed users were more likely to have faces in their photos but had fewer faces per photo than average non-depressed users. They were also less likely to use Instagram filters, but tended to opt for "Inkwell" (which turns a photo black and white). Non-depressed users tended toward the "Valencia" filter which brightens images.
Most notably, though, the researchers said this: "Our model showed considerable improvement over the ability of unassisted general practitioners to correctly diagnose depression. On average, more than half of general practitioners' depression diagnoses were false positives. ... By comparison, the majority of [our study's] depression classifications [about 70%] were correct." It's worth noting that their rate of success was based on both users who had been diagnosed with depression, and therefore may act differently based on that identification, and those who were not diagnosed.
A photo marker of depression is, of course, nothing compared to videos, like O'Connor's or the horrifying suicide video that an Alabama man live streamed to Facebook in April. But the study does present clues we can all look for among those we follow. Are there signs that, if acted upon, might prevent depression-induced tragedies? Can social media be a source for healing as much as it has proven to be a place that magnifies mental illness? 
Joshua Klapow, Ph.D., clinical psychologist and host of The Web podcast, tells Verily, "What you see with Sinead is not any different or more dramatic from what people actually experience. Whether it's celebrities on Facebook or not, the videos (or other posts) are the face of human distress and we are witness to it—something that we have not had before social media." 
"Once you see it," Dr. Klapow says, "you are in a position to possibly help. But do you recognize it?" A suicidal video is a clear distress signal, but other cases are far less obvious. Dr. Klapow recommends these 8 steps you can take if you sense someone you follow on social media may be in need of your support.
01. Don't let the fear of what you see keep you from acting.
Distress is alarming and it may be the first time you're seeing behavior like this (especially if you don't have much experience with mental illness). But it is a cry for help and you can help.
02. Determine how close your connection is.
Do you know them, know where they live, their phone number, etc.? If it is a close friend, don't message them or comment on the post. Call or visit.
03. Know when to leverage social media tools to reach out.
If the person is an acquaintance more than close friend, leverage the social media tools to reach out. Facebook, Snapchat, and even Instagram all have tools to reach people and groups who can guide you on what to do. Check out mental health advocate pages on Facebook like Defeat Depression and Crisis Text Line. Instagram's own #HereForYou campaign attempts to foster a safe and kind mental health community. 
04. Connect with them.
Don't be afraid to tell them you are concerned. Many people say nothing because they are afraid they will say the wrong thing. Connecting with them can begin with you asking: "Do you think about hurting our killing yourself?"
05. Be consistent with your friend.
Don't think that one outreach from you is going to solve something. Be there daily, communicating your concern and offering to support them. But also recognize there are limits to what you can sustainably do to help. 
06. Be a listener, not a problem solver.
Be willing to just listen and let them know they can talk to you (even virtually) about anything. From doing a double check to avoiding interruptions, here are 5 ways you can be a better listener.
07. Get back up.
Reach out to the National Suicide Prevention Lifeline, the SAMHSA Treatment Referral Helpline, or 911 in case of emergency—not just for the person you're trying to help, but also for you to learn what to do for them and yourself.
08. Encourage them to get help, and help them get help.
Sometimes the logistics of getting help keep someone from doing it. Getting them a list of local psychiatrists, therapists, and other mental health experts, offering to accompany them to their first few appointments, or even just patching them into a call with you and the right helpline are all steps that will get the ball rolling to recovery.
Social media is a great tool for sharing fun aspects of our lives. But it can also be a window into the darkness millions of people face. Part of being a responsible user is educating yourself on what you can do if the next post you see on your feed is a cry for help rather than a #tbt to an amazing European vacation. Don't be afraid to reach out and make a human connection to those who need a friend.