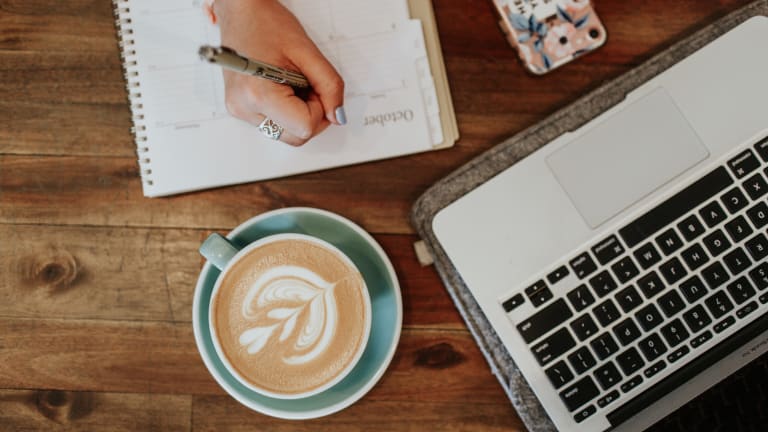 4 Women Reveal the Joys and Struggles of Their Instagram-Worthy, Work-from-Anywhere Lives
More and more women are rejecting the standard 9-to-5 office job in favor of a flexible work-from-wherever career path.
Traveling the world to photograph flowers, working in your favorite café when you're craving a very specific slice of carrot cake, writing about dream destinations for Vogue, developing recipes in your English country cottage kitchen—it may be the stuff of Instagram fairy tales, but it's also the reality for more and more working women today.
Flexible and remote working opportunities have been steadily increasing over the past few years; according to Global Workplace Analytics, the number of employees who regularly work from home in the USA "has grown by 115 percent since 2005, nearly 10x faster than the rest of the workforce." Last year Forbes reported that freelancers now make up 35 percent of the US workforce. And, as Marina Olson wrote for Verily back in 2014, it's a particularly female version of the American dream that has been evolving in recent years, with women pursuing online entrepreneurship in record numbers. And it's not just in the West; by connecting them via technology, more women in the Middle East and Asia are working from anywhere, too.
We talked to four women to hear the real stories behind their beautiful, work-from-anywhere careers. Whether they run their own businesses, work as freelancers, or work from home on part-time flexible contracts, the joy and pride that they all take in creating work and lives they truly love is evident—but not without its challenges. Read on for some inspiration, along with a healthy dose of reality.
It Doesn't Have to Be All or Nothing . . .
Lindsay Radcliffe is a writer, photographer, and content creator who lives and works from her cottage in the English countryside. She spends much of her time developing recipes and photographing food. It wasn't as simple as setting up her own food blog and diving in as a freelancer when she moved out of London, though. "I've been doing this part-time for about 12 months, along with working for a beautiful events and exhibition house and garden in the local area," she explains. Many women like Lindsay mix and match their freelance work with other part time contract work they love, which provides them with a mix of security and independence.
Jo Rodgers is achieving a similar balance as a journalist, living and working from home in London. She works as a Contributing Writer for Vogue, and is writing her first novel (which, when you read her evocative and playful Instagram captions, you will eagerly await). After working in the book publishing industry for most of her twenties, first as an editor and then as a literary agent, she began writing herself about two years ago.
. . . but Sometimes It Is
After entrepreneur Rebecca McCandler and her husband were laid off just a month before their wedding, the couple set up several businesses that they now run together. She explains, "it quickly went from 'this could be a good business' to 'we need to make this a successful business.'"
The first business, Bears & Butterflies, is a bell tent rental company that provides accommodation for guests at special events; they first spotted a gap in the market when they were planning their own wedding. Rebecca's husband, Brook, is a trained cameraman and film editor, so they also run McCandler Films, a video production company that specializes in films for small businesses, as well as Delightful Devon, which highlights the best that their local area has to offer.
A Recipe for Success
Georgianna Lane is a best-selling author and photographer; she released two books, Paris in Bloom and Vintage Roses this past year, and is currently working on several more. She is also the founder of Garden Photo World, a specialist horticultural stock photo library, and has two online shops selling fine art prints, books and stationery items; her work has appeared internationally in books, magazines, stationary, and home decor. Her life sounds as dreamy as the flowers and locations that she photographs: "I am fortunate to travel extensively photographing flowers, gardens and iconic travel destinations. My days are mostly spent in parks and flower farms, on the streets of beautiful cities, or in my studio," she says.
Georgianna didn't get there without being relentlessly passionate about her niche. Her advice to anyone wishing to pursue a career like hers? "Be fully committed to becoming the very best in your field. To be successful, you need to stand out and become known for exceptional products and service, so I recommend investing in the training and practice required to produce superlative work, whether it's photography, painting, design or providing a service. Never stop learning and improving your craft."
Every Day Is Different
One of the most appealing things about working from home is that you are able to work more or less from anywhere you like, and design your own days. But what does this actually look like from the inside? "No one day is the same," Lindsay shares, "but ideally I like to start off with an early morning dog walk, followed by a big cup of coffee while I catch up on emails and admin. The rest of the day could involve a shoot, recipe developing, or a visit to a local producer or entrepreneur."
Jo generally works from her desk at home, unless she hits writer's block, in which case a change of scenes (usually to the stacks in the London Library or a café) helps. "On my most productive days, I'm normally up between 5 and 6 o'clock. I get in the bath and listen to the news on the radio. Typically I write in the early morning, break around 10 for some toast, write, break for a late lunch and a walk, and do logistical work (emails, invoices, scheduling) in the afternoon," she says. Though, admittedly working from home means that "Things go awry all the time. Meetings, travel, and oven repairmen need attention. And then there's the plain necessity for discipline, even if you have a golden, uninterrupted day ahead of you. Today I stopped writing to watch a video of a prairie dog eating a piece of cheese. And then to respond to some texts from my mother about the butternut squash in her garden (mildew!), and so on."
The Struggle Is Real
Jo is thoughtful about isolation: "I think most writers enjoy working alone, and that can be a danger. It's easy to justify putting your head down, and forget to be an engaged friend and member of the community. I have these lurid purple pineapple socks. They're too terrible to wear outside, so when my husband sees me yanking them on in the morning, his eyebrows shoot up knowingly. And the eyebrows are right. What I'm saying is, I try not to reach for the pineapple socks too often."
As Georgiana says, "Discipline is key if you want to be your own boss, both to keep yourself motivated to get the vital work done, and to allow yourself breathing space and some time of quiet reflection. Take a walk, see a good movie, walk through a garden, spend time with friends and family. Getting distance on your immediate work refreshes and gives clarity for creative ideas and problem solving. It's really not just nice to do—it's vital."
Another, perhaps more unexpected, struggle is with other people's expectations: "Be prepared for a lot of 'Oh, how interesting' said in a tone that implies you've made a terrible decision," Rebecca says.
While it may still be harder to explain this kind of working life to others than a more traditional job—and it certainly isn't always as effortlessly beautiful as it looks—these opportunities for women are most definitely on the rise. And for those of us craving more freedom and flexibility in our lives, that's a beautiful thing.
Photo Credit: Elissa Voss Photography