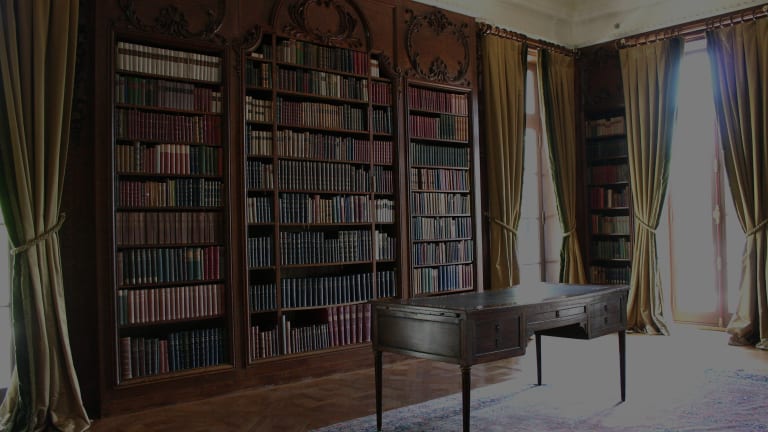 These Libraries Inspired Our Favorite Female Authors and Need to Go on Your Bucket List ASAP
Get out of the sun and into the book-adorned places where famous women writers spent their afternoons.
The August heat is in full swing, so now might be a great time to trade the beach for a book (or maybe a roomful of books).
Libraries are the perfect excuse to get out of the sun and get your nose in a novel. But to really step up your library game, check out one of these historic locations that are sure to make you want to curl up with a good read, like your favorite authors did when they weren't, you know, writing.
The Chawton House Library / England
"I declare after all there is no enjoyment like reading! How much sooner one tires of any thing than of a book! — When I have a house of my own, I shall be miserable if I have not an excellent library."
-Caroline Bingley, Jane Austen, Pride and Prejudice
A short walk from the home where Jane Austen spent the last years of her life, the Chawton House Library was founded in 1993 by Sandy Lerner, who found out about the place from Jane Austen's letters about the estate. Originally part of her brother's estate in Hampshire, England, the 400-year-old property fell into disrepair. With its connection to Austen, Lerner decided the location was perfect for her growing collection of early women's literature. After years of restoration, it has become a hub for research and discussion, with panels, exhibitions, and speakers year round. 
Spend the afternoon like Austen herself, who "dawdled an hour very comfortably there," as she wrote in one letter. You can see the reading alcove in the Oak Room, where family legend says Austen liked to sit and read, or you can visit the Jane Austen House Museum nearby to get the complete Austen experience.
The Bronte Parsonage / England
"I am no bird, and no net ensnares me: I am a free and human being with an independent will."
-Jane Eyre, Charlotte Bronte, Jane Eyre
This museum and library combination in Haworth, England was originally home to the Bronte Sisters—Charlotte, Emily, Anne—and their family. Hosted by the Bronte Society, The Bronte Parsonage now contains a comprehensive collection of manuscripts, early editions, letters, and poetry. The Bronte Society was founded in 1893 to create a permanent home for these items. 
Visitors can see the house the Bronte family lived in while writing many of their books and poems, and the surrounding landscape that inspired the writers, creating the setting for Wuthering Heights and Jane Eyre. Check out the list of current events like a free exhibition of costumes, props and photography used in To Walk Invisible, Sally Wainwright's acclaimed Brontë drama set in The Parsonage.
The Reading Room at the British Museum / England
"Lock up your libraries if you like; but there is no gate, no lock, no bolt that you can set upon the freedom of my mind."
-Virginia Woolf, A Room of One's Own
Though famous for the many historic authors having used it in years prior, the Reading Room was further immortalized after Virginia Woolf published A Room of One's Own. Built in 1857, it was used by authors like Karl Marx and Sir Arthur Conan Dolye. Woolf's narrator character spends a day researching at the Reading Room, frustrated by the lack of varied debate on women's literature (that wasn't written by men bemoaning it). She wrote an extended essay about the importance of female scholarship, and how women could not be expected to develop writing without sufficient income and a place for them to do so. See the place where literary history for women took place, and imagine Woolf at one of the tables, poring over texts and research. The British Museum is currently debating how to use the Reading Room now, but it is still open for visits.
Louisa May Alcott's Orchard House / Massachusetts
"The power of finding beauty in the humblest things makes home happy and life lovely."
-Louisa May Alcott
You'll find literary adventures stateside, too. Head to Concord, Massachusetts, to visit the famous American author's original home. While not technically a library, the Orchard House is where Alcott wrote and set her famous novel Little Women, so it's sure to set your book-loving heart aflutter. The house has been preserved in its original fashion, and most of the furnishings on display were owned by the Alcotts, making this one authentic experience. If you have siblings, you can probably relate to just about everything Alcott wrote, so use this as an excuse to take your sisters out to the place that inspired the March family's home.
The Harriet Beecher Stowe Center / Connecticut
"No work of art can compare with a perfect home..."
-Harriet Beecher Stowe 
The Harriet Beecher Stowe Center Library is home to thousands of books, pamphlets, and manuscripts of and about Harriet Beecher Stowe, the famous author of Uncle Tom's Cabin. You can tour her home in Hartford, Connecticut, where she lived for 33 years, and take a look at the impressive collection in the library. Stowe and her family bought the house in 1873, living there with her husband, her adult children, and her son's family until her death in 1896. She wrote many of her later works here. The house has been preserved in the style Stowe and her family would have experienced it, including her paintings and original furniture. 
The Mount / Massachusetts
"No children of my own age…were as close to me as the great voices that spoke to me from books. Whenever I try to recall my childhood it is in my father's library that it comes to life…"
-Edith Wharton
If you'd rather have a more private experience, you can schedule a personal tour of Edith Wharton's private library at The Mount, her historic home in Massachusetts. Not only did Wharton write The House of Mirth here, but she designed much of the way the house was built and decorated. A pioneer of women's education and in stalwart opposition to the societal norms of the times, Wharton spent as much time as she could reading as a child. She would later be the first woman to be awarded a Pulitzer Prize for her novel The Age of Innocence. The house is now open for tours, including a popular ghost tour. If you're a hands-on kind of person, you're in for a treat: visitors are encouraged to sit and interact with the rooms. In the spirit of the famous author, the Mount is also a cultural center with exhibitions, speakers, and an writers-in-residence program for aspiring female authors. 
Andalusia Farm / Georgia
 "The writer operates at a peculiar crossroads where time and place and eternity somehow meet. His problem is to find that location."
-Flannery O'Connor
Flannery O'Connor's picturesque estate, nestled in the hills of Millidgeville, Georgia, was her home until she died of lupus in 1964. Her writing is most notable for exploring themes of religion and southern racial issues. She wrote extensively about Andalusia in her letters later published in The Habit of Being. The farm is now on the National Register of Historic Places. The forests surrounding the estate are largely untouched, and tours are self-guided, giving visitors a chance to really immerse themselves in O'Connor's home. She wrote many of her short stories and books while living here, surrounded by the birds she raised—including peacocks, swans, and Muscovy ducks—and the Southern landscape that inspired her novels and her amateur paintings.