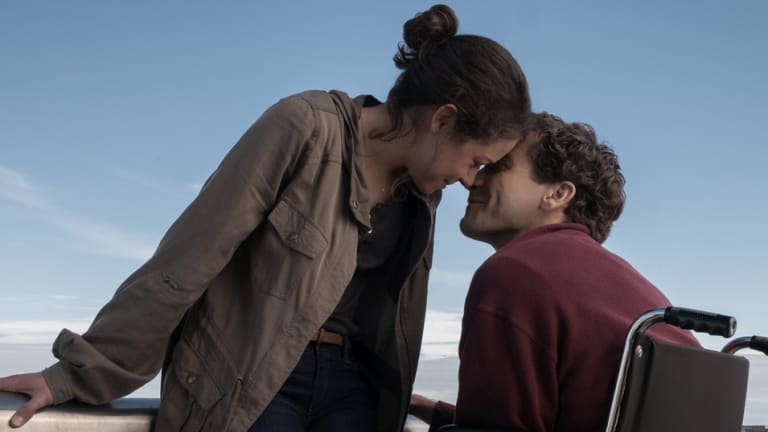 What We're Looking Forward to This Fall in TV and Film
Coming to a TV or theater near you
It may be hard to believe that summer is almost over, but as the days get cooler, so comes the fall TV rollout and some movie blockbusters as well. Here's what we have on our radar to watch, whether in cinemas, at the gym, or on our couches with a throw blanket.
On the Small Screen
Dancing with the Stars // September 18
ABC's celebrity dance competition returns with a new season and with it, some favorite pro dancers. Peta Murgatroyd returns after giving birth to her son with husband Maksim Chmerkovskiy (who is also returning as a pro), Mark Ballas is returning, and there are rumors Cheryl Burke may return as well. The stars themselves will be revealed on September 6 on Good Morning America, but if it's anything like past seasons it won't disappoint.
The Good Doctor // September 25
Remember the cute little boy from August Rush? He's all grown up and playing a doctor on ABC's newest medical drama (and no, he's not McDreamy Jr.). In this series, Freddie Highmore plays Shaun Murphy, a young doctor with autism and savant syndrome. In his prestigious work environment, skeptical colleagues put Murphy to the test to prove that his surgical gifts can transcend his innate inability to connect. The Good Doctor is the latest in a trend we've seen the past couple years of more mainstream shows addressing mental health challenges and fighting stereotypes.
The Voice // September 25
Season 13 is upon us. Blake and Adam along with Miley and newbie Jennifer Hudson are soon to be turning their chairs for a new crop of uber-talented singers, and we'll be cheering, belting, and crying right alongside them. Guest appearances from Billy Ray Cyrus, Joe Jonas, Kelly Rowland, Rascall Flatts, and more are going to keep this season full of anticipation. Who's team are you on?
This is Us // September 26
When This is Us surprised us with a second half-season last year, it was like Christmas Day—but the wait for season two has felt more daunting than ever. Alas, the wait is nearly over and we'll be back with the family that has challenged the very meaning of the word and crushed stereotypes since the day the show premiered. Sylvester Stallone (curve ball) is guest starring as himself. And we don't even have to sweat it out all season wondering the show's fate because season three has already been green-lighted. Expect a cliffhanger, people. 
Speechless // September 27
The Wednesday night sitcom Speechless with Minnie Driver in the driver's seat, in her role as Maya, a mom of a special-needs boy and matriarch of a loving family, returns to ABC for its second season. Expect more laughs around the hilarity that comes when real-life challenges meet artistic license and Driver's feisty acting.
The Good Place // September 28
The NBC show featuring Kristen Bell returns for its second season. Last fall The Good Place introduced viewers to Eleanor (Bell), who died and entered heaven under the mistaken identity of someone who had lived a holier life, and since then she's been trying to reform her ways and earn her way in. Expect more plot twists, cliffhangers, and dramatic flashbacks.
10 Days in the Valley // October 1
Beloved Kyra Sedgwick returns to screens everywhere as star and co-producer of a cryptic drama. She plays Jane Sadler, a TV producer, whose ongoing marital separation stress is magnified when her daughter goes missing in the middle of the night. Lovers of Law & Order will likely find intrigue in this series where no one can be trusted, and everyone is looking over their shoulder.
Supergirl // October 9
Superman's cousin and one of the last surviving Kryptonians, Supergirl, returns to The CW for her third season with Melissa Benoist in the lead role. Girl power meets light-hearted fun in the show Rotten Tomatoes calls "a family-friendly comic-book adaptation that ditches cynicism for heart." Watch and you'll understand how the show got its 95 percent approval rating from the site.
Valor // October 9
Premiering on The CW this October is a show produced by CBS and Warner Brothers set on a U.S. Army base housing helicopter pilots who perform clandestine missions across the world. Expect military-grade drama, suspense, tension between the sexes, and a chance at redemption to be the themes in this secret-filled series headlined by Christina Ochoa.
Jane the Virgin // October 13
Jane the Virgin returns to The CW for its fourth season featuring the charismatic Gina Rodriguez in the lead role. For a show that manages to serve soap-opera-level drama with sit-com-level lightness, it never seems to run out of plot twists—or laughs.
Life Sentence // TBA Midseason
Have you ever wondered what it would be like to think you're dying of cancer, only to be told you're cured? For Stella (Lucy Hale) in The CW's new show Life Sentence, it isn't as easy as she expected. After 8 years of thinking she's dying and playing the cancer card (legitimately), Stella realizes everyone around her has been making sacrifices and keeping secrets in order to make her final years as blissful as possible. The good news is they ended up prolonging her life; the hard news is now instead of facing "certain death," as her brother says in the trailer, she now faces the hardships of "uncertain life."
In a Theater Near You
Home Again // September 8
Raise your hand if you like The Parent Trap (Lindsey Lohan version), The Holiday, and It's Complicated. Well, you're in luck. Nancy Meyers, movie producer extraordinaire, is back and this time with Reese Witherspoon. The synopsis here is a little suspect; Reese is a single mom living in L.A. who "has her life change unexpectedly when she allows three young men to move in with her," but Meyers has rarely ever missed the mark, so this film is likely to be a hit. Get your rom-com-loving girlfriends together for a night at the movies!
Mother! // September 15
Leave it to the man behind psychological thriller Black Swan to make a film called Mother that will make you feel more frightened feelings than warm. In Darren Aronofsky's latest written and directed film, Jennifer Lawrence is cast in the lead role, as a woman living a serene existence until her husband (Javier Bardem) starts welcoming some strange visitors into their house. Ed Harris, Michelle Pfeiffer, and Kristen Wiig costar for what promises to be a suspenseful ride.
The Battle of the Sexes // September 22
A "Battle of the Sexes" in tennis refers to men playing against women, but this movie is poised to be so much more than a sports film. Based on the famous match between Billie Jean King and Bobby Riggs that changed women's tennis forever (for the better), this movie addresses the wage gap and gender bias in sports and beyond. Riggs initially stated that he was certain he could beat any women he faced on court. King's victory laid the foundation for what is today the Women's Tennis Association. Did we mention Emma Stone is in it?
Stronger // September 22
Jake Gyllenhaal plays the role of Jeff Bauman in a drama based on true events following the Boston Marathon bombing. Bauman shows up at the race to cheer on his girlfriend, but loses his legs in the terrorist explosion. Viewers join him—and the city of Boston—in the journey toward recovery and hope after loss. Bring your tissues and be ready for a heavy dose of American endurance.
Victoria and Abdul // September 22
Based on the real-life friendship between Queen Victoria and her Indian servant Abdul Karim, Victoria and Abdul stars Judi Dench and Ali Fazal as two unlikely companions in the later years of her life. Sent on assignment from his home country of India, Abdul meets Queen Victoria in England at 81, lonely and tired of the burdens of leadership. As others look down on the friendship due to the pair's cross-cultural differences, we expect to see Dame Dench reveal an unshakeable Victoria.