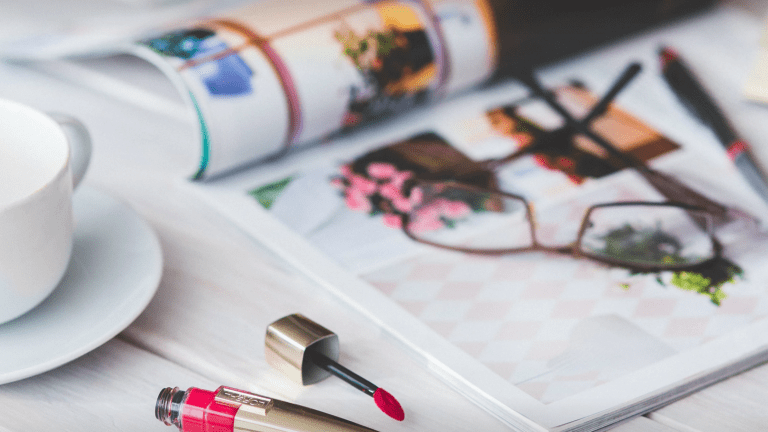 These Recent Trends Against Objectifying Ads Give Us Hope for Media
Depressed by all the sexualized advertising? Read this.
If you find yourself regularly scandalized—or worse, immune—to the racy magazine covers in the checkout aisle at the grocery store, know that you're not alone. Research shows that in recent years there has been a "steep increase in the pervasiveness of images in magazines that show young women in highly sexual ways." From Seventeen to Rolling Stone, more of the body—especially women's bodies—is being exposed. With posture, facial expression, lighting, and makeup, this trend contributes to an image of women as sex objects rather than unique human beings. What's worse, often the degradation is for the benefit of selling something as unrelated and banal as water.
Lawmakers Are Noticing Ads' Effects on Well-Being
The trend hasn't gone unnoticed by lawmakers. Last week Britain's Advertising Standards Authority released its report "Depictions, Perceptions, and Harm," which concluded that gender stereotypes in media have the potential to cause children and adults to think poorly of themselves. It also acknowledged that the gender disparity harms individuals (both publicly and privately), the economy, and society at large. The Committee of Advertising Practice is set to develop new regulations that "ban advertisements that promote gender stereotypes, sexually objectify women, or promote an unhealthy body image" starting later this year.
While this sounds promising—especially the parts about sexual objectification and unhealthy body image—according to a Twitter poll, not everyone is game for similar implementation in the United States. In some situations, it may be difficult to draw the line as to what's acceptable. Who decides what's unhealthy? Are gender stereotypes really so terrible? Plus, as with any ban on language, there's a danger of impinging on freedom of speech when it's not properly enforced.
A better solution may be France's ban on "excessively thin" models, which takes a more quantitative approach. In France, models are required to have a doctor's note certifying their health, taking into consideration factors including weight, age, and body shape. Italy, Spain, and Israel have also enacted legislation on underweight models. In Israel, qualification for modeling depends on a body mass index (BMI) of at least 18.5—for example, a woman who is 5'9" tall and weighs 125 pounds. Ads in France and Israel that have been digitally manipulated also must acknowledge that process. While each of these initiatives has their criticisms, one thing each rightly acknowledges is that mass-disseminated imagery has consequences on the health and well-being of those pictured and those consuming the imagery, and efforts have to be made to curb it.
There Is Another Way
Changes are happening within the advertising industry. Madonna Badger, co-founder and chief creative officer of advertising agency Badger and Winter, is the force behind the #WomenNotObjects campaign, which seeks to persuade other agencies to create effective advertisements without objectifying or over-Photoshopping women. Their study, "Quantifying the Effect of Objectifying Women in Advertising," surveyed 3,300 women ages 13 to 74 and concluded that non-objectifying ads are better for business, both in terms of purchase intent and brand reputation. "Whole, human, and strong ads" were determined to be those that "made viewers feel good about themselves, showed women who looked happy, and as they could look in real life."
Creating better ads is essential, as is thoughtful reception of media. Media Literacy Now advocates for media literacy skills in every school so that younger generations will be better equipped to deal with the barrage of content they are subject to each day. We all need to be reminded sometimes that not every source is reliable, and not every image out there reflects reality. The organization is currently active in seventeen states and looks to expand.
Let's Hear It for the Girls
Adults taking notice and making changes is good news. The greatest triumph, however, may come from the objectifying ad's direct targets: young women. Take SPARK (Sexualization Protest: Action, Resistance, Knowledge), a "girl-fueled, intergenerational activist organization working online to ignite an anti-racist gender justice movement."
The website has become a place where younger women share their voices on what's wrong in media and society and how to fix it. In addition to online forums, in-person book clubs and movie nights, and monthly calls to action, the movement was responsible for a petition that garnered 86,000 signatures confronting Seventeen magazine on its Photoshopping policies. The result? An eight-point "Body Peace Treaty," in which editor in chief Ann Shoket pledged to "never change girls' body or face shapes" in their images.
The old adage "sex sells" isn't what it used to be—and perhaps because we've been saturated with sexualized media, sex isn't what it used to be. As attitudes change and awareness grows, advertisers will have to look to more thoughtful approaches to create successful campaigns. Which is a good thing because the people who are watching these ads and buying these magazines are human beings, after all, not objects.
Photo Credit: Unsplash