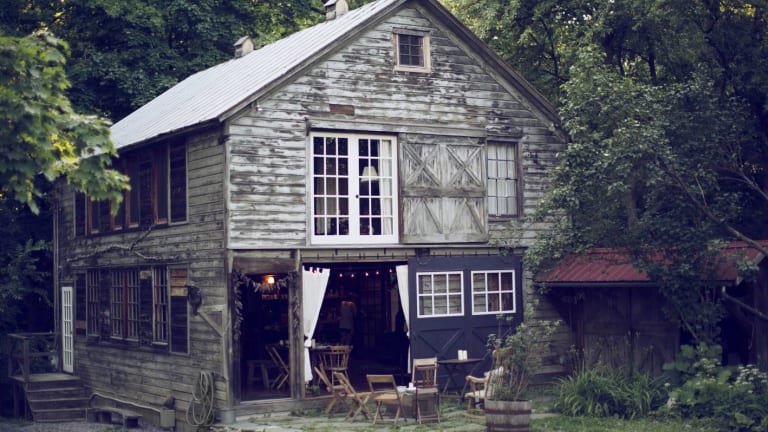 20 Stunning Cabins That Will Make You Excited to Welcome Cold Weather
Stay, it ain't snow.
With summer's end on the horizon, we're looking forward to crisp fall days and cozy under-the-blankets nights. What better way to take in fall foliage than at a cabin? We rounded up twenty of 2017's most stunning cabins available on Airbnb in North America. Each property promises a model Superhost who provides extraordinary experiences for their guests and a working indoor fireplace that will keep the chill away (and your apple cider warm).
The Joshua Tree House // Joshua Tree, CA
Just ten minutes from the west entrance of Joshua Tree National Park, this mid-century modern home with a southwestern vibe is a desert dream come true. $245/night for up to 6 guests.
Cozy A-Frame Cabin in the Redwoods // Cazadero, CA
This restoration-in-progress with a wood-burning stove promises peace and quiet just ten minutes from the Sonoma Coast or fifteen minutes from romantic wine country. $165/night for 1-2 guests.
The Bunk House // Nicasio, CA
Forty-five minutes north of San Francisco, find yourself in this bed & breakfast on a 500-acre working cow ranch. Eat local pastries and sip coffee before hiking through the sun-drenched rolling hills. $295 per night for up to 5 guests.
Underground Hygge // Orondo, WA
Live like a hobbit and get a taste of Danish winter hygge in this comfortable mountainside dwelling with wondrous views of the valleys below. $241/night for 2 guests.
Tiny House in Seattle // Seattle, WA
A quick drive from downtown Seattle, this tiny home built by an architect and graphic designer duo is an excellent fall/winter getaway for those keen on trying out the tiny house trend for a weekend. $109/night for up to 3 guests.
Unique Cob Cottage // British Columbia, Canada
Appearing in many books on natural building, this Snow White–esque cottage is hand-sculpted of local, sustainable materials on a lovely acreage with sheep, gardens, and orchards. $132/night for 2 guests.
A-Frame Mountain View Cabin in a National Forest // Flagstaff, AZ
A-frame cabins were designed to withstand snow and rain—yes, even in Arizona. Tucked within Coconino National Forest, you'll get spectacular views of the surrounding forest and mountains from all the rooms and decks. $129/night for up to 4 guests.
Mountain Rustic Log Home // Ridgway, CO
If you've ever wanted to stay in an actual log cabin on a twenty-acre horse farm, this is your chance. $165/night for up to 6 guests.
The Wilde House | Modern Farmhouse // Ben Wheeler, TX
When modern minimalism meets farmhouse charm, you get this gorgeousness you won't find anywhere but East Texas. $200/night for up to 10 guests.
Mountain Cabin on Cooper Creek // Suches, GA
This Georgian escape is forty minutes away from the nearest town but makes up for it with private access to a wide, trout-filled creek near waterfalls and mountain views. $135/night for up to 6 guests.
Big Sky Bungalow // Big Sky, MT
This western condo overlooks a creek, and in the winter it's the right spot for cross-country skiing or lift access for skiing aficionados. $149/night for up to 6 guests.
Lakeview Cottage // Redwing, MN
It's not called "lake view" for nothing; this small but fully equipped cottage has dock access to Lake Pepin, where the owner can take you aboard his 31-foot sailboat to take in the changing trees in autumn or spot the eagles in winter. $118/night for up to 4 guests.
Apple Cottage on the Prairie // Oskaloosa, KS
We imagine this little house is where a modern Laura Ingalls Wilder would write and live with her family on the prairie. (Bonus: It really is on a prairie.) $59/night for up to 4 guests.
Mountain Octagon // West Augusta, VA
This "treehouse" on the mountainside has glass walls that will make you feel like you're floating in the trees among the finches, away from the fast pace of D.C. and Richmond. $175/night for up to 4 guests.
Dreamy Cottage Right Next to Downtown // Nashville, TN
You wouldn't know you're only three miles from "Music City, U.S.A." when you're lounging at the fireplace inside or warming up by the private patio's fire pit outside. $81/night for up to 4 guests.
Clum House // Catskill, NY
Close to the Hudson River and the Catskill region, Clum House is a two-story camp building from the 1920s renovated by architects and designers into a scenic, well-decorated home away from home. $275/night for up to 5 guests.
Rustic-Chic at the Barn // Tivoli, NY
No cabin roundup would be complete without a rustic-chic barn added to the mix. Renovated by local artisans in Tivoli, the Barn has all our favorite things: a pond and creek that lead to the Hudson River, fire pits, a picnic table, claw foot tubs, and a library. $300/night for up to 6 guests.
Martha's Vineyard Getaway Cottage // Tisbury, MA
Surrounded by woods, gardens, and lovely, quiet walking trails, this quaint but elegantly decorated cottage would suit a 21st-century Bennet family just fine. $195/night for up to 4 guests.
Mother Moose Luxury Log Cabin // Danbury, NH
Retreat to New Hampshire's Ragged Mountains in this luxury log cabin, named after the moose you'll occasionally spot. It's just a stone's throw from skiing and hiking trails. $575/night for up to 10 guests.
Mountain Myst // Boonsboro, MD
Just one hour away from Washington, D.C., this luxury cabin is nestled in the Allegheny Mountains surrounded by emerald green forest views, the Appalachian Trail, skiing, and several state parks. You'll find us warming up at the stone fireplace in the lounge room with a glass of red from one of the many local wineries nearby. $290/night for up to 8 guests.