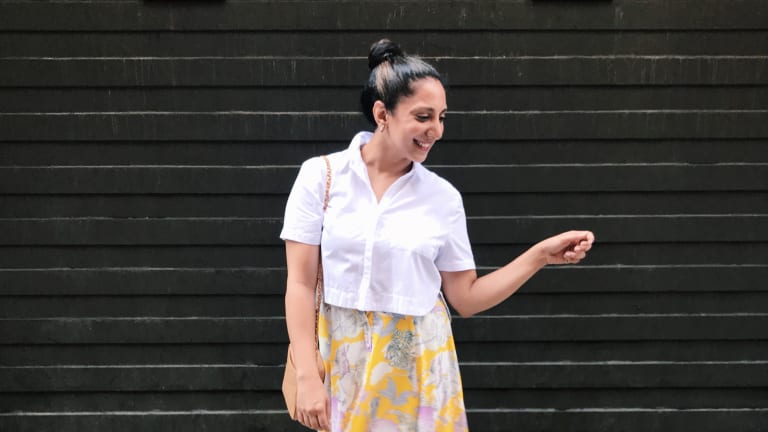 Beauty Bag Must-Haves: Hitha Palepu
This packing expert reveals her travel essentials!
We've all seen them: the women who stroll into the airport with one carry-on, a laptop case attached perfectly around the handles, and everything packed in made-to-fit baggies just so, somehow making that long security line look like a total breeze. Well, for the rest of us, Hitha Palepu is here to help.
As a jet-setter, entrepreneur, author of How to Pack, and founder of the blog HithaOnTheGo.com, Palepu knows a thing or two about traveling. On her blog, Palepu shares practical tips and solutions designed to help streamline travel—and your life.
But her posts go beyond carry-on solutions (although she has plenty of tips on this!). Palepu shares everything from that perfect dinner recipe to tips for multitasking to ideas for getting involved with charities and politics. Needless to say, we couldn't help but be curious as to what the woman who literally wrote the book on what to pack actually keeps in her bag.
Her Beauty Philosophy
"'Less is more' is my approach to beauty. My mother and aunts are the most beautiful women I know, and they don't wear a lick of makeup. Their focus has always been to take care of their skin diligently and that natural solutions are always best. As I get older, I gravitate toward fewer high-quality products and remedies—the face cream that always leaves my skin glowing, the perfect-fitting T-shirt (that's also responsibly produced), and that turmeric is usually the answer to any ailment I face. Rather than experimenting with trends in fashion or beauty, I enjoy a handful of products that help me look and feel my best and enjoy the ritual of my skin care and beauty routine every morning and night."
Her Beauty Routine
"For my face, I rotate between a few cleansers (Naturopathica Aloe Cleansing Gel, TULA Purifying Cleanser, and Alchimie Forever Purifying Facial Cleanser). I double cleanse at night, using One Love Organics Vitamin E oil cleanser first. I spritz rosewater on my face after cleansing (and to help set my makeup) and also layer serums, creams, and oils depending on how my skin is feeling. I'm diligent about refilling my vitamin case and washing my makeup brushes every Sunday, and I alternate a mask or a chemical exfoliating pad every day. I avoid makeup on the weekends and the days I'm working from home, which gives my skin a nice break."
01. Heritage Rosewater, $10 – This is a staple in both my pantry and my medicine cabinet. Not only do I refill my Glossier spray bottles with this, I also add it to my water and any sweet dish I'm making. Rosewater is my secret ingredient for both my skincare AND my pancakes.
02. TULA Hydrating Day & Night Cream, $52 – This is my favorite face cream, period. It brings cutting edge skincare science in a gentle, sensitive-friendly cream that always leaves my skin glowing.
03. Alchimie Forever Kantic Brightening Moisture Mask, $60 – This product does it all. It's a nourishing mask but can also be worn overnight or as an illuminator. It's super gentle and leaves your skin glowing, no matter how you wear it.
04. Laura Geller Baked Concealer, $24 – This concealer is magic. It covers up blemishes and dark eyes all day and blends beautifully in my skin. Laura Geller is one of the few brands that matches my skin and undertones perfectly, and I wear this every day—even if I'm just running out to the grocery store.
05. By Terry Baume de Rose Lip Balm, $60 – This is, hands down, the best lip balm I've ever tried. It lasts for 8-10 hours, smells and feels wonderful, and one little pot will last you forever. I keep a pot in both my nightstand and my purse at all times.