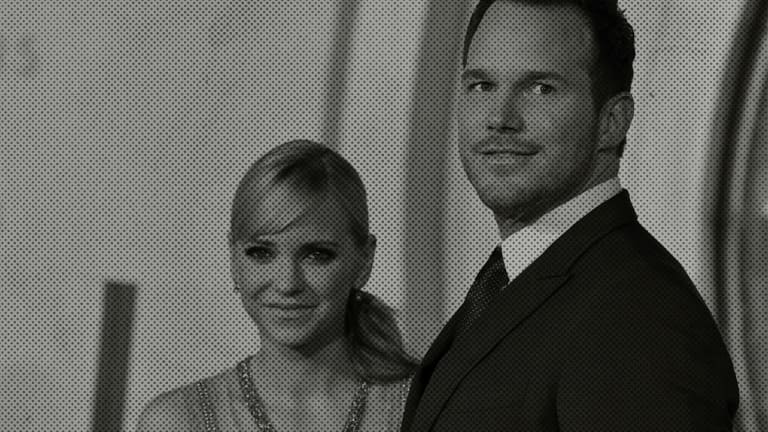 Anna Faris and Chris Pratt's Split Reminds Us of 3 Things That Threaten Even the Happiest Marriages
Love isn't dead, but it can be hard.
When a high-profile celebrity couple splits, we all take note (Brangelina, anyone?). When said couple is a cute, likable duo of comedians who have charmed us with their quirky antics for nearly a decade—the fallout can feel like there's just no hope left for love. Such is the prevailing narrative since news broke of Anna Faris and Chris Pratt's split, anyway.
Delivered via social media on Sunday night, the couple, who has been married eight years, said, "We tried hard for a long time, and we're really disappointed. . . . We still have love for each other, will always cherish our time together, and continue to have the deepest respect for one another." As to their 4-year-old son, Jack, they said, "Our son has two parents who love him very much, and for his sake we want to keep this situation as private as possible moving forward."
When we spoke to clinical psychologist Joshua Klapow, Ph.D., who analyzes relationships on his insightful radio show and podcast The Web, he reminded us that—celebrity aside—Faris and Pratt are anything but unusual. In fact, they would appear to be a veritable bullseye for many of the relationship statistics we are often warned about. While we grieve the dissolution of their marriage, it's important for us all to pay attention to the proven speed bumps that every couple can expect in marriage and how we can work around them.
01. Children Change the Marriage Dynamic
"We know that children place a huge strain on marriages," Klapow said. "It can change the overall dynamic of the relationship for the worse. It's not that you dislike your child (of course!) as much as the complexity of the relationship changes."
Marriage researcher and psychologist Dr. John Gottman found that most divorces within the first seven years were because the couple became parents. According to Dr. Gottman's research, 67 percent of couples reported a decline in relationship satisfaction after the arrival of the first baby. That being said, Zach Brittle, a Gottman-certified therapist and co-founder of ForBetter.com, reminds us that there are things we can do to protect our marriage from the upheaval that often comes with becoming parents. Brittle's advice? Talk about parenthood, what family means to you, and your expectations for romance and personal care before the baby is born (and preferably before you get married). Parenthood is an amazing gift and can even make your marriage stronger, but it's important to take steps to make sure you don't lose sight of your spouse.
02. The 7-Year Itch Is Real
"Couples tend to have a honeymoon period following marriage, followed by a peak in divorce rates around the six- to eight-year mark, followed by stabilization after," Klapow says.
While it can be difficult to conclusively pinpoint exactly how long the honeymoon period lasts, Dr. Gottman has found that couples typically wait six years before seeking marriage help, and that's if they seek help. That means, for the average couple, things start to get bumpy somewhere between year one and six. Not only that, a poll shared earlier this year revealed that the majority of Americans who had been married an average of twenty years (and at least five), believed that year seven was definitely the hardest. It's important to take steps to make sure you can get through it. If you're not yet married, don't underestimate the power of skills-based marriage training before you say "I do." If you get good at things like effective communication now, it will be that much easier when the hard times hit (because they will).
03. Outsiders Can Have an Impact
Many have been quick to speculate that Pratt's Passengers costar Jennifer Lawrence could have contributed to the marriage's failure because it was speculated that Pratt and Lawrence were romantically involved off-set while filming together. Faris opened up about the rumors on her podcast, Anna Faris Is Unqualified, saying, "It made me feel incredibly insecure" even though the rumors weren't true. She also told US Weekly that the rumors ". . . stung a little bit harder than [I] thought it would."
For stars like Pratt and Faris, keeping their marriage protected from outside influences (including all the gossip) is a tough job. But it's no different for everybody else. The secret that happy couples know (as well as marriage experts) is that it's a whole lot easier to protect intimacy in marriage when you establish healthy boundaries. According to Brittle, ". . . healthy, agreed-upon boundaries are critical for an intentional relationship." In an article for Verily, Brittle explained that happy couples have walls to protect their relationship from outside forces and windows into one another's lives to enable intimacy. It's important for couples to discuss the kinds of boundaries they need in order to feel like their marriage is protected and then start building walls to make sure that sense of safety is never threatened. "Decide what topics are off-limits with the in-laws," Brittle suggests. "What is and is not appropriate when hanging out with work friends? Is it OK if it's one-on-one with a member of the opposite sex? Is lunch OK, but happy hour is off-limits?"
At the end of the day, whether the marriage was strained by Hollywood life or was just the cumulation of stress from everyday things such as raising a child is impossible to know. "All of this is to also say that there may be a host of underlying reasons," Klapow says. "That being said, Chris and Anna have many of the risk factors for divorce, so sadly, it's not terribly surprising."
It was striking that Pratt and Faris chose to use the word "disappointed" in their statement. The mood surrounding their split thus far isn't riddled with anger or injustice; it seems like a truly sad moment that the pair tried hard to avoid. Rather than declaring that love is dead (as so many have today), this might be a better time to remind ourselves that the true moral of the story is that love is hard—but there are things we can do to ensure that our own love story doesn't share the same fate.