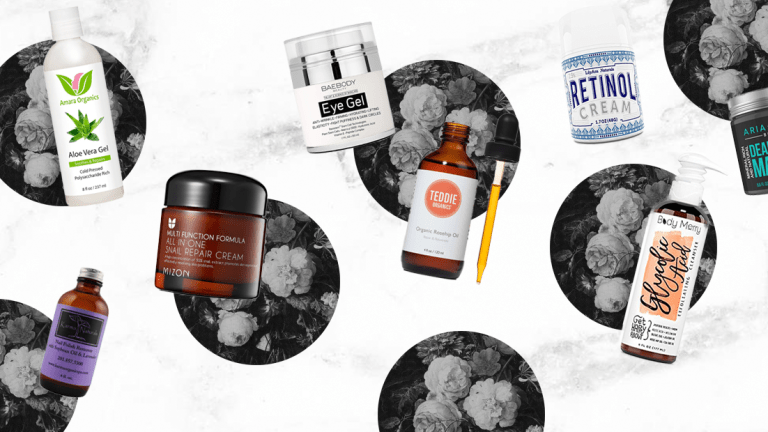 The Highest-Rated Amazon Beauty Products That Actually Work
With thousands of positive reviews, these affordable products are worth a try.
Amazon is where we go to buy books, electronics, and even groceries. But have you ever thought of it like your girlfriend with all the best beauty advice? That's right, Amazon is actually a great place to get honest reviews from real women who have tried the products you've been eyeballing (and sometimes without the Sephora prices).
Interested in discovering what products have been working for thousands of women just like you? Take a look below at the highest rated beauty products that you've never heard of (but actually work.)
With five stars across the board from six thousand women, this under-eye gel is living up the hype. Made with organic and natural ingredients like aloe, cucumber, jojoba oil, and licorice, Baebody promises to reduce puffiness and dark circles while also restoring elasticity, plus it's free from fillers, parabens, and fragrances.
"This gel does what it says. . . . Instantly firms and tightens the skin around the eyes. It also brightens the dark circles. I have noticed a visible difference with this product. Does as much and more than other far more expensive eye treatments." –Michelle R., Amazon User
Vitamin C has been proven to promote elasticity, brightness, and increase collagen synthesis for an overall healthy complexion—so it's no surprise that dermatologists have been urging their patients to start incorporating vitamin C serum into their beauty routine. Amara Organics' 5-star formula also includes hyaluronic acid to intensely moisturize and vitamin E to fight acne.
"Within the first few days of use, I could see that my skin was brighter and my acne, which was so bad until then, suddenly started clearing. I waited for a few more weeks to make sure. It still keeps my skin clear and smooth. I use it twice daily and the product easily goes under makeup. It doesn't make my skin feel suffocated, yet hydrates it well." –Nimmi19, Amazon User
As a No. 1 bestseller on Amazon, there must be something to this mask. The deeply cleansing mud is from the Dead Sea in Jordan and includes a host of natural minerals like magnesium, calcium, sulpher, zinc, that work to detoxify your pores while increasing blood flow to your skin for healthy glow.
"I finally found a product that actually works on blackheads! I have a really bad case of blackheads and huge pores on my nose. I noticed a significant difference after the first time. I have used it twice so far and it does really help with shrinking pores and extracting blackheads." –Shwetha, Amazon User
Described as a natural way to repair and heal damaged skin, Teddy Organics Rosehip Oil claims to help everything from rashes, burns, age spots, eczema, psoriasis, rosacea, wrinkles, hyper pigmentation, and stretch marks. Made from pure, unrefined organic rosehip seed, this oil is especially great for those with sensitive skin.
"Rosehip oil is the best moisturizer I have ever used. I have extremely oily skin and I was worried this would either add to the oiliness or break me out, it did neither. It has moisturized my skin, reduced oil production and seemingly reduced the appearance of acne marks and acne scars." –Arrow D., Amazon User
Mainstream nail polish removers are known for their distinct, pungent smell—mostly from acetone and alcohol, which can damage your nails. We didn't even know a natural alternative existed until we found Karma Organic Spa's lavender polish remover. Not smelly and actually works? Yes, please.
"I was prepared for it to take much longer to get the polish off and require a ton of rubbing. I was so wrong! This stuff works better than acetone and I use much less."–Lorelei Sanderson, Amazon User
We know what you're thinking and the answer is yes, this product comes from snails. This Korean cult beauty product ranks at No. 1 of new Amazon releases, with millions of jars sold within the first month of its debut. The formula's miracle ingredient is snail mucus, which is touted as being deeply nourishing, replenishing, and healing. 
"It helped quickly heal a few blemishes I had left over from a hormonal breakout, plus reduced a little bit of redness in my cheeks. My blackheads are also fewer and less prominent and I've had no major breakouts since I started using this cream. My skin is smoother and softer than it's been in ages." –Sadie H., Amazon User
With a five-star rating, this bestseller on Amazon has reviewers singing its praises. Containing 99 percent pure cold-pressed Aloe Vera without any artificial fillers, this product can be used for much more than treating sunburn. Ideal for for relieving and healing any skin irritation, many reviewers use it for itchy skin, rashes, bug bites, acne, dandruff, and even to soothe razor burn. Straight from the aloe leaf plant, it's antibacterial, anti-fungal, anti-inflammatory properties could really come in handy.
"I liberally apply this gel to my face, neck, and chest three times on a daily basis, and it has done so much good for my skin. Without drying, it tightens my pores, smooths and softens my skin, alleviates, and removes acne. Using it for about a month now, it has actually healed acne scars that I've had on my chin and temples for years. This also leaves a noticeably radiant look on my face just minutes after applying!" –Vadim Zhuravlev, Amazon User
Dermatologists we talk with have also been encouraging the use of glyolic acid, espcially in cleanser form. Glycolic acid works to gently exfoliate by loosening dead skin cells and debris from your skin which helps to keep your pores clear and breakout free. Body Merry's glycolic formula also includes jojoba beads, olive oil, tea tree oil, and rosehip to deeply nourish skin.
"I never write reviews but had to share how much I love this cleanser. I have really mild acne and noticed a difference in my skin the first day I used this. My skin is smooth and clearer than it's been in a long time, so clear I can just use a little tinted moisturizer vs. medium-coverage foundation. So excited to have found such an amazing product!" –Tiffany H., Amazon User
If you've been wanting to try a retinol cream, look no further than LilyAna Naturals. Retinol promotes the skin cell turnover rate, causing any dull skin to be sloughed off to reveal glowing skin. Primarily known as an anti-aging ingredient, it's also proven to be beneficial for those who struggle with acne and clogged pores. LilyAna's retinol also includes hyaluronic acid to draw in moisture as well as vitamin E for fighting acne. 
"I've seen a tremendous change—deep lines are significantly lightened, almost erased. My old acne scars from [my] early twenties are even smoothing out. I now have the confidence to go makeup-free out in broad daylight! That is huge for me." –K. Alicia, Amazon User