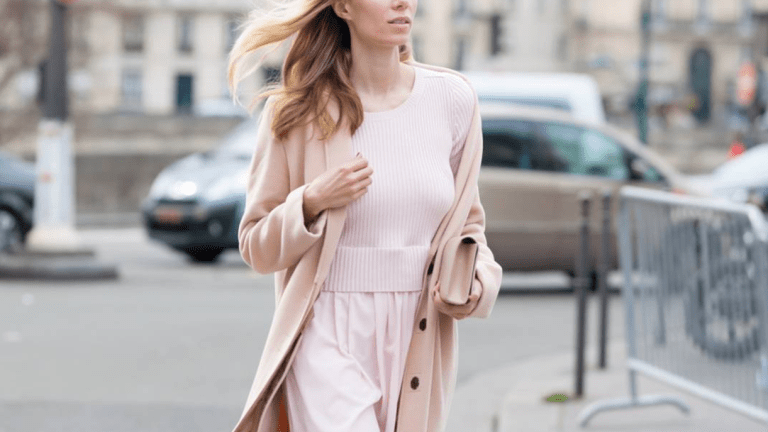 6 Times Ballet Inspired Street Style (and It Was Beautiful)
From the studio to the streets, we're in love with these feminine looks.
Trends come and go, but sometimes recurring inspiration has its sartorial roots in something that is simply iconic. The classic look making the rounds right now? Ballet-inspired attire.
Timeless in its influence, the attire of ballet dancing has made a permanent impact on the world of fashion (and vice versa). Ornate stage costumes and couture runway creations keep these two universes closely linked, but perhaps a mutual appreciation of beauty is what these two artistic fields really have in common. Who didn't sigh and dream as a kid about being an elegant ballerina? To this day, many of us have a fondness for the soft, delicate sway of the tutu or the graceful neckline of a leotard. To revel in this feminine look, here are six times ballet transcended the stage and inspired street style.
Flouncy Chiffon //
Tutus are so pretty, but are they suitable in public? We vote yes. Carrie Bradshaw's iconic tulle look made the toned-down version of the tutu socially acceptable, and J.Crew has recently brought back these flouncy party skirts in a big way. No costume party excuse needed—wear one of these whenever you want.
Lace-Up Flats //
We will forever be grateful for our go-to shoe, the ballet flat, but the fashion world has been especially inspired by prima ballerinas this year. One of 2017's trendiest shoes, the Miu Miu Ankle-Wrap Ballerina, was seen on the feet of every style blogger. The crisscross ribbons add a stylish flair, taking classic flats up a notch.
Elegant Leotard Lines //
If you've ever purposely worn a leotard outside of any dancing-focused activity, you understand the flattering power of the adult onesie. Highlighting every curve just right, anything that replicates the elegant lines of the leotard is a win. While we wouldn't recommend wearing spandex everywhere, a perfectly fitted top or dress is a big win. When layered appropriately, these ballet-inspired items can always be counted on to make us feel our best.
Warm-Up Chic //
There's something undeniably cool about a ballerina's warm-up gear. Chunky sweaters layered over leotards and bunchy leg warmers might be a look only a dancer can pull off, but who says we can't get inspired? The contrast between delicate chiffon and the utilitarian knit is what street style is all about. Sheer dresses paired with long knitted sweaters bring this ballet look out of the studio and into the streets.
Nude Pink //
Who can forget the soft pink-nude hue of their first ballet shoes? Receiving a pair was like a rite of passage, and the iconic color still makes us swoon.
The Classic Ballet Bun //
The topknot has been dominating the hair scene in recent years, but we'll always be fans of the polished ballet bun. Not too high or too low, the ballet bun is the perfect blend of practicality and elegance. Ideal for the office, a formal event, or a night out on the town, this sleek hairstyle can always upgrade our look.