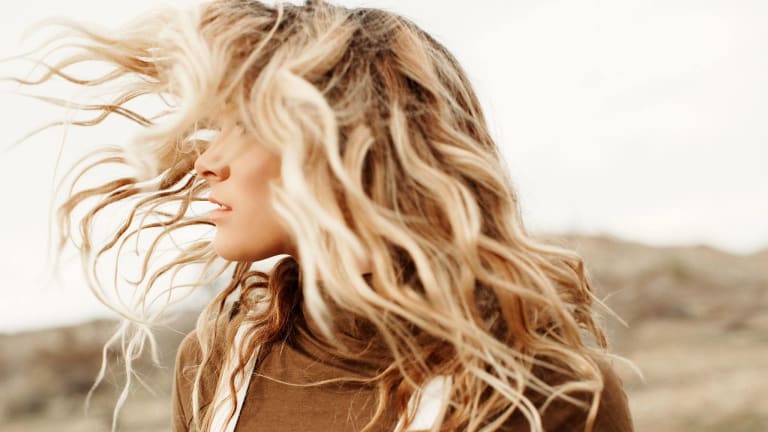 Simple Hacks for Voluminous Hair That You Haven't Heard of Yet
If you've tried all the tricks, here are some new ones!
Limp, flat, lifeless hair is the bane of many women's personal style. There's just something about having voluminous hair that gives us an extra pep in our step (not to mention an excuse for hair flipping). Lush locks make us feel like we're on our A game.
You've probably read every tip in the book—blow-dry with your hair upside down, use mousse, change your part—but we have a few you may not have heard yet. With these, you'll be hair flippin' in no time.
Coconut Oil Hair Mask //
Oil is believed to be the enemy of hair volume, which is true to the extent that your own sebum weighs down your roots. Using an oil mask, however, can give you a major lift. Did you know that coconut oil is one of the only oils that can penetrate through the outer layer of your hair and fill in any weak spots in your hair cuticle? The healthy fatty acids in coconut oil strengthen hair protein, making the strands thicker and less prone to damage.
HOW TO USE IT:
Buy extra-virgin, unrefined coconut oil.
Scoop out 3 to 5 tablespoons into a pot over a stove flame to liquify (microwaving destroys the nutrients).
Pour into a bowl and allow it to cool so that it's warm and doesn't burn you.
Optional: Mix with other nutritive ingredients such as honey, olive oil, or banana.
Massage into scalp and evenly distribute through damp hair, down to the tips.
Leave on hair for as long as possible—twenty minutes minimum.
Wash out with shampoo. You may need to lather twice.
Clarifying Shampoo to Remove Silicones //
You'd be surprised how much product and debris accumulates in your hair over the week. Even if you don't use a ton of mousse or hair spray, your daily shampoo can weigh down your hair. Mainstream shampoos are chock-full of synthetic silicones that prevent moisture and nutrients from penetrating the hair cuticle and make your strands heavier. Silicone is a plastic-like mineral that coats the hair, making it slippery and shiny—which looks healthy but isn't.
The solution? Either go for organic shampoos that are silicone-free, or use a weekly clarifying shampoo to remove the plastic-y silicones from your strands. Clarifying shampoos cleanse your hair with a targeted formula that cuts through stubborn gunk and residue. Clarifying shampoos have a reputation for leaving your hair rough and dry, so be sure to replace the moisture and nutrients with a conditioning treatment (like coconut oil!). Try Bumble and Bumble Sunday Shampoo or Briogeo Be Gentle, Be Kind Shampoo. 
Dry Shampoo + Blow-Drying //
We usually associate dry shampoo and blow-drying as totally separate actions. Dry shampoo is known for absorbing scalp oils with its powdered formula, which also adds texture and volume to your hair. Blow-drying is also known for giving your roots some lift by reshaping your hair's shaft away from your scalp.
Rather than dousing with dry shampoo, combing, and running out the door, flip your dry-shampooed head upside down and use your blow-dryer on your roots. Use a brush to distribute the dry shampoo as you blow-dry for extra lift.
Dye Your Hair //
Ever notice how your hair feels super thick and voluminous after a dye? That's because the dyes are being pushed into your hair's cuticle, causing them to swell. Now, we wouldn't recommend dyeing your hair just to get some more volume, but if you already dye your hair, it does do the trick. Rather than using harsh chemical dyes that lead to damage, using an organic hair dye can give you that fullness without the consequences. Go for an organic dye that uses natural clays to open your hair cuticle and fill in any gaps in your hair with mineral pigment.
Want to try for yourself? We suggest visiting a salon that specializes in organic hair dyeing such as Original Mineral or John Masters Organics, or a boxed dye such as Lush henna dyes or Amazon favorite Naturtint. 
Image Credit: Elizabeth Wells