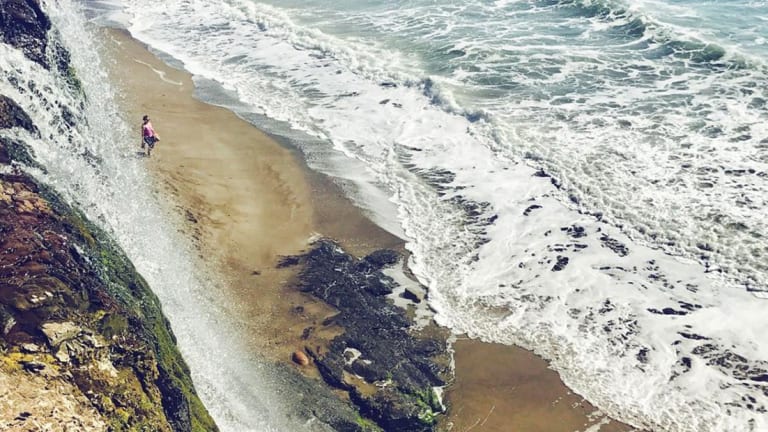 10 Waterfall Hikes in the U.S. You Need to See Up Close in Your Lifetime
The best part about hiking trails with beautiful waterfalls is knowing you're in for a scenic treat.
There is much to be said about the healing power of water—both for relaxing our bodies and calming our minds. So what's a better summer excursion than packing your sensible hiking boots (and swimsuit) to visit some of the States' most uniquely captivating cascades?
01. Bond Falls, Michigan
This waterfall located in Michigan's upper peninsula will be a pleasant surprise to all who think the of it as a largely empty landscape. Scenic and cloistered in the woods, Bond Falls' fractured rocks create tumbling cascades, which can all be viewed from a boardwalk with six lookout points. Take it all in with a leisurely trek followed by a picnic at the top of the falls. 
02. Havasu Falls, Arizona
Havasu Falls is a gorgeous oasis hidden within the winding corridors of the Grand Canyon. Because they are located on the Havasupai Native American Reservation, you must plan ahead to obtain reservations, which can be tricky but is worth the pursuit. Named after the Havasupai people, the traditional guardians of the Grand Canyon, you can either start your ten-mile hike (or rent a mule) from the Supai village or take a helicopter to these magnificent blue-green falls. Take a dip whenever you go, as the water maintains a 70-degree temperature year-round.
03. Cumberland Falls, Kentucky
Often called "Niagara of the South," the Cumberland Falls in Daniel Boone National Forest are best viewed in autumn when the surrounding leaves are changing colors. Otherwise, each month's full moon gives you a chance to see a rare moonbow—a rainbow produced purely by moonlight.
04. Yosemite Falls & Horsetail Falls, California
Both of these falls are in Yosemite National Park and are well worth the journey. Yosemite Falls is the fifth tallest waterfall in the world, and is known for its iconic rainbow. Horsetail Falls is a rare wonder; those lucky enough to catch sight of it around the second week of February will be dazzled when sunset hits it at the right angle, transforming it into a glowing red and orange Firefall.
05. Ruby Falls, Tennessee
You'll have to go underground for this one! Named one of the 10 most incredible cave waterfalls on Earth, Ruby Falls is an impressive 145-feet tall cascade. It's not the only ten you'll see in Tennessee. Take a guided tour through the cavern to learn about the hauntingly cool rock formations while you're there.
06. Blackwater Falls, West Virginia
Book a cozy cabin with a stone fireplace near these amber-colored falls that tumble down five stories into a winding gorge. The roaring water's odd coloring is due to tannic acids from hemlock and red spruce pine needles that have fallen off from its banks. Take your camera with you on the beginner-level hike to photograph one of the best views in West Virginia.
07. Alamere Falls, California
These rare oceanside falls are the perfect ending to an 8.4-mile roundtrip day hike from San Francisco to Point Reyes. Technically called a "tidefall," fresh water rushes down forty feet of sea cliff before reaching the salty Pacific Ocean. If it's warm out, take a dip in the sea or stop at Bass Lake on your way back for a swim.
08. Falling Spring Falls, Virginia
In 1781, President Thomas Jefferson described Falling Spring Falls in Alleghany Highlands, Virginia as a "remarkable cascade . . . falling over a rock about two hundred feet to the valley below." His calculations were off—the falls are only eighty feet—but don't miss them if you're in the area. There's a newly renovated picnic area overlooking the waterfall to have a lunch unlike any other.
09. Hi'ilawe Waterfall, Hawaii
This unique waterfall—the tallest in the state of Hawaii at approx. 1,400 feet—can only be seen one of two ways: by air or by hiking through the valley. It was created from the runoff of a now-dormant volcano so check out the black sand beaches on your way there and back. The three-mile intermediate-level hike through this valley on the Big Island is one you'll never forget.
10. Upper DeSoto Falls, Georgia
Legend says that Upper DeSoto Falls is where a piece of armor was found, believed to be a relic from the mid-1500s expedition of Spanish explorer and conquistador Hernando de Soto. Scholars mocked the legend until a sword dating back three hundred years was discovered in 1983. Visit the site's three levels of waterfalls totaling an overall height of 480 feet. This secluded two-mile hike for beginners trails amongst old forest growth, keeping you cool and shaded even in near 100-degree weather.