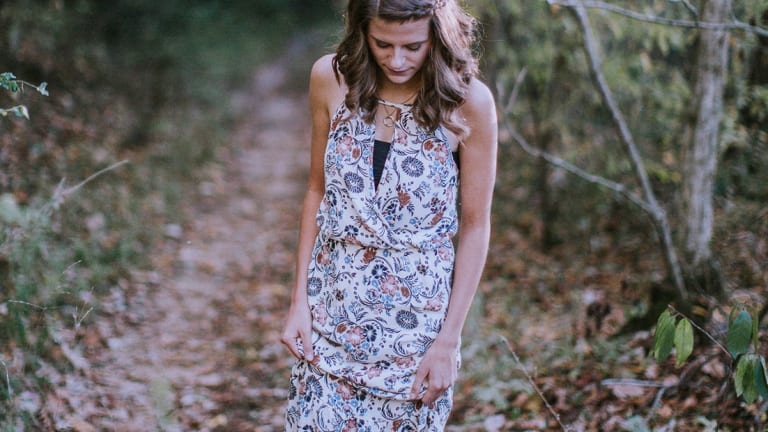 Surprising Things Guys Love About What Women Wear
Curiosity got the better of us.
While we're firm believers in dressing to express your most genuine self, we can't help but be curious what guys think of our sartorial choices from time to time (not to mention during our endless waffling on what to wear on that first date). Do men think our over-the-top trends are crazy? Is it really true that all men prefer revealing clothes on a woman? To set the record straight, we interviewed two dozen men on what their favorite women's fashions are. You'll be surprised by what they said.
Every Man Loves the Sundress
Perhaps this one isn't terribly surprising, but it was a response across the board, so we had to include it. Nearly all interviewees expressed how much they loved the simple, effortless femininity of a sundress.
George: "Seeing my fiancée in a dress still makes my jaw drop. It is so simple and lovely. She doesn't have to put all that time and effort into what she wears. There is a mysterious beauty in her simplicity."
Sean: "I like sundresses, to be completely honest! A lot of guys might like the leggings look, but I find sundresses the most attractive."
Thomas: "One of my personal favorites is a woman wearing her Sunday-best sundress. Also, a sundress with a cardigan is an attractive look. It's cute, feminine, and classy."
Johnny: "Of course, the classic sundress is a staple for summer. I like mono-colored sundresses. Simple but . . . very flattering."
They Believe That Comfort Comes First
Raise your hand if you've ever spent an inordinate amount of time fretting about what to wear when seeing a guy you like. You might be surprised to learn, then, that guys really like it when girls just wear what is comfortable.
Alex: "I like when women wear T-shirts and football jerseys. I think it says 'I value comfort, I'm laid-back and relatable, and I like to have fun.'"
Caleb: "I'm a simple, classic kind of guy. I love when she has her hair up, jeans, and a tank top. . . . For whatever reason I love her hair just pulled up and kind of messy."
Danny: "I think that a girl looks best when she's wearing something that she's comfortable in and makes her feel confident. I know it sounds cheesy, but it's totally true. Confident girls are super attractive to me."
Obscure Fashions Don't Scare Them
These responses actually left us baffled. Turns out, guys take note and appreciate the more obscure fashions that we'd normally think are a little too outlandish for them.
Brendan: "I'm gonna have to say apple bottom jeans and boots with the fur. Just kidding. Actually, hats. Especially cloche hats. There seems to be a certain amount of confidence you have to pull off a hat that is really enjoyable to see."
Johnny: "I like when girls wear chokers. . . . Not large chokers that look like a neck brace, but slim ones so it's not too distracting. It's different. Also, I think it necessitates confidence."
Andrew: "I love rompers on a woman . . ."
Reilly: "Shoes. I think shoes say a lot about a girl. Especially when it goes well with her clothes in an original way."
They Have an Appreciation for Unique Styling
Ever thought a guy didn't care about the look you put together? Think again. Turns out, plenty of guys really appreciate the creativity and originality that go into your ensembles.
Christopher: "I like the options and creativity of how women dress. Like, taking a simple T-shirt and using it to dress down a skirt."
Peter: "I like when women wear Converse or tennis shoes with a semi-formal dress. I like the contrast it creates between casual and formal."
Duka: "My favorite thing that women wear is mom jeans. Especially with a tucked in T-shirt and some sneakers. It's so simple but so fly at the same time. I love when clothes that are seemingly boring on their own come together to make something that looks so clean."
Glasses Are a Thing, Apparently
This is another one that took us for a loop. If iconic makeover scenes in films tell us anything, it's that glasses are the first thing to go (hello, Princess Diaries.) Believe it or not, guys tend to disagree.
Blaise: "Spotty, oversize tortoiseshell glasses, especially cat-eye frames, are another exclusively feminine thing. They are lively, like a fireworks show framing your eyes."
J. R.: "I would probably say glasses are my favorite thing on a woman. I don't know why, but maybe I subconsciously associate them with intelligence?"
Gab: "I'd say I like thick reading glasses."
In the End, Confidence Is King
Just like the overwhelming appreciation of sundresses, the most common thread among all the men's responses is their respect for confidence. Whether it's rocking a retro 1920s cloche hat, sporting a pair of quirky frames, or simply dressing casually, the most attractive element to any woman's getup is her confidence. As Michael told us, "I don't think we (men) are too picky as to what exactly a girl is wearing, just as long as she has confidence while wearing it."
Photo Credit: Hannah Busing