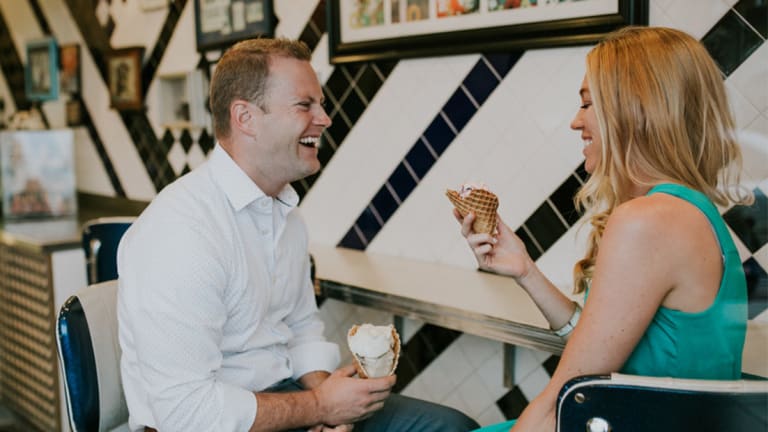 10 Summer-Only Events and Quirky Holidays That Make Romantic Dates
Say bye-bye to dinner and a movie.
Summer romance is ripe for possibilities. There are so many events and things to do, not to mention obscure holidays that give you an excuse to do something romantic (or silly)! National Mountain Climbing Day? National Bad Poetry Day? National Honey Bee Awareness Day? International Kissing Day?! Take advantage and have some fun with a special someone. If you're looking for an excuse to go on a date, we've got a whole list of inspiration that doesn't involve yet another dinner and a movie.
Fourth of July
Fireworks are one of the most romantic thing summer has to offer. Don't squander the opportunity with a generic BBQ—this classic day (and night!) is a tailor-made summer date. Sure, spend the afternoon eating hot dogs by the grill with friends, but then try to sneak away and snuggle up on a blanket at the park for the best fireworks show of the year. Sparks are sure to fly. 
The Fair
Carnivals may be in every teenage summer romance movie ever, but clichés aren't always a bad thing. And besides, who wants to ride a Ferris Wheel alone? No one, that's who. Even if you're not crazy about carnival rides, it's still a great reason to people watch while eating fried food—and maybe win a little prize for your S.O.
National Strawberry Sundae Day
As if you need an excuse to eat ice cream. July 7 is National Strawberry Sundae Day so head to your town's most adorable ice cream shop and split a sundae with someone sweet. Or better yet, go strawberry picking, and make your own at home! 

Drive-In Movies
OK, I know I said movie dates are over for now, but outdoor movies are another game entirely. Most outdoor theaters play older movies, and they're not always as expensive as the regular movies. Bring a blanket and a basket for a cute dinner, or nibble on popcorn together from the front seat of your car. Use this as an opportunity to watch an old classic on the big screen, or maybe find a new favorite.
Bastille Day 
You may not be French, but an excuse to whip up a summer ratatouille (see: Farmer's Market below) and slow dance in your kitchen to "La Vie en Rose" sounds pretty great, right? Falling on a Friday this year, this international holiday with be the perfect date night on July 14. Grab a bottle of French red, wear a French-inspired outfit, and feel transported without even leaving home.
Outdoor Concerts
Plenty of cities do summer concerts, and most of the time they're free. Nothing sounds better than a delightfully balmy summer evening spent listening to live music with a beau. You can bring snacks or even a bottle of wine, and have a romantic musical night.
National Lighthouse Day
Honestly, you shouldn't need an excuse to go see a lighthouse, because lighthouses are stunning. Still, observed on August 7, this is perfect if you want to take a beach day to the next level (or maybe you just don't want sand in your shorts). Some have tours available, and at the very least, you can admire them while gazing over a cliff-side ocean view. How's that for romantic?
The Farmers Market
As local markets continue to grow in popularity, there's more than just tomato stands and crates of peaches. Some feature live music, entertainment, and all kinds of other products besides delicious fresh food. You can combine it with a early morning coffee date, or the two of you can use your fresh goodies to cook dinner together that night.
National Book Lovers Day
If you and your partner are the book-loving types, celebrate this cute little holiday by checking out a library or favorite bookstore together. Make August 9 more than just a way to escape the heat. Reading aloud to one another increases the production of oxytocin in the listener, making you feel even more in love and bonded with your guy. Plus, if either of you don't have a library card, this is the perfect time to pick one up. Lie out in the shade somewhere, and allow yourself to be transported together. 
National S'mores Day
This convenient holiday lands on August 10. An excuse to make delicious s'mores and curl up next to a cute guy by the campfire? Yes, please! You can roast marshmallows in your own backyard fire pit, or use it as a reason to get out of town and go camping for a weekend. You really can't go wrong with chocolate and marshmallows.  
Photo Credit: Elissa Voss