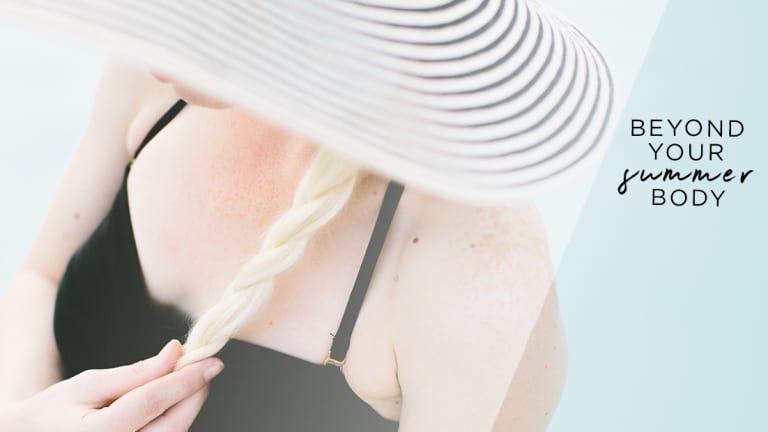 3 Simple Ways to Tune Out the Noise and Enjoy a Body-Positive Summer
When it comes to self-love, there's no such thing as a quick fix.
If you're feeling a bit overwhelmed in spite of your best efforts at self-love, you're not alone. Amid all the crash dieting and bikini body headlines, it can be hard to silence the voices that scream "you're not enough." Follow these three simple psychologist-approved tips to ignore the nonsense, so you can keep your mental health intact and enjoy your best summer yet. 
01. Visualize your ideal summer.
Creative visualization has been linked to numerous benefits, including alleviated anxiety and sadness and improved coping ability. It's also the first step to putting your thoughts into action.

Try it. Close your eyes and picture a summer you truly enjoyed. That might be last year, or it might be a childhood memory. Just make sure it's both positive and vivid—and devoid of any negative feelings toward yourself or your body.
What did this summer feel like? Engage all your senses: Notice the sounds, smells, and sights around you.
What made this summer so memorable? Who were you with? What were you doing? 
Take it a step further and recreate those happy summer vibes. What is one piece of your memory you can recreate? Maybe it's spending the day at a favorite lake or planning a picnic with your friends. The sky's the limit; just choose one thing and make it happen.
02. Go on a "low-information diet."
Also known as selective ignorance, this is the practice of "selectively ignoring distracting, irrelevant, or otherwise unnecessary information." Popularized by Timothy Ferriss in his bestselling book, The 4-Hour Workweek, selective ignorance is a powerful strategy to free up mental (and emotional) resources, and direct them toward what matters most to you. Think of it as turning down the volume on your TV, radio, and phone, so you can hear yourself think.
Opt out of any magazines or blogs that advocate dieting/weight loss.
Avoid TV shows or channels that promote weight loss products, programs, or services.
Perform a ruthless social media audit. Look closely at each of the accounts you follow and ask yourself, "How do I feel when a post from this account appears on my feed? Inspired/connected/entertained? Or insecure/anxious/deflated?" If your answers are mostly negative, it's probably time to unfollow.
Taking a more intentional approach to deciding what information you consume (and how) will not only help you focus on both work and play during the lazy days of summer, it'll also pay big dividends for your overall health and peace of mind in the long run.
03. Respect your body. 
Though the details of various types of summer dieting/weight loss advice may vary, the core message is the same: You must change your body to enjoy summer. Challenge this harmful (and false!) notion by treating your body (just as it is, right now) as valuable and worthy of respect. You'll be amazed at how good it can feel. One of the ultimate ways to respect your body is by making yourself feel good physically.
And what if you don't exactly love your body? That's totally normal. Give the strategies above a try, and notice what happens over time. Focus on respecting the abilities of your body not its outward appearance, and you may be surprised what can happen. By simply picturing what you want to experience this summer, being mindful of which sources of information you take in every day, and treating your body with kindness and respect, you can learn to take your own advice.
Here's to a healthy summer of self-love!