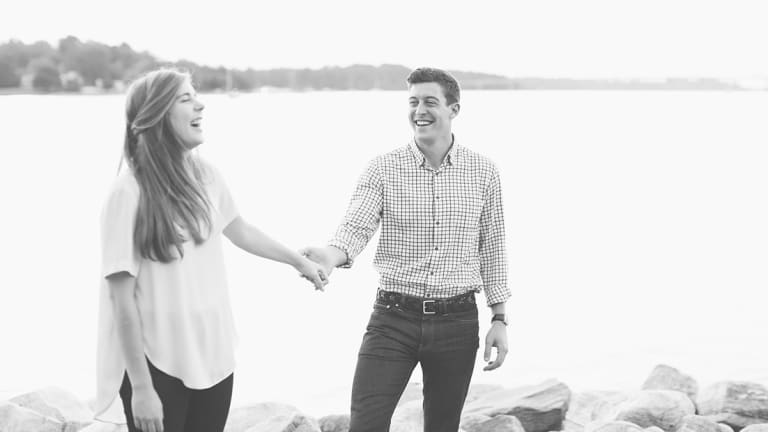 3 Boundaries That Saved My Relationship from My Usual Crash and Burn
I think I may have finally learned from my past dating mistakes.
Paul and I met at a friend's housewarming party. We shook hands when I first arrived, and his bright blue eyes made my heart flutter. I played it cool for most of the party but always kind of knew where he was in the room. As my friends and I decided it was time to go, I saw Paul sitting at the outside table alone. I told my friends that I was right behind them, I just couldn't leave without saying something, anything, to that man. I walked over and made some joke about how he was sitting alone, and he played along. An hour later, I was still there, talking to him. Don't worry, I slyly texted my friends to say, "SORRY! I'm flirting with a cute man."
I knew right away that he was the kind of guy I could fall head over heels for. But then, falling for guys has never been my problem. It's the inevitable hot-and-heavy crash and burn that found me single at that party that night.
It would have been so easy for me to fall into my usual fast-and-furious dating pattern with Paul. On our first date we easily picked up where we left off at that party, but then the conversation veered toward how we both wanted to learn from our past relationship failures so that we could build a new relationship on a solid steady foundation. I didn't expect that.
What we ended up discussing were boundaries—something I had never really considered much in past relationships and, quite frankly, had sounded restrictive and unnatural in love. Zach Brittle, licensed therapist and certified Gottman therapist, says that boundaries "provide security and freedom" and, in this early stage of my relationship, this couldn't be more true. Since that first date, with a little trial and error, we have built boundaries for our budding romance that have brought us even closer and made me more excited about the future than scared about when it might end.
While every couple has its own unique pitfalls and sticking points, here are three boundaries that my boyfriend and I have put into place that have protected us from my usual crash and burn.
01. We spend less time talking on the phone late into the night.
Talking on the phone for hours used to be a given in my relationships. It was the harmless thing that I did in high school before I could drive and my lifeline to long-distance boyfriends. When Paul and I first started out, we were no different.
We had so many things to learn about each other and so many common topics of interest that we wanted to discuss, so we stayed up talking on the phone until 1 a.m. for the first week and a half. We were getting to know each other on so many levels. Wasn't that a good thing?
Well, yes, but it was coming at too high a cost.
Staying up much too late meant that we were both struggling to get out of bed in the morning and stay true to our daily routines. We both use the morning hours to exercise and spend time in prayer and so they were the first things to take the hit. Without those things that we had put in place to help steady us for the rest of our days, we both felt tired at work and like our lives were spinning out of control.
We decided that that the best thing for our relationship was to limit those long talks to once a week and set a cutoff time so that we both got enough rest. It wasn't because we didn't want to talk, but because we wanted to have a chance at longevity. When we do speak on the phone, we are so happy to hear each other's voice and use our time wisely in sharing about our days.
02. We limit the number of times we see each other in a week. 
After our first date, we couldn't wait to see each other again (naturally!). In the past, I wanted to spend every moment possible with my boyfriend. It was almost as if I was afraid it wouldn't last so I needed to get time in while I could. Looking back I can see that I was grasping too tightly, and the intensity of hanging out so much at the start of the relationship left us both feeling overwhelmed—and eventually fizzling out.
This time though, we decided to do things differently. We still want to see each other every day, but we look at the calendar to choose one day each week that will work for both of us instead. In the future, I'm sure that we can introduce more time together, but for now it is good to slowly ease in. Just last week, we had our date day on Saturday and then Sunday I didn't really have that many plans. I was so tempted to want to hang out again on Sunday, but when we ultimately decided that we should each do our own thing. I saw the real fruit in sticking to our own boundaries; for example, I got some much-needed chores done and spent time with two of my friends.
When we are together now, we are very intentional about what we talk about and how we spend time together. For example, I've learned to put my phone away so that I can take advantage of the day we get together. This has made for more mindfulness and enjoyment when we are together.
03. We plan actual dates instead of just hanging out.
Paul and I are both working professionals, so when we can see each other in our free time, we can feel really exhausted. At first it was really easy to just say, "I'll come over and hang out," because neither of us had the energy to go and do something. But this wasn't really fostering the kind of intimacy that we both desired. Because we limited the amount of time we see each other and know exactly when we will see each other in advance, we decided to be intentional about planning actual dates, too.
We have so much fun on dates, get to do new things, really learn about each other, and be fully present without having to think about work or other things. We are learning that intimacy doesn't come from simply spending time together. What counts is that we spend quality time together. Our dates afford us an opportunity to be intentional with our time together and gets us out experiencing the world together, not holed up on a couch somewhere.
Paul and I both want a relationship that will add to our life, not strip us of those things that made us thrive while we were single. I know now that, when I am healthy and centered—when I take things just a little bit slower—I have fewer insecurities about myself and the relationship. Sticking to boundaries can be hard in the moment, but I'm finding that in the long run, a little more intention goes a long way.
Photo Credit: Drawn to the Image Photography