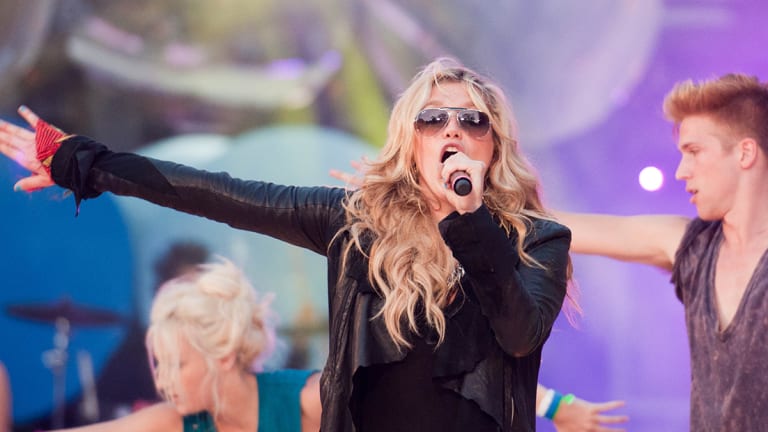 Kesha's New Song 'Praying' Is Exactly How I Felt After Sexual Assault
Halfway through the first verse, I was already tearing up.
My husband sent me an article on Kesha's new single while I was at the office last Thursday afternoon. Busy with work, I replied, "Thanks," without giving it a second thought. "It's amazing," he said. Intrigued, I looked it up on Spotify. I thought it would be a fun new party tune we'd add to our honeymoon playlist later this month.
I don't think anything could have prepared me for what played in my headphones. "Praying" is Kesha Rose's (previously Ke$ha) first new single in four years, a heart-wrenching song about ending a hurtful relationship, growing stronger for having overcome it, and hoping the person in question changes their ways. From the first lyric, one senses the song is autobiographical. Kesha has been in a legal battle with her recording label since 2014, when she accused producer Dr. Luke of sexual assault and emotional abuse. He responded by suing her for defamation and breach of contract, and a long, public legal battle ensued.
I anonymously wrote for Verily last year that as a survivor of sexual assault, I saw Kesha's situation differently. While she was navigating a murky legal system to fight back, I was silently hiding what had happened to me. But seeing her refuse to back down, even when Sony offered her a lucrative deal if she took back her story, inspired and empowered me to continue my journey toward healing.
"Praying" stands out to me from other Top 40 songs about overcoming obstacles in one major way: It talks about true and total healing. In an essay for Lenny Letter released along with the song, Kesha writes, "It's a song about learning to be proud of the person you are even during low moments when you feel alone. It's also about hoping everyone, even someone who hurt you, can heal."
It's hard to describe what forgiving your rapist really feels like, but I do know that working through fear or hatred of them is essential to healing completely. "Praying" really struck me because it was about the struggle—"You brought the flames and you put me through hell / I had to learn how to fight for myself." It's also about forgiveness. "I hope your soul is changing," she sings later. "I hope you find your peace / Falling on your knees, praying."
Although you can't rush forgiveness, I believe it offers survivors a real chance at thriving again. I began trauma therapy a couple years ago and slowly climbed out from the downward spiral I had been in since my assault. Slowly but surely I worked my way back to a happy, healthy young woman. It wasn't easy, but it was worth it.
Kesha also explained in Lenny, "In the past couple of years, I have grown into a strong, independent woman. I have realized through this long journey of ups and downs that if I'm lucky enough to have a voice that people listen to, then I should use it for good and for truth. . . . Finding the strength to come forward about these things is not easy, but I want to help others who are going through tough times."
With the help of some really amazing friends and regular therapy, and inspired by the example of women such as Kesha who bravely confront their painful experience, I, too, was able to discover my "best" again. 
Photo Credit: Wikimedia Commons