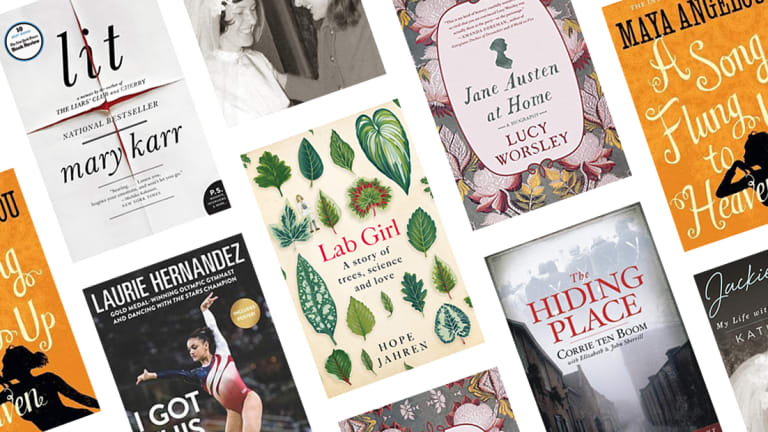 'Jane Austen at Home' and Other Lesser-Known Biographies of Women to Inspire You
Great beach reads—with a dose of female empowerment!
Today marks the 200th anniversary of Jane Austen's death, which makes the newly released Jane Austen at Home particularly timely. The biography offers a different look into the acclaimed author's life, using the people and places behind the scenes to add color to a life story we can't stop speculating about. Our love for interesting women doesn't stop with Pride and Prejudice, though. Luckily, there are a slew of great biographies out now on inspiring women who have made history. Here are a number of lesser-known biographies of great women, who, whether in the background or on the main stage, will inspire your own inner hero. 
Jane Austen at Home: A Biography by Lucy Worsley
Have you ever wanted to know more about Jane Austen's home life? That's exactly what Lucy Worsley chose to explore in her new biography of the famed novelist. Historian and chief curator at Historic Royal Palaces in England, Worsley explores not just Jane Austen's life, but also the lives of those around her, in Jane Austen at Home. It's hard to find documentation of Jane's personal life, emotions, and thoughts (Cassandra, Jane's sister and closest friend, got rid of many of the hundreds of letters passed back and forth between the two). Worsley's solution is to closely analyze the people and places around Jane, and how they may have intrinsically shaped the famous author's life. 
Worsley expertly weaves Jane's known feelings and thoughts with studious analysis of Austen's literary works, her surviving letters, and the physical locations she inhabited to create an insightful read. Worsley postulates that the author had nearly five marriage proposals in her lifetime. She also notes that Austen was hardly a quiet, anti-social nobody who wrote seemingly fanciful romantic tales without actually have experienced love herself. The biography is a work that makes Jane Austen as real as any other woman. —Krysta Scripter
Lab Girl by Hope Jahren
For women in STEM careers, the demands of career goals and personal priorities can be an isolating maze that, at times, seems fundamentally stacked against you. Reading Hope Jahren's journey from dedicated graduate student and lab worker to thriving, full-fledged professor offers an up-close look into the life of a female academic. In Lab Girl, Jahren's describes her early inspirations "playing" in her father's lab, chronicles her intensely loyal friendship with her lab partner, and speaks candidly about her career highs and lows. Throughout, she pauses to admire the intricate wonders of botany, and I find it refreshing that through the many mundane elements we all find in our careers—the paperwork, the politics—Hope persists in her unparalleled love of discovering new aspects of botany. She addresses the challenges of being a woman in the academy and, after securing the freedom that comes with tenure, speaks out concerning systematic (and often unspoken) biases in the academic system. Lab Girl reveals Hope as a trailblazer, not only as a woman and as an advocate for women in science, but also as a powerful writer. —Rachel Wilkerson
The Hiding Place by Corrie ten Boom
If you are inspired by courageous women in history such as Anne Frank, then the autobiography of Corrie ten Boom, a Dutch Christian woman who aided Jews during World War II, is a must-read. Her humbling story tells a tale about compassion, loss, and strength—and goodness, does she have strength! Despite the atrocities she and her family endure, ten Boom teaches that even the most overwhelming sufferings in our lives can be overcome with love.
What's amazing about The Hiding Place is how, even though ten Boom lived a life more difficult than most, her experience can still read relatable to the modern woman. Her first and only love jilted her for money and status; she knew the challenges of breaking down barriers in the workplace as the first licensed female watchmaker in Holland. But when the Germans invaded Holland in 1940, ten Boom took on a more active role in the Underground movement: the ten Boom family began housing Jews in their home. The book describes the 1944 Gestapo raid and the subsequent time Corrie (and her sister Betsie) spent in prison, in a concentration camp, and in an extermination camp. Throughout it all, ten Boom keeps a joyful attitude and a spirit of hope, which is enough to inspire no matter what you're going through. —Madeleine Coyne
Lit by Mary Karr 
Mary Karr summarizes her latest memoir, Lit, as a "'black belt sinner's descent into the inferno of alcoholism and madness, and her astonishing resurrection." Indeed, Lit is an apt description for not only Karr's raging alcoholism but also her unlikely turnaround. Karr's first memoir, The Liar's Club, described her childhood in rural Texas with her homicidal, alcoholic mother. Her self-aware, confessional style, and sharp wit hooked readers. With dark humor and self-deprecation, Lit is a harrowing read as Karr struggles for and ultimately succeeds at processing the trauma of abuse, divorce, and alcoholism. Possibly because of her rough-and-tumble background, Karr emerges as a serious poet and a writer with a unique sensitivity to the struggles of reconciliation. Not your average conversion story, Lit is a raw look at a life in chaos and the tremendous surprise of surrendering to faith. —RW
A Song Flung Up to Heaven by Maya Angelou
In the seventh of her autobiographical books, Maya Angelou bookends her 2002 work A Song Flung to Heaven with two major events that shaped black history in America—the assassinations of Malcolm X in 1965 and Martin Luther King Jr. in 1968. Angelou changed how autobiographies as the world knew them, by recounting experiences in her life as a character in a story. And in this story, readers benefit from reading a story whose main character is in the eye of the storm that is civil rights in America and who even has contact with both of the iconic black leaders whose losses were national to all but personal for her. 
Like her first and most famous autobiographical book I Know Why the Caged Bird Sings, the title A Song Flung to Heaven references the same metaphor of a bird struggling to escape captivity. Fans of the former will appreciate the callback to its iconic first lines in the final lines of the latter. This was not only poetic but chronological; it was after the death of King (which happend to be on her birthday) that a friend encouraged Angelou to start her autobiographical writing, of which Caged Bird was the starting point. If you haven't delved into Angelou's other writing yet, A Song Flung to Heaven is a good place to start to remember the life and writing of one of American's most notable poets. —Mary Rose Somarriba
I Got This by Laurie Hernandez
In her autobiography I Got This, Olympic medal winning gymnast Laurie Hernandez tells how leaning on her family and developing endurance helped her overcome challenges that preceded her rise to the top. It's always humbling to be reminded that superstars didn't start out that way, and even teenage gold-medalists had to overcome hardships too—they just probably had to face them sooner than many of their peers. Hernandez, who shared with Verily in January how she learned to overcome disappointment, tells of the ups and the downs she encountered on her journey. Along the way, readers will enjoy learning how she came to embrace what makes her unique from other competitors in gymnastics—from her often cheery facial expressions to how she gets over her warm-up jitters. Even for someone as detached from athletics as myself, Laurie's insights were welcome reminders of important lessons in confidence, for such an easy read. —MRS
Jackie's Girl: My Life with the Kennedy Family by Kathy McKeon
In Jackie's Girl, 72-year-old Kathy McKeon opens up for the first time about what it was like working as Jackie Kennedy's personal assistant and growing a close relationship with one of America's most beloved first ladies. McKeon, an Irish immigrant in New York who was hired nine months after the assassination of John F. Kennedy, announced the book this past spring: "I was just a girl when Jackie Kennedy made me part of the family, and I lived through so much with all of them, and my story is a chance to let [my grandchildren] experience the humanity behind the history, as I once did." 
On the job, McKeon learned to balance discretion with dedication and hasn't opened up about what she experienced until now. McKeon, who earned the nickname "Jackie's Girl" from Jackie's mother-in-law Rose Kennedy, stayed close to the family throughout life changes. When McKeon got married, Madam Kennedy was generous and supportive throughout, the only change in McKeon's job being no longer to reside with her employer. Meanwhile, McKeon's building-industry husband was invited to help with the Kennedys' handyman needs, as well as join in impromptu games of football with the family. According to publisher Jennifer Bergstrom, "Kathy has written a beautiful book I'm sure her former employer would be proud of." This is one autobiography that will leave you seeing the value of putting heart into hard work, even when it's behind the scenes. —MRS