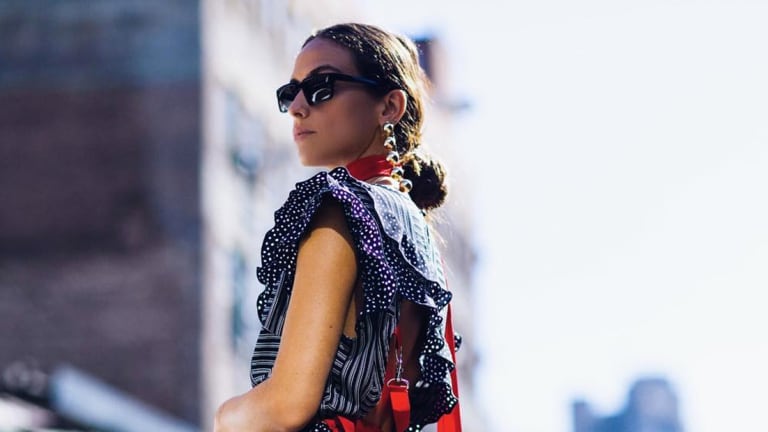 Ever Wonder Why Italian Style Is So Dreamy?
Hint: There's something in the water.
What we would give to be on the Amalfi coast—Right. Now. Historic cobblestone streets, colorful cliffside hotels, scents of heavenly olive oil and lemons wafting in the air. Naturally, we're drawn to the sights and foods, but we can't help but feel especially drawn to the sartorial style of Italy's iconic women.
Italy may be an ocean way, but what's to stop us from putting on some Dean Martin, queuing up The Lizzie McGuire Movie, and reimagining our wardrobe according to la dolce vita? Here's how to get the Italy look right here at home, according to the Italians themselves.
Be Influenced by the Sea
Now, this is exactly where we're picturing ourselves. An Italian summer by the sea is the stuff of dreams, and the quintessential Italian woman has a style that is often inspired by the casual, carefree seaside. Italian expat and journalist living in California Arianna Reggio says, "Italians believe that people should not take themselves too seriously. In Italy, nobody wants to look too formal." With breezy white linens and plenty of Mediterranean nautical inspiration, we think we're ready for our sailboat ride through crystal blue waters.
Take Care of Your Hair
Like her French counterpart, the Italian woman doesn't usually have an elaborate beauty routine. Rather, she highlights her natural beauty. Many Italian women have curly or wavy hair—something they embrace but care for diligently. Mariacarla Boscono, whom Vogue described as "fashion's unofficial symbol of a certain Italian elegance," told the magazine, "It doesn't matter what you wear or where you go, but your hair always has to be brushed." That doesn't have to mean straightened with heat or an extreme blowout; it just means that they care for their locks and enjoy a natural yet put-together look.
Boldly Wear Unique Prints
You won't find an Italian woman toning it down for anyone. She loves incorporating bright colors and unique prints into her everyday looks. Whether it's abstract, cultural, or floral, she dons every print with self-assurance. One Italian woman who fully embodied this style doctrine was the late editor in chief of Vogue Italia, Franca Sozzani. A glance at any collection of her outfits will reveal bold pattern play, bright colors, dramatic lines, and fabulous florals; contrary to her American counterpart, Sozzani usually wore a big smile—a sign of true confidence and a trademark of Italianas.
Have Fun with the Classics
The modern Italian woman is on the forefront of the fashion scene. She does, however, have an appreciation for the classics and has a wardrobe full of sleek pencil skirts, swirling A-line dresses, sharp blazers, and designer stilettos. She makes her look unique by choosing classics that match in print or have a quirky flair like an unexpected ruffle detail. Italian fashion designer Sofia Sizzi described the Italian muse she likes to design for to Vogue, saying, "She has tradition; you'll find a little color, lace, a certain silhouette, a pattern handed down from her grandmother. Yet there's also a youthfulness to her . . . a rebellious streak." With that in mind, have fun with your fashion but keep it classico.
Always Embrace Femininity
Speaking of which, the Italian woman never forgets to flatter her shape. She doesn't get too caught up in trendy, androgynous styles and celebrates her womanhood by wearing lovely dresses that highlight her curves and demand respect. All the most famous Italian style icons are known for this: Sophia Loren, Monica Bellucci, Miuccia Prada—and the countless women from younger generations who have followed their lead—embrace experimentation that's heavily rooted in femininity.
Be Dramatic
It's no secret that the Italians are passionate people. For the Italian woman, this translates into her style with a flair for the dramatic. Her fashion-forward outfits are never short on ruffles, oversize silhouettes, statement earrings, or extravagant details that make her stand out. Founder of the famed Milano vintage boutique La Double J and Elle Magazine's so-called resident "expert on all things Italian," J. J. Martin told the magazine, "Italian women are bold and give themselves permission to rewrite style rules the way they see fit." He says Italian women love bold sunglasses, lace dresses, and red lipstick, among other things, to add a touch of drama to their everyday looks.