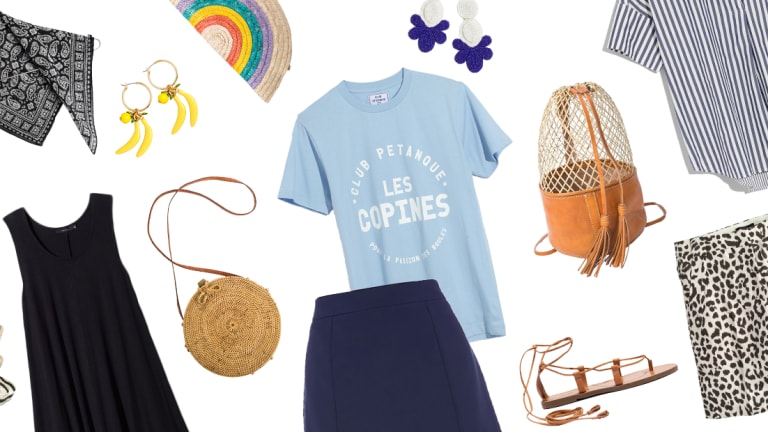 Effortless Hot-Weather Outfits Already in Your Closet
No need to shop!
The misery of hot, sweaty days is upon us, and the struggle to look cute (and feel comfortable) is real. Rather than go out and buy a bunch of ventilation-friendly outfits that are only necessary for a few weeks, why not try a fresh spin on some classics you already have? Take a look at these easy outfit combinations that are probably already in your closet.
T-Shirt + Skirt + Sneakers
Rather than opting for a tank and shorts, try an equally breathable combination that's still cute. Most of us own an array of tees, lightweight skirts, and lifestyle sneakers, but putting these items together usually isn't our first instinct. The casual appeal will be balanced with the t-shirt and sneakers while the lightweight knee-length skirt will elevate the entire outfit for a more feminine look. Switch things up by blending comfort with flouncy and try this combo ASAP.
LBD + Flats
Who wants to get dressed up in a heat wave? To stay chic and cool, stick to free-flowing dresses and flats that are easy to walk in. We all (hopefully) own a classic LBD and versatile flats. Wearing them together is a match made in heaven, especially when it's time to go out for dinner. To jazz your look up, have fun with statement accessories like a bright pair of earrings, handkerchief scarf, or woven clutch. 
Button-Up + Shorts + Sandals
Many of us get used to only wearing cotton tees with our shorts during the summer, but a lightweight button down can be just as cool (and much more pulled together.) Roll up the sleeves for a more casual look and get funky with your print mixing for a more intentionally styled look. Since the button down and short combo is more masculine, wear a pair of flats or strappy sandals to add a feminine flair to the look.