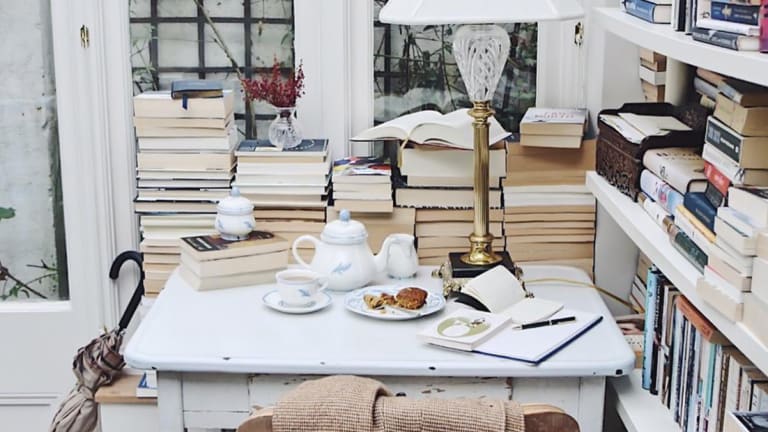 15 Home Libraries That Are an Austen Literary Lover's Dreams
Indulge in a bibliophile's complete, perfect, and incandescent happiness.
In her novels, Jane Austen mentions two types of libraries: the family library and the circulating library. Unlike the free public libraries we enjoy today, circulating libraries offered paid memberships to access books at a time when they were quite expensive to own. While she would have no doubt loved the access that an Amazon account would have afforded her, we still daydream about having a library like the Bennet sisters or Mansfield Park's Fanny Price might have known and loved.
Until then, enjoy these fifteen home libraries we can imagine a modern Miss Austen might sit in among a fresh pile of books or busily writing one of her own.
01. A Regency-Style Sofa from the Era in Which Austen Spent Most of Her Adult Life
"Here I am once more in this scene of dissipation and vice, and I begin already to find my morals corrupted." —from a letter by Austen on arriving in London, August 1796
02. A Collection Substantial Enough Even for Mr. Darcy
"All this she must possess," added Darcy, "and to all this she must yet add something more substantial, in the improvement of her mind by extensive reading." —Pride and Prejudice
03. Fanny Price's Ivory Cage
"If reading could banish the idea for even half an hour, it was something gained." —Mansfield Park
04. Soft Pink Walls a Millennial Lydia Bennet Would Have Loved
"Have you seen any pleasant men? Have you had any flirting?" —Pride and Prejudice
05. An Eighteenth-Century House in Bath, Where Austen Set Northanger Abbey and Persuasion
". . . she had never any objection to books at all." —on Catherine Moreland's reading habits in Northanger Abbey
06. Regency Bookcases That Would Have Graced the Homes of Austen's Time
"Men have had every advantage of us in telling their own story. Education has been theirs in so much higher a degree; the pen has been in their hands. I will not allow books to prove anything." —Persuasion
07. Miss Bingley's Dream Room Devoted Only to Reading
"I declare after all there is no enjoyment like reading! How much sooner one tires of anything than of a book! When I have a house of my own, I shall be miserable if I have not an excellent library." —Pride and Prejudice
08. Knickknacks and Novels Reimagined for a Present-Day Lizzy
"There is a stubbornness about me that never can bear to be frightened at the will of others. My courage always rises at every attempt to intimidate me." —Pride and Prejudice
09. Antique Pictures and Piles of Books for Mr. Woodhouse
"It is never safe to sit out of doors, my dear." —Emma
10. 'Emma Woodhouse, handsome, clever, and rich, with a comfortable home and happy disposition . . .'
"Where shall we see a better daughter, or a kinder sister, or a truer friend? No, no; she has qualities which may be trusted; she will never lead any one really wrong; she will make no lasting blunder; where Emma errs once, she is in the right a hundred times." —Emma 
11. A Room Fit for a Modern Miss Darcy at Pemberley
'On reaching the spacious lobby above they were shown into a very pretty sitting-room, lately fitted up with greater elegance and lightness than the apartments below; and were informed that it was but just done to give pleasure to Miss Darcy, who had taken a liking to the room when last at Pemberley.
"He is certainly a good brother," said Elizabeth, as she walked towards one of the windows.' —Pride and Prejudice
12. Charmingly Reminiscent of Barton Cottage in Sense and Sensibility
"I am excessively fond of a cottage; there is always so much comfort, so much elegance about them. And I protest, if I had any money to spare, I should buy a little land and build one myself, within a short distance of London, where I might drive myself down at any time, and collect a few friends about me and be happy. I advise everybody who is going to build, to build a cottage." —Sense and Sensibility 
13. For the Half of the World That Wouldn't Be Bothered by Books Without Shelves
"One-half of the world cannot understand the pleasures of the other." —Emma
14. A Perfect Place for the Thousands of Personal Letters Austen Wrote Throughout Her Life
"You deserve a longer letter than this, but it is my unhappy fate seldom to treat people so well as they deserve." —from a letter to Jane's sister Cassandra
15. Books and a Writing Desk in a Room a Reclusive Austen Would Have Loved
"I do not want people to be very agreeable, as it saves me the trouble of liking them a great deal." —Jane to Cassandra
Which of these beautiful home libraries would you happily hide away in all afternoon?