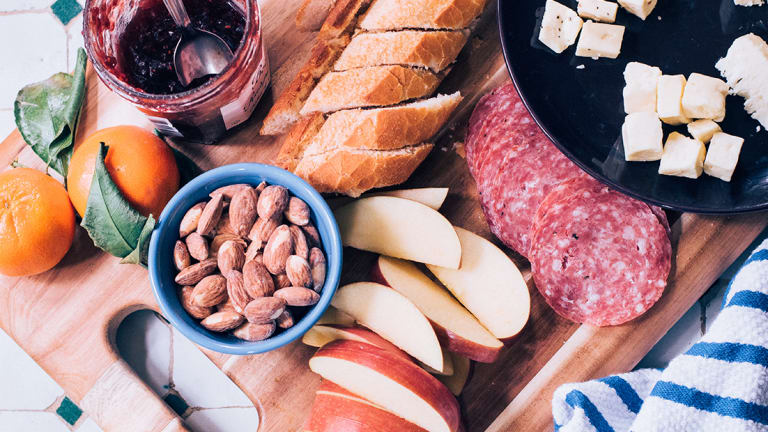 A Week of Healthy Packed Lunches You Can Make in Under 10 Minutes
All with ingredients from Trader Joe's, of course
Packing a homemade lunch saves you money and saves you from the side of midday slump that usually comes with takeout. If your same old lunch routine is in a rut, try these fresh ideas for a healthy packed lunch all week.
Each lunch recipe is inspired by classic summer hits like burgers, dogs, chips and dip—but better for you. Trader Joe's private label means its products contain no artificial flavors, preservatives, MSG, or partially hydrogenated oils (aka, artificial trans fats). So you know you can enjoy all this summertime goodness without the guilt.
We've prepared a full grocery list below for all five recipes—enough to make about twenty healthy packed lunches. Hurrah!
Meatless Monday
Trader Joe's vegetarian Quinoa Cowboy Burgers ($3.69) contain a nutrient-dense blend of protein-packed quinoa and black beans, corn, and red peppers. Prep them in a skillet in just minutes, and set on a Honey Wheat Hamburger Bun ($1.99), which has three times more fiber than a white bread bun. Top with Mango Jicama Slaw ($4.99), made of julienned cabbage, jicama, mango, cilantro, and a tangy-spicy mango lime vinaigrette.
Tostada Tuesday
Fill a container with sliced Living Butter Lettuce ($1.99). Top with one of your leftover crumbled Quinoa Cowboy Burgers ($3.69) from above, Roasted Tomatillo & Mango Salsa ($2.99), and Greek yogurt–based Reduced Guilt Guacamole ($3.79). Pack Organic Tortilla Longboard Chips ($2.49) on the side. At lunchtime, plop the toppings onto a pile of tortilla chips. ¡Ya está!—a deconstructed vegetarian tostada! Leftover Mango Jicama Slaw ($4.99) will add even more tasty servings of fruit and veggies.
BLT Wednesday
Slather real Dijon Mustard with White Wine ($1.69) made in Dijon, France—healthier than traditional mayo at 5 versus 31 calories per teaspoon—on both sides of a toasted Honey Wheat Hamburger Bun. Add two leaves of fresh Living Butter Lettuce ($1.99). Top with thinly sliced Heavenly Villagio Marzano® Tomatoes ($2.79) and a few slices of Fully Cooked Uncured Bacon ($4.99). Pro tip: When it's time for lunch, microwave the bacon on a paper towel for fifteen to twenty seconds. It will crisp up for a BLT that tastes like you just made it on the stove.
Throwback Thursday
If only we could eat ballpark and barbecue food every day. Thankfully, a 130-calorie Trader Joe's Organic Grass Fed Uncured Beef Hot Dog ($5.99 per pack) has 30 percent less fat and 20 percent more protein than other franks and is made without added nitrites or nitrates (preservatives that can turn into harmful carcinogens when cooked on high heat). Set one in a Honey Wheat Hot Dog Bun ($1.99). For condiments, get creative with any leftovers from the recipes above: Mango Jicama Slaw, chopped fresh Marzano® Tomatoes, Roasted Tomatillo & Mango Salsa, Reduced Guilt Guacamole, or Dijon Mustard. Slice some watermelon ($2.99) for a light and refreshing dessert while you dream about beachside picnics.
Fine Cheese Friday
What better way to end the week than with a fancy plate of fine international cheeses? Pack sliced nutty Manchego ($6) from La Mancha, Spain, and buttery Mini Brie Bites ($4.49) from France with a handful of nutrient-rich Dry Toasted Slivered Almonds ($3.49). Add a side of your favorite fresh fruit—berries, grapes, cherries, pears, apples or peaches. Fats and protein from the cheese and almonds will keep you fuller longer, while fruit's natural sugars will give you a quick energy boost. Bonus: Pack a piece of dark chocolate, too; it goes great with cheese and contains brain-boosting flavonoids that will help you power through that afternoon slump. Bonjour, fromage Friday.
Grocery Shopping List
Total: $54.36, though prices may vary by location
Photo Credit: Jessica Ruscello