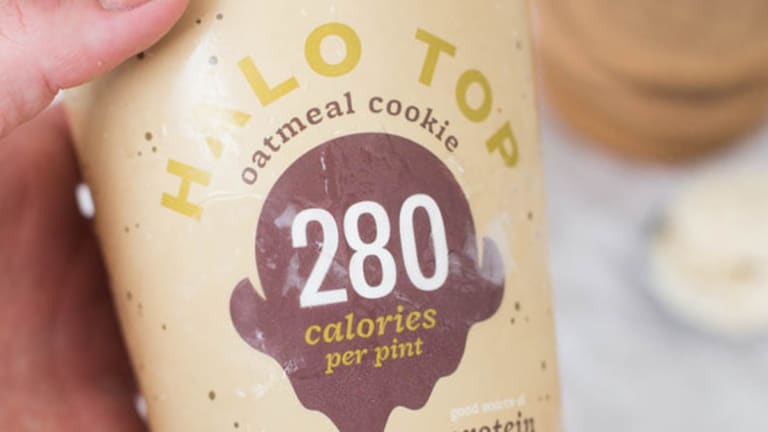 Cutting Through the Hype: Should You Be Eating 'Healthy' Ice Cream?
'Non-dairy' and 'low sugar' don't necessarily mean 'good for you.'
Ice cream isn't just my favorite dessert; it's my favorite food. So when healthy ice creams started coming onto the scene with promises like "Low-Fat!" "Sugar-Free!" and "Non-Dairy!" I was literally screaming for (even more) ice cream.
When it comes to eating healthily, we know that we can achieve a healthy weight while still eating our favorite foods. But it entails knowing exactly what you're putting into your body by avoiding over-processed ingredients, practicing portion control, and eating whole foods.
It turns out that "healthy" ice cream brands break a ton of these guidelines. At nearly half the calories per serving, a pint of So Delicious dairy-free cashew milk vanilla seems undeniably better than Chunky Monkey. A closer look, though, shows that So Delicious is still packed with tons of sugar (18 grams per serving, to be exact). Before you go trading in all your Haagen Dazs for Halo Top, here's the scoop on "healthy" ice creams.
Watch Out for These Ingredients
The issue with "low" anything is that something else is usually filling the gap—most likely something that could wreak havoc on your GI system. Here are some common ingredients to look out for.
Partially Hydrogenated Oils
Also listed as "mono- and diglycerides," PHOs contain trans-fats which the Centers for Disease & Control has linked to diabetes, heart disease, and heart attacks. Partially hydrogenated oils are often added to "Low Fat" ice creams to make up for the lack of natural fats that occur in whole dairy. 
Soybean Oil
Even dairy-free ice creams aren't in the clear. Soy ice creams that line the shelves of Whole Foods and the like often contain soybean oil, which scientists have linked with obesity, diabetes, heart disease, and hypertension, among many others.
Emulsifiers
While emulsifiers—substances that keep ingredients from separating—won't kill us, they will kill gut bacteria. Nourishing your gut bacteria directly improves your digestive health, immune system, and mental health. Keep your gut healthy and happy by avoiding ice creams containing these emulsifiers: carrageenan, cellulose gum, and polysorbate 80, which are commonly found in so-called "healthy" frozen desserts.
Sugar Alcohols and Artificial Sweeteners
Like emulsifiers, sugar alcohols—sorbitol, mannitol, xylitol, maltitol, lactitol, erythritol, isomalt and hydrogenated starch hydrolysates—destroy healthy gut bacteria. Meanwhile, artificial sweeteners—aspartame, saccharin, and sucralose—can be addictive and trick our brains into associating "healthy" food with artificially sweetened foods. Harvard links sugar-free sweeteners with obesity, diabetes, addiction to artificial sweeteners, and cancer risk. Ice creams containing sugar alcohol and artificial sweeteners like Halo Top, which mainly uses stevia and erythritol in some flavors, should be reserved as treats for those who medically must limit their sugar intake.
Look for These Ingredients Instead
Barring any food intolerances you may have, your best bet is to look for a short list of ingredients you can easily recognize: cream, milk, cane sugar, egg yolks, and natural flavors. Ideally, they are sans emulsifiers, thickeners, additives, artificial flavors, and colors. 
Natural Ice Cream Brands That Pass the "Healthy" Test
Keep in mind that ice cream is still ice cream no matter what's on its ingredients list. While these natural ice cream brands are better for you than others, they should be reserved as occasional treats.
Are we missing an ice cream brand you love that's free and clear of harmful ingredients? Tell us about it in the comments!
Photo Credit: Kristy Denney/Boysahoy.com