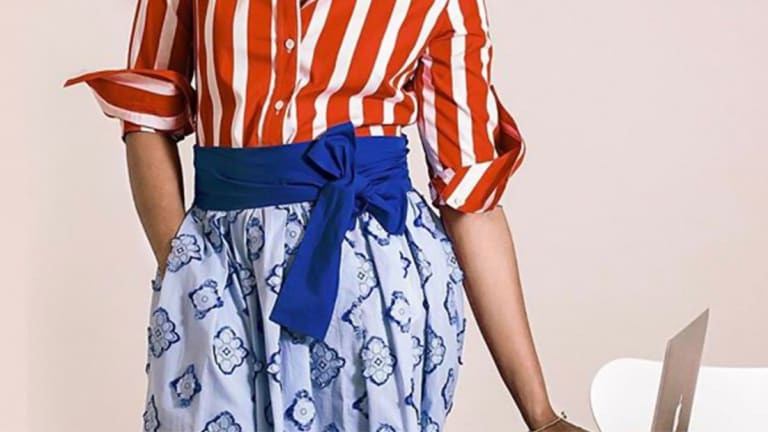 Americana Outfits We're Swooning Over
None of which include the annual Old Navy Fourth of July tee.
We love any excuse to get dressed up. This Fourth of July, we're stepping up our styling game by trying some bold and unconventional Americana looks that go beyond the typical backyard barbecue ensemble. If you're looking for some Independence Day outfit inspiration, you're in the right place. 
Vintage Americana //
You'd be surprised at how many non-4th-of-July-specific items that have red, white, and blue incorporated. Instead of looking for stars and stripes, try a vintage dress that has the colors of the flag for a more subtle and feminine approach. We can't stop swooning over this shot the Sartorialist captured of this vintage look. 
Land of the Free to Mix and Match //
When scrounging for patriotic clothes, it's hard to find items that match perfectly. But Tamu Mcpherson proves that matching is optional with her ladylike floral paisley print skirt and bold striped shirt. Her fashion forward and carefree look expresses a spirit of joy and celebration—what's not to love?
Patriotic Details //
If you don't have red, white, and blue in your closet, create an outfit that focuses on just two patriotic colors. Blair Eadie's white and bright-red ensemble is classy and occasion appropriate. Follow her lead by wearing accent colors of red or blue in your accessories.
Lady Liberty Chic //
Who doesn't love adding a little extravagance to their look every so often? Go all out by adding some bold volume like Jennifer Lake did with her Lady Liberty-worthy tiered skirt and dramatic red earrings. American history is dramatic, after all. 
American Classics //
Nothing says the 4th of July like a burgers, hot dogs, and Coca-Cola. Look to your graphic tee collection for some references to American classics and get creative with your styling. Try a pair of striped shorts like Caroline Vazzana for the final Americana touch.