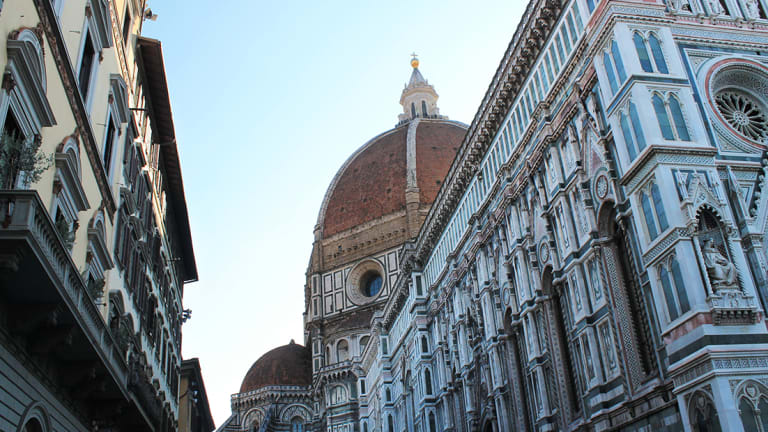 5 Trips to Experience Your Favorite European Novels in Real Life
'I have found that sitting in a place where you have never sat before can be inspiring.' —Dodie Smith
Books are an exciting escape from the world. What is better than curling up with a cup of tea—or wine, or coffee—for a fleeting getaway with ingeniously developed characters? Bringing the adventure to real life, that's what. If you need some inspiration to fuel your wanderlust, here are five vacation destinations inspired by timeless literary classics in Europe to extend your journey far beyond the last page.
01. Kent, England // I Capture the Castle by Dodie Smith
Dodie Smith published this quirky and sweet novel in 1948 about her home country, England. She wrote it while living in California and yearning for home and happier times. The book takes place in the 1930s and tells the story of the eccentric Mortmain family living in their decaying rural castle and genteel poverty. It's a coming-of-age novel of young love told entirely from the journal entries of the relatable heroine, an independent, smart, and resilient Cassandra Mortmain.
Take a trip to the United Kingdom to tour some of the mysterious castles still standing today. Castles can be found all over, so no matter what region you plan on visiting, you are certain to find one. In the southeast, visit Kent's picturesque Leeds Castle, dubbed "The Loveliest Castle in the World," where you can stay in the grounds, get lost in the maze and underground grotto, feed the wild black swans, or watch open-air opera and theater. Pack some wellies and prepare to soak in breathtaking sights reminiscent of the past.
02. Andalusia, Spain // The Alchemist by Paulo Coelho
A travel list would not be complete without this simple yet profound story of Santiago, a hopeful young shepherd from Andalusia adventuring to Egypt to find his greatest treasure in the world. It's a journey of patience and self-discovery, and it is impossible to walk away from this tale without one of its life lessons speaking to your heart.
Travel to Santiago's home state of Andalusia, located in the south of Spain. The region is noted for its richly preserved architecture, and even its modern Christian sites echo Andalusia's Moorish past. Visit Seville for the magnificent Cathedral of Saint Mary of the See, Granada for the Alhambra Palace and lush gardens, or Córdoba for the Grand Mosque-Cathedral. You can get a taste of what Santiago's life as a shepherd was like as Andalusia's native sheep and goats provide meat, milk, and leather raised in their mountain pastures. Andalusian queso de cabra, we hear, is otherworldly.
03. Florence, Italy // A Room with a View by E. M. Forrester
E. M. Forrester's beloved book should point you toward Florence. The story follow Lucy Honeychurch, a young lady in restrained Edwardian England, who takes an adventurous trip to Florence with her overbearing older cousin and chaperone, Charlotte.
While we recommend picking a better travel partner than Charlotte, Florence is a real treat. The city is home to some of the art world's most cherished pieces including Michelangelo's statue of David and the glorious biblical fresco's found in the Florence Cathedral. And of course, any trip to Italy must include Italian cuisine followed by a night-time stroll through the bustling old streets. For some instant gratification, the book was immortalized in a beloved 1986 film adaptation starring our favorite leading Dames Judi Dench and Maggie Smith.
04. Montreuil-sur-Mer, France // Les Misérables by Victor Hugo
This very long but well worth it novel follows Jean Valjean after his release from prison for merely stealing a loaf of bread. The book weaves together an unforgettable cast of characters to explore concepts of forgiveness, injustice, and compassion in eighteenth-century Revolutionary France.
Les Misérables is so iconic that it has been made into multiple movies and a Broadway musical (cue "I Dreamed a Dream"). You can turn it into a real life getaway of a lifetime with a visit to Montreuil-sur-Mer, the northern French town that allegedly inspired Victor Hugo to write his iconic masterpiece. Walk Montreuil's cobbled streets, where Valjean was the mayor for several years as well as the owner of the local factory where Fantine lives, works, and is later tragically forced into prostitution by her poverty.
05. Moscow & St. Petersburg, Russia // Anna Karenina by Leo Tolstoy
Leo Tolstoy tells the troubling story of Anna Karenina and her highly publicized and scandalous affair, which inevitably doomed to tragedy. As with many Russian novels, Tolstoy weaves in several other plots and pages of descriptive agricultural talk. Don't let that turn you off, though. Anna Karenina is a poignant exploration of family life, farming, betrayal, and forgiveness. Tolstoy allows us into the minds of his flawed characters via interior monologues which, for better or for worse, bring us to grasp their motivations more intimately.
Walk the streets of Moscow with a copy of Anna Karenina tucked under your arm, where Tolstoy moved at the age of 9 and where he set the opening of his novel. If you're really invested in following Anna and co.'s footsteps, take the 3.5-hour train ride to St. Petersburg where Anna lived as the aristocratic wife of a passionless government official. Explore Anna's nineteenth-century St. Petersburg by touring the historic city-center, attending a performance at the Mariinsky (Kirov) Theater, and going on a horse-drawn troika ride in the countryside.
Photo Credit: Karlye Wolff