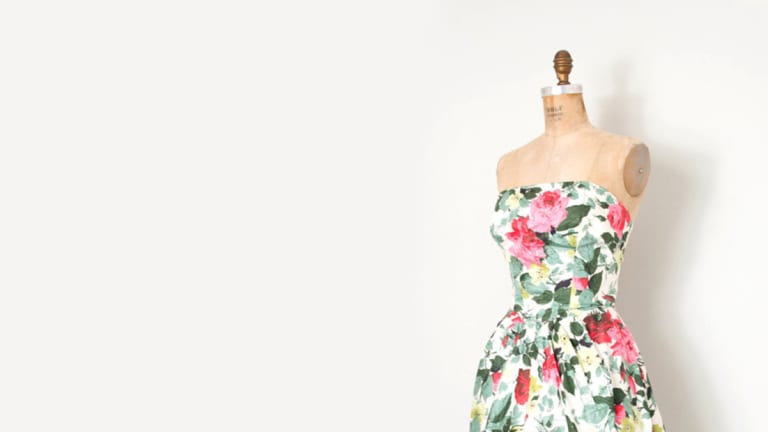 5 Etsy Shops That Will Change the Way You Dress
For the woman who loves ethical and vintage fashions
We're supporters of the ethical fashion movement here at Verily, and while we frequently feature our favorite ethical brands, our number one tip for sustainable consumerism is second hand shopping. We'll admit that recycling old clothing doesn't exactly sound glamorous (and might even produce an "ew" or two), but secondhand doesn't have to mean dingy or require rifling through endless racks of ratty tees. For the modern digital woman, there is a community on Etsy that has made vintage curation a career and lifestyle that is a far cry from the thrift store stigma. 
In fact, Etsy has become an unofficial home to some of the best online vintage sellers. Carefully choosing an aesthetic that reflects who they are, these boutiques meticulously sift through estate sales for one-of-a-kind gems that fit into their unique collections. Check out one of these Etsy shops for fantastic one-of-a-kind finds.
Dear Golden //
With more than 66,000 followers on social media, 58,000 favorites on Etsy, and 15,000 online sales, Dear Golden has become a hallmark of the vintage scene. Owner Lauren also has a brick-and-mortar shop in Michigan where she displays her finds for those who are lucky enough to live nearby. With an eye for intricate and rare details, Lauren's collections have an especially distinct curation aesthetic full of pastel colors, soft florals, silky fabrics, and relaxed fits that make her items easy for the modern woman to adapt. 
1919 Vintage //
For those of you who balk at the idea of dressing up like a caricature of the 1950s, look no further than 1919 Vintage. With items that are casually minimalist, the shop's owner Anne, has an eye for neutral hues in deconstructed fits and soft fabrics. Vintage often conjures up images of brightly colored a-line dresses (which we love, of course), but many of us prefer a more low key feminine look. If this describes you, peruse Anne's oh-so-versatile separates that will blend perfectly into your wardrobe. 
Vintage Mistress //
Calling all lovers of breezy sundresses! The easiest outfit is the one and done dress that immediately makes you look pulled together and feminine. If you swoon over fancy prints but prefer a more flexible and comfortable fit, The Vintage Mistress has a dress (or five) for you. Shop curator Elizabeth also specializes in vintage bridal, which is enough to make our hearts start racing. 
OmniaVTG //
If you love bright colors and bold prints but want to integrate vintage with your modern closet, OmniaVTG is your one-stop shop. Full of fun, quirky graphic prints and punchy bright colors, shop owner Naomi is always making sure her collections are both fun and feminine. Based in Brooklyn, NY, Naomi can be found selling her vintage gems at various flea markets in Brooklyn and Manhattan on the weekends. 
SwaneeGRACE //
Excuse us while we recover from excessive swooning. We definitely have a soft spot for gowns inspired by Grace Kelly and Audrey Hepburn, so SwaneeGRACE is where we head to find stunning floral party dresses in figure flattering fits. Unabashedly ladylike and feminine, shop owner Jeanna reminds us that embracing a bolder style is A-OK.
With the help of these passionate curators, you'll be on your way to a more ethical wardrobe in no time!