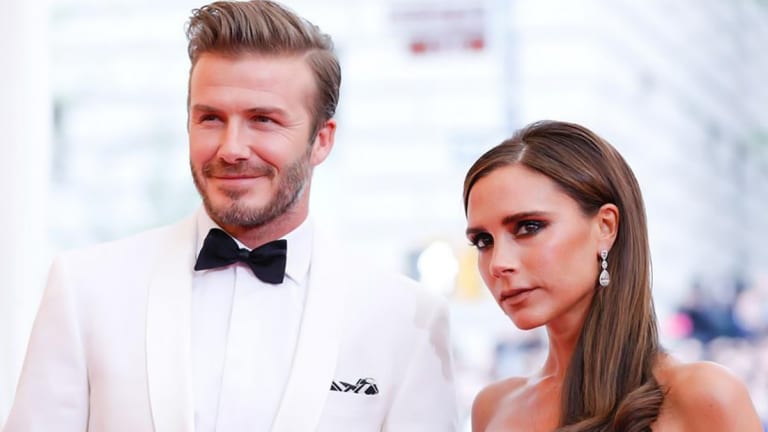 3 Surprising Things I Discovered About the Beckhams' 18-Year Marriage
This might change how you look at this celebrity couple.
A scantily clad "Posh" pop star and tattoo-covered English footballer hardly conjure the common image of devoted mom and family-man dad. Nevertheless, as Britain's second most famous duo (apart from the Duke and Duchess, of course) celebrates their eighteenth wedding anniversary this week, the thing I've come to most admire them for is the fact that they managed to make the notion of marriage and family just as cool as sold-out athletic arenas and international runways.
A peek at their Instagrams quickly reveals how important their family—which includes Victoria (43); David (42); sons Brooklyn (18), Romeo (14), and Cruz (12); and daughter Harper (5)—is to them. Family trips, bedtime stories, dance classes, father-son basketball games—all of it is documented alongside loving captions that give a glimpse into the famous family's home life.
It's truly impossible to know how any marriage or family dynamic functions—even one in the spotlight, ironically—but a few things I've noticed the Beckhams doing are actually grounded in years of research. Perhaps these insights are clues as to how they've managed to keep their love alive nearly two decades in. 
They Use Words of Affirmation—a Lot
Everyone's love language is different but clearly both of the Beckhams spread their love through words. Dr. Gary Chapman's renowned love research shows that knowing how to speak your partner's love language and communicating your own to them makes a big difference in relational satisfaction. Social media is the most public platform for the Beckham's words of affirmation, but in media interviews as well, both David and Victoria are quick to praise one another's talents and hard work. Earlier this year, Victoria joined David as an OBE honoree (Officer of the Most Excellent Order of the British Empire) for her fashion and charity contributions. Of her achievement, David wrote on Instagram: "Today was a special day, this young lady was awarded an OBE and as a family we couldn't be prouder … A hard working woman, mother and wife… congratulations xxxxx ❤ @victoriabeckham." Victoria is quick to sing his praises as well. Talking to Grazia, she said, "My husband constantly inspires me and guides me—he has done so much good work, I look up to him and have the utmost respect and admiration for all that he has achieved." While I'm not always a fan of overly gushy couples on social media, there's something to be said for vocalizing that you're proud of your partner.
They Prioritize Their Marriage
The Beckhams have often been the source of tabloid gossip, owing largely to the fact that each of them has an active career that demands them to travel solo. When paparazzi get wind of time spent apart, the divorce rumors swirl. The couple, however, maintains that they always make time with family and one another a priority. In 2015, Victoria told Grazia: "Yes, we travel a lot with our respective businesses and charitable commitments . . . but we always make time for each other as a couple and as a family. David and I have nothing to prove. We love each other, look out for each other and are strong as both partners and parents." 
Earlier this year, for British Vogue, Victoria wrote an open letter to her younger self. In it she said, "On marriage: have patience. Bite your tongue. Be supportive. And preserve a bit of mystique. . . . Always make time for each other. Because if you don't, everything will revolve around the children and I'm not sure how sexy that is! And do not forget the person you fell in love with. . . . Even when you don't necessarily want the same thing, your support for each other will mean that you will stick together and grow up together. And it will be worth it." Research shows that couples who put one another first, even when children are in the picture, are typically the couples who last. In fact marriage researcher Dr. John Gottman has found that marital satisfaction significantly declines with the birth of the first child. The reason? Couples forget to make time for one another. Happy couples make time for one another no matter what, setting aside special rituals of connection that makes sense for their lifestyle. It looks like Victoria and David have done their homework! 
They Address Conflict
Pre-marriage prep counselor Peter McFadden says that resiliency in love is key. "To love in good times makes the good times a little bit better. To love in bad times makes the bad times a lot better," he wrote for Verily. In February, David spoke on BBC radio about how his marriage hasn't always been easy. "Of course you make mistakes over the years, and we all know marriage is difficult at times, but it's about working through it," he said. "Whenever we've come up against tough times, we know each other better than anyone knows us, so we talk."
Jodee Virgo, MFT, wrote for Verily: "We have two options when confronted with hard relationship topics—we can avoid them and hope that they magically disappear, or we can lean into them, practice being authentic, and deal with what happens. Healthy couples rarely avoid hard topics. Instead, they make the time to discuss them. It's not always easy, but it is necessary." The Beckhams seem to work hard at maintaining a happy marriage and home life. Talking to Today about the launch of her affordable, body diverse fashion line for Target in March, Victoria opened up about her family. "I'm very lucky that David is the most fantastic father and husband, and we're very equal at home and make a good team. . . . It's a really happy household; there's always music on, we're always singing and dancing."
All of this no-doubt plays a part in how they've made it to their 18th anniversary. Then again, perhaps the key to the Beckhams' seemingly happy marriage is really quite simple. As Victoria put it, "He's my soulmate, we really complement each other. . . . He inspires me every day." Meanwhile David echoed, "Do we stay together because it's a brand? Of course not. We stay together because we love each other."
Photo Credit: Yahoo