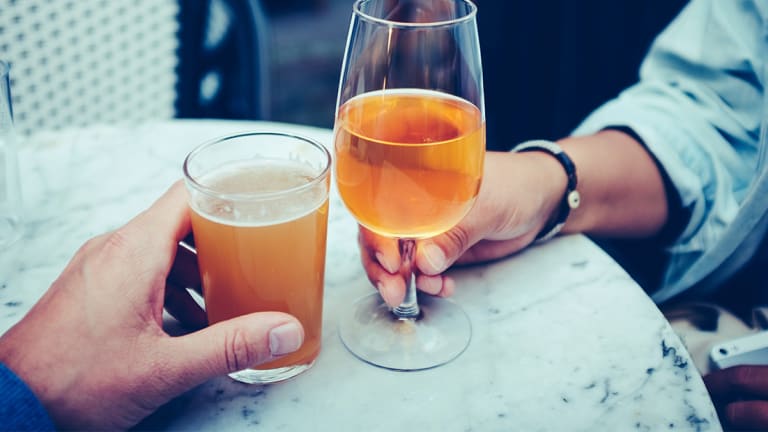 4 Places You Can Meet Men IRL (Without Even Really Trying)
'Putting yourself out there' never looked so fun!
Now that the Fourth of July has come and gone, we are very officially in the height of summer. The nights are balmy and long, the weekends are sun-drenched and lazy. You've probably got a bit of a tan going (even if it's faux). And if you're single, your summer dating radar is turned up to red alert fire emoji levels.
My first instinct in summers when I've been unattached has been to dial up my app usage. But I just ended up spending too many precious moments of summer with my face buried in my phone and barely anything to show for it. Taking a vacation from dating apps during vacation season will help you reset, relax and perhaps even get that IRL "meet cute." Ahead, I've mapped out four places you'll probably go this summer that also happen to be great places to meet guys.
01. CRAFT BEER BREWERIES
It is a universally held truth that dateable guys hang out at craft beer breweries and bars. They love them. And the great news is—they're everywhere. Go to one in the middle of the afternoon with a single girlfriend. Hang out at the bar (this is a tip from a real dude) and start conversations. Nervous about how to do that? Allow me to serve up three easy intros you can deploy this weekend:
- That beer looks great. What is it?
- Hi. I'm [insert your name here]. What are you drinking?
- I've never been here before. Do you have a favorite beer I should try?
02. EVENTS WITH THE SUFFIX 'FEST' IN THE NAME
Summer is event season! No matter where you live, I can guarantee there is some sort of "fest" in town that caters to one of your unique interests—favorite foods, music you like, or an activity you love. Gather a few friends. Buy tickets. Scope out the scene and start smiling at people. Talk to people around you in line. Ask a cute guy what he's going to order at the food truck. Ask a cute guy if he could hold your drink for a second while you tie your shoe. (Tie your shoe, say thank you, and then introduce yourself.) Note: I'm NOT talking about the "Bend and Snap" here; I promise you, it's not as obvious to him as you think!
03. A WEEKEND GETAWAY WITH THE GALS
No, I'm not suggesting you'll find your soulmate on a bachelorette weekend in Las Vegas. (But nothing is impossible.) Rather, schedule a local-ish trip with friends over a hot summer weekend. Book a couple nights in a town or resort with tons of activities, restaurants, a lake, hiking trails and fun, dive-y bars.
During the summer everyone is trying to get away for a few days, so the odds that you might meet a guy who lives in your city while you're miles away is actually pretty high. Rather than firing up your apps to see if that's true, tap into that "nothing to lose" mindset I know you have in there somewhere.
04. WEDDINGS, OF COURSE
OK, I know this one is a little bit "duh" and also a little bit "No, thanks." After attending a certain number of weddings solo (Five? Seven? A dozen?), the thought of digging into your charm reserves yet again can be exhausting. However, I'd like to take this opportunity to encourage you to stay curious and keep that lipstick at the ready. The bride's cute cousin may finally be single again. The groom's buddy from college could have a haircut that makes you see him in a whole new light. Say it with me . . . "You never know!"
You don't have to change up your whole routine to meet a guy. These are all things you're probably already doing between now and Labor Day; you just have to open yourself up to the possibility of meeting someone new while you're at it.
Photo Credit: Mattias Diesel