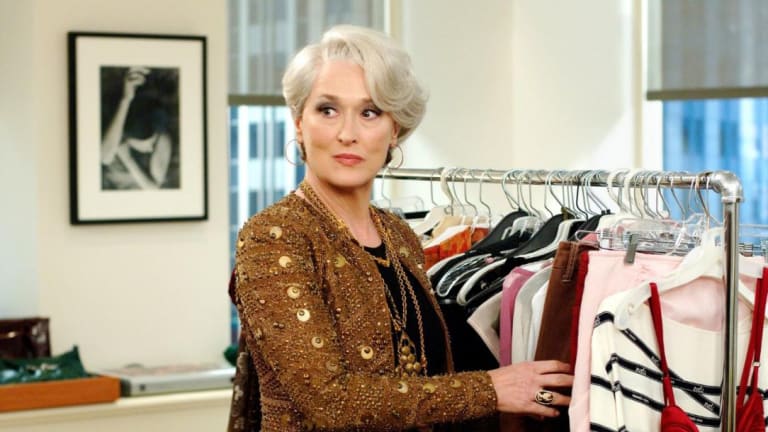 What My Real-Life 'The Devil Wears Prada' Boss Taught Me About True Style
Sometimes life is a movie.
I should have known I was out of my league when I applied to work retail at an upscale boutique. During my interview, it was clear that I wasn't their standard "type." Stacey, the owner, was wearing a voluminous black shirt. It was tailored in the shoulders but overly large everywhere else. In fact, it was startling to me. The lines were exaggerated, creating an oversize silhouette. She'd paired it with fitted black leather leggings and sky-high Valentino stilettos. Her hair fell in glistening waves over her shoulders—the kind of waves you see in hair commercials—and her makeup was artfully applied.
I'd never had a boss look like that.
"You look adorable," she told me at the interview. I was wearing the uniform of retail girls everywhere: black pants, heels, blazer. "We're very careful about how we dress here. Fabrics are particularly important." Her eyes scanned my Forever 21 blazer. "You see how, when you walk, your jacket shows the seams inside? We want to avoid that."
Eager for the job, I assured her it was no problem. I could do better. The place carried fabled designers such as Oscar de la Renta, Carolina Herrera, and Elie Saab—visionaries whose names alone invoke fashion history. I'd worked in luxury retail before and was thrilled to move up the fashion ladder to this level of couture. I'd always been able to pass off cheap H&M pieces as ready-to-wear. In fact, at my previous job, clients had asked "who" I was wearing, unaware that my clothing came from places with fluorescent lighting, packed roller racks, and teenage girls policing the dressing rooms. Of course, I lusted for high fashion. A look at my browsing history during that time would reveal a stalker-level number of visits to sites like Alexander McQueen, The Sartorialist, and Louboutin. I didn't even mind their exclusionary price points (for instance, $3,120 for a McQueen skirt) because they indicated aesthetic vision and craftsmanship. While I couldn't partake, I could admire, my eyes glued to the digital storefronts like a child pressing its nose to a toy shop window.
But while I managed to get by before, I didn't realize I was woefully unprepared for this place. Or, to be more accurate, I was unprepared for Stacey.
The first sign of trouble came via a voicemail she left on my phone about a week or so after I'd started. She was calling about my schedule but, just before she hung up, she said:
"Oh, and I just wanted to mention your clothing. You may want to . . ." here she paused, "invest in a few designer pieces. And instead of blazers, I think you should wear some softer fabrics. The items will move naturally with you while you are adjusting clothing on a client. In fact, please do not wear that blazer again."
I hung up the phone and went to the mirror. I was wearing a black Express dress with a tailored jacket. When I'd left for work that morning, I'd felt great. Black always made me feel like myself. I took off the jacket and looked at the tag—100 percent polyester. I wasn't surprised. I knew the origins of cheap fashion. But, suddenly, I felt as fake as the fabric.
So I tried to adapt. I looked online for discounted couture, only to find a Chanel dress "discounted" to $550, hardly a price point my salesgirl budget could afford. After a moment of hesitation, the circular irony won out—I was working to make money, not spend half a paycheck on clothes to wear to work. Still, I upped my typical clothing allotment, determined to find some key pieces I could wear.
I also observed, trying to figure out not just what to wear but how. In some way, being there fed my soul. I was introduced to looks I would never categorize as fashionable but now identified as avant-garde expressions of beauty. Shirts covered in feathery pieces, skirts cut from fabric similar to upholstery, booties with metallic laces. Bell-shaped dresses went from strange to pleasing. Things I conceived of as stylish—long cardigans with jeans or graphic tees with skirts—now seemed commercial, too comfy, and unimaginative. It was clear that the salon's designers created to satiate their artistic voices. Unconfined by common perceptions of fashion, they produced stunning work that, eventually, would even trickle down to those Forever21 racks in the form of a color or shape or pleat.
I had a few outfit successes. A dress with a low V-neckline and excessive shoulders. An A-line skirt cut from textured fabric. A pleated chiffon shirt with bell sleeves. Stacey liked these pieces. Her praise, to me, was like blessings from the fashion heavens. Because she owned and curated the boutique, she wasn't always there for my standard 9-to-5 shift. When she did breeze into the store in an edgy jumpsuit or pleated skirt, her eyes would immediately latch onto me. More often than not, she would pull me aside and tell me not to wear something again. Her style senses could sniff out anything cheap, poorly made, or improperly fitting. Soon, I dreaded the sight of her because it meant judgment—and not just for my clothing. 
In some ways, I was lucky to learn from her. Her taste level was extraordinary and her commitment to perfection was obvious. After all, she had built a small empire with the most powerful and recognizable designers in the industry. She demanded perfection from everyone around her but she held herself to the same standards. Everything in the boutique—from the fresh flowers welcoming guests to the hangers used for our garments—were subject to her approval. Clients were as awed by her as I was. They all seemed to relish her praise as much as I, looking for her guidance and endorsement of their selections. I once saw a client purchase a $5,000 gown she originally said she didn't like, all because Stacey told her why it was best for her body. And, of course, Stacey was right. The gown was perfect for the client, much more so than the one she had liked.
Eventually, after a miserable series of outfits deemed "don'ts," I realized I had more in common with the wannabe clients our secretary was trained to keep out of the boutique (women without the budget to seriously shop). My confidence was frayed, and it was hard for me to even work with our clients, my favorite part of the job.
At the encouragement of my husband and family (who were all distressed at my unhappiness and probably very over discussions about whether Stacey would like something or not I wore), I quit the job. I think Stacey was as relieved as I was. 
My stint may have been short, but it's funny—Stacey is still in my life. She's the voice in my head that tells me to wear that trapeze dress or those wide-leg overalls. My clothing has completely changed due to working there. I now value quality over quantity, and when I dress myself, I don't worry about whether people will think something I'm wearing is odd—I simply ask myself if it captures my imagination and speaks to my soul. It's a strange bit of irony that the place that undermined my confidence enabled me to truly find my stride in style. 
When I was there, all I could think about was whether Stacey might sweep in from the back, along with her critical eye. While that sense of dread left the minute the salon's double glass doors closed behind me for good, I took something more important with me: the confidence to find style in the unexpected and to wear it. I started a fashion Instagram, something I would never have had the self-assurance to do before. Seeing the way Stacey possessed and conveyed her fashion made me—and makes me—want to do it, too. No, I don't wear designer labels that cost hundreds of dollars, or berate others for looking sloppy. But, in some simple ways, finding a dress with just the right fit or a handbag that's the perfect color rekindles the feeling that led me to the boutique job in the first place, when I was dreaming about couture.
I will never work at a place that makes me feel bad about myself again. Nothing is worth that, and I had to learn it the hard way. But I—and my closet—will always be grateful to Stacey.
Photo via YouTube