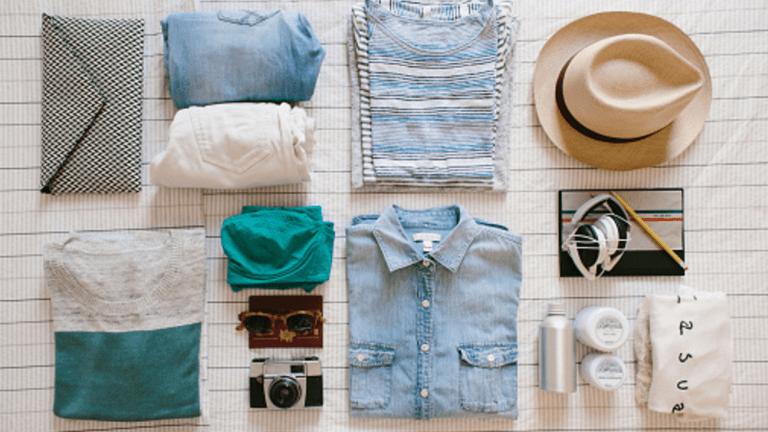 This One Thing Can Help You Travel Smarter This Summer
Make your wanderlust dreams a reality without breaking the bank.

Travel is the ultimate experience. Who doesn't want to take time off to bask in the Florida sun, hike Runyon Canyon Trail or have a staycation with a spa package? Time away from the hustle-and-bustle of your day-to-day can work wonders.  
According to a recent survey conducted by SIMPLE Mobile, 80 percent of millennials value experiences like travel over material goods. When it comes to our priorities, the writing's on the wall—the Facebook wall, that is. We prefer to spend our hard-earned cash on exciting and memorable adventures, while documenting and sharing our favorite moments with family and friends.
However, with limited vacation days and adult financial obligations piling up, it can be difficult to find the time and funds to plan a trip. Flights, Airbnbs, and food tend to add up fast, making our wanderlust dreams feel like exactly that: a dream. It doesn't have to be that way, though. Travel can be a reality, no matter where your budget stands. You'd be surprised how much you don't have to compromise.
Many people consider giving up takeout, coffee, or happy hour drinks when trying to make room in their budgets to travel—but the secret's out: you really don't have to compromise what you love to be able to take a vacation. According to the same SIMPLE Mobile survey, one-third of millennials expressed interest in saving money on their cell phone plans to be able to afford traveling. Think about it. We use our smartphones constantly, but with most data plans running well over $100 a month, it's easy to see how a daily Snapchat habit makes it a little bit harder to book that flight for a friend's bachelorette party. But what if you could save on your monthly cell phone service without having to sacrifice coverage or data? One smart (and easy) switch when it comes to our phones is just the key to open the door to the great adventures that beckon us.
With SIMPLE Mobile, you don't have to sacrifice connectivity in order to hit the road. With its Truly Unlimited Data Plan for just $50 per month, you'll have more than enough extra cash to splurge on making memories with friends.
Arguably, our smartphones are our number one travel sidekicks when we leave home. Navigation is simple, restaurant recommendations are at the tip of our fingers, and Instagram is way more exciting. With SIMPLE Mobile's reliable network and blazing fast 4G LTE** speeds, you won't have to give up any of the amenities you're used to having from your smartphone when you hit the road.
It's true that as millennials, we tend to want to do things more than we want to have things. Experiences like travel offer us all a chance to connect with the world and with each other. If we're to succeed in that pursuit, our smartphones are the ticket to making it happen. 
This survey was commissioned by SIMPLE Mobile and conducted by Survata, an independent research firm in San Francisco. Survata interviewed 1,000 online respondents, ages 18-34, between May 10, 2016 and May 11, 2017. For further information, visit www.survata.com.
* Please always refer to the latest Terms and Conditions of Service at SIMPLEMobile.com. 
** To get 4G LTE speed, you must have a 4G LTE capable device and 4G LTE SIM. Actual availability, coverage and speed may vary. LTE is a trademark of ETSI.
††† Video typically streams at DVD quality.