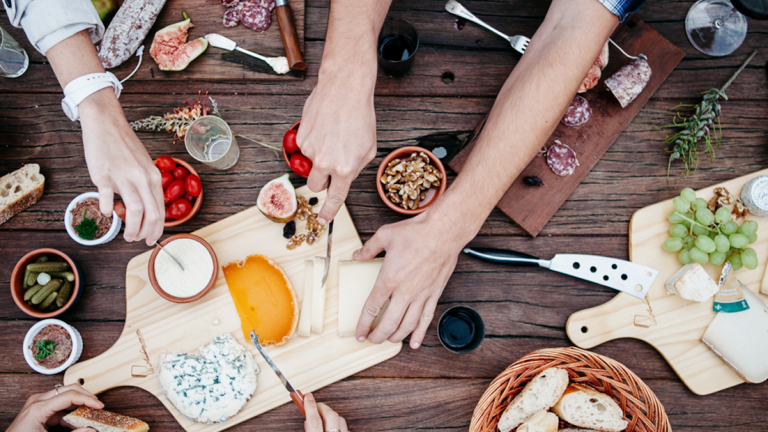 10 Fancy(ish) Essentials to Stock Up On at Trader Joe's This Summer
Plus four ridiculously easy recipes to make with them, all for only $45.
It's no secret that we love Trader Joe's at Verily HQ. It may not have the same haute cuisine vibe of gourmet grocery stores, but you'll find plenty of sustainable, clean food at TJ's that even Gwyneth Paltrow's wellness posse would approve of—especially for all your summer gatherings. Whatever your weekend plans, we've handpicked Trader Joe's healthiest and fanciest foods to create a menu worthy of your summer adventures.
Sip & Snack // Wine & Cheese
There's no better way to toast the weekend than with good wine and cheese. Cop a bottle of Reserve Chardonnay Sonoma County 2014. Trader Joe's (in)famously doesn't reveal the producers of its in-house products, but the reserve wine is rumored to be produced by high-end labels and simply repackaged for TJ's. Chill it when you get home, and then chill out some Triple Crème Brie, an extravagant fromage made among the green hills of France's Lorraine region with milk from local dairy farms. TJ's fruity, creamy, and smooth Reserve Chardonnay just so happens to be the perfect wine pairing for brie and the light fare of summer suppers. Oh là là.
Starter // Caprese Skewers
Trader Joe's cheesemakers use the traditional Italian style of turning fresh curds into smooth strands of milky Ciliegine Fresh Mozzarella. Ciliegine is Italian for "small cherry," making these the perfect portion size for popping them onto skewers with basil leaves and sweet Heavenly Villagio Marzano® Tomatoes. Keep it classic like Heather Christo's Grilled Caprese Kebabs, or add a twist with fruit and charcuterie like these Melon Caprese Skewers by What's Gaby Cooking.
Savory // Smoked Salmon & Avocado Lettuce Wraps
I squealed when Trader Joe's started carrying Living Butter Lettuce—also called Boston or Bibb—because it means a sweeter flavor and a longer shelf life. They are silky vehicles for salmon and avocado lettuce wraps à la Martha Stewart or Simply Recipes. Wrap some Pastrami Smoked Salmon and thin slices of Teeny Tiny Avocados in a buttery lettuce leaf. Dress them in lemon juice, soy sauce, tahini, sriracha, or fresh salsa for a light and easy meal you'll be craving all summer.
Sweet // Cannelés & Coffee
If there's anything fancier than a French macaron, it's a cannelé. Cannelés de Bordeaux was first created by pastry chefs in southwestern France. They were baked in extremely limited batches using traditional copper molds coated with beeswax to achieve a caramelized crust and custardy center. Today, TJ's bakers use butter but still get that classic texture using seven simple ingredients: milk, powdered sugar, eggs, flour, butter, rum, and vanilla extract. Pair with a glass of cold-brewed Organic Fair Trade Breakfast Blend coffee as you while away warm nights.
Photo Credit: Luisa Brimble