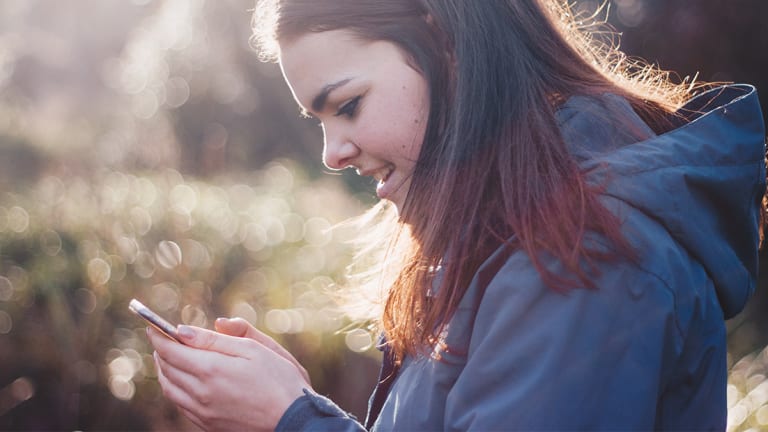 6 Podcasts to Listen to When You're on Vacation and Finally Have Time
These were worth the wait.
Many of us have already discovered the joy of podcasts—a way to learn and be entertained when we are on the go, or simply too spent to read. We've obsessively listened to Serial, Fresh Air, and This American Life, but sometimes, like reading, podcasts can feel too time consuming. If you aren't someone with a built-in commute, listening to a program isn't always high priority.
That's what different about summer: while you lounge on the beach, embark on a road trip, or jet set around the world this summer, it actually might be easier to pop on some great storytelling than pulling out a book or a movie. Here are six to queue up before you hit the road.
Episode to Get You Hooked: Jane Austen 
The History Chicks provide an hour's worth of jam-packed history lessons that you actually want to know. The hosts enthusiastically discuss women throughout history from Marie Antoinette to Lucille Ball, revealing facts and stories that are guaranteed to occasionally take the listener by surprise. Once in a while they throw in an episode about a beloved fictional character (Anne with an e, and Cinderella) and drop her into a historical context. Each episode is meticulously researched and planned, and you end each episode feeling better informed about the women who came before us.
Episode to Get You Hooked: Bringing Your Vision to Life | A Conversation With Julie Hightower 
After leaving Corporate America to set out on her own, founder Amanda Boleyn started this podcast in order to share the ups and downs of going down your own path in the business world. In each episode, she talks to a different female entrepreneur about her personal experience in taking risks and in building a successful business model. She Did it Her Way is both inspiring and useful. The ladies behind this podcast also run a Facebook support group for entrepreneurs.
Episode to Get You Hooked: In Love and Memory 
Author and blogger Nora McInerny started this podcast after experiencing a year of traumatic death and loss. As she put it,"this podcast is about asking people to be honest, about how they really feel about the worst things in life." McInerny begins each episode by asking, "How are you?" The answers go beyond the typical "good" or "I'm fine," because, as McInerny says, things aren't always fine. "Sometimes the only answer is 'I'm terrible!'" Episodes have the power to make you cry or laugh out loud, thanks to McInerny's sharp sense of humor and honest approach.
Episode to Get You Hooked: Creating Intimacy with Hygge and Scandinavian Comfort Food 
Described as the show, "for curious cooks and eaters," The Splendid Table has been around for a while, but it continues to be an interesting listen for foodies everywhere. The show is based on the power of food—its history, preparation, and consumption—and it's ability to feed both the body and soul. The guests are passionate and the hosts are easy to listen to, making this show an absolute treat. 
Episode to Get You Hooked: Rise of the well-paid woman
The Broad Experience tackles the obstacles and issues faced by women in the workplace from sexual harassment, to being a working mother, to pay. British-born writer and founder of this podcast, Ashley Milne-Tyte, said that she wanted to create something more nuanced than our usual discussion about female potential and barriers in the workplace. We at Verily know these issues are too real—for instance did you know women in the workplace are often viewed as less productive after having kids?—so we love to hear women share tips on how they navigate these types of issues.
Episode to Get you Hooked: A Reminder from a Favorite Moment in The Lion, the Witch, and the Wardrobe 
The beloved and trusted author, Gretchen Rubin (author of The Happiness Project) provides options with recordings ranging from 2-45 minutes long. "Happier covers how to build happier and better habits in our daily lives, drawing from "cutting-edge science, ancient wisdom, lessons from pop culture—and our own experiences (and mistakes)." Rubin's anecdotes provide food for thought. This podcast is a great fit for those looking for a little inspiration to carry them through their day. 
This piece was updated with a correction on the "Happier" podcast.
Photo Credit: Luke Porter