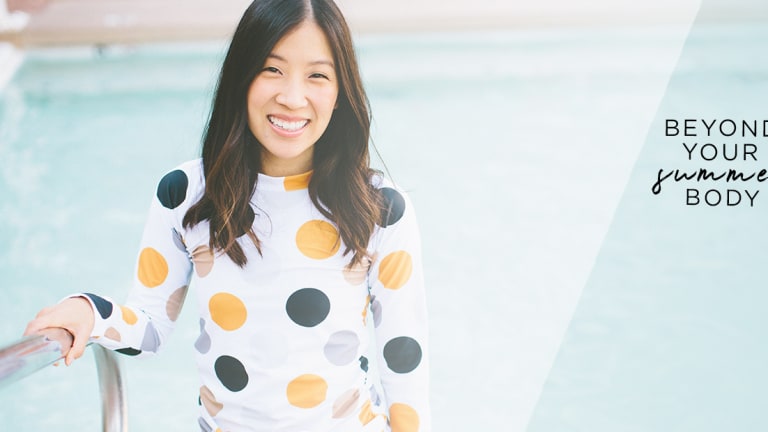 These 5 Simple Tricks Will Make You Feel More Confident At The Beach
They don't require a full body makeover.
Every year, there's pressure to "be ready" for the beach, but what does that mean? While it would be easy to tell ourselves to just get over our insecurities, we know confidence doesn't work that way. So what can we really do to feel empowered about our bodies—the ones we have, not some imaginary beach bodies? Here are a few practical tips to feel like your best you.
01. Find A Suit That Flatters Your Body, Just The Way It Is
The first way to embrace your body at the beach is to find a bathing suit that flatters you. A suit that hugs your curves in all the right places can drastically boost your confidence, making you feel like a queen. 
Our bodies are all so beautifully different and suit styles are as individual as any other clothing fit. Whether it's a sweat heart neckline, a retro boy short, ruffles, stripes, or cap sleeves, swimsuits are never one-style-fits-all, so take some time to discover a suit that looks good on you. Because at the end of the day, when you feel like a million bucks, you look like a million bucks. 
02. Throw On a Swipe of Berry Lip Tint (With SPF)
There's nothing better than the makeup-free sun kissed glow of a day spent at the beach (with broad spectrum SPF being reapplied every hour, of course). To highlight your liveliness and feel extra fabulous, swipe on a berry tinted SPF lip balm. Lipsticks aren't easy to remove once they smudge, so stick to berry hued lip balms that are natural looking and doesn't come off in streaks as you hit the waves. 
03. Use A Leave-In Conditioner 
The salt, sun exposure, and wind certainly gives you that beachy look, but have you ever noticed your hair feeling particularly straw-like afterwards? The harsh salt water strips hair of natural oils, not to mention contributing to the tangled mess of post-beach head. The UV rays can also damage your hair's cuticles (the outside layer on each hair strand), resulting in broken hair, discoloration, and frizziness. 
To avoid damaging your locks, take some preventative measures by using a leave in conditioner like Sun Bum's 3 In 1, which contains UV protections and lots of natural plant oils that smooth down the hair cuticles to prevent damage. Your hair will stay luscious and healthy all day (and long after)!
04. Choose A Cute Coverup You Can Wear Afterwards 
Many of us use activewear or clothes we don't really care about as cover ups. But why waste this opportunity to create a super cute beach outfit? Instead of throwing on whatever, choose versatile items that can be worn over your swimsuit and for any other occasion. You'll look great, and also feel great about yourself. We especially love breezy button downs, maxi dresses, and wide leg pants! See our favorite items here. 
05. Focus On Having Fun 
The most important tip for feeling confident at the beach is to simply focus on having fun. Oftentimes, we waste too much time worrying about how we look and we miss special moments with our family and friends. If you look around you, you'll notice that the most confident women are found laughing and enjoying life. So rather than worrying about how you look, be present in the moment and focus on the life going on around you!
Share your own summer stories with us using #VerilyMoment and #BeyondYourSummerBody on social media!