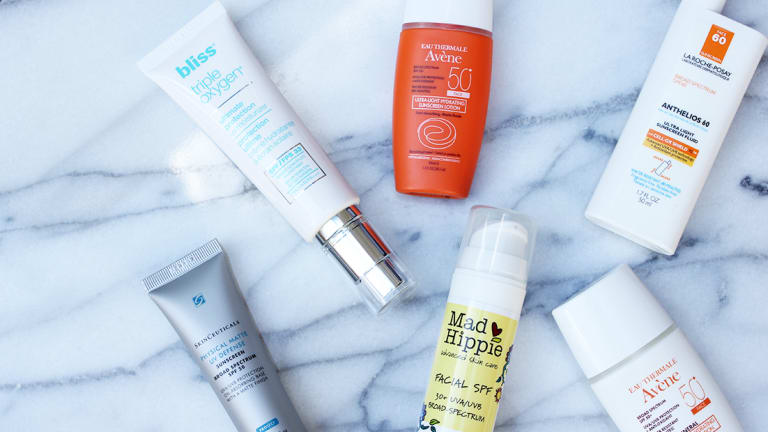 The Top-Rated Sunscreens That Won't Make You Break Out
No post-sunscreen pimples here!
Have you ever opted to skip sunscreen because, let's be honest, you know it's going to make you break out? Unfortunately, many women avoid using heavy-duty broad-spectrum SPFs because they anticipate weeks of clogged pores and angry pimples afterward. If you're someone who already battles acne, you know just how frustrating it is to slather on more things to clog your pores.
While avoiding a breakout is understandable, the threat of skin cancer, premature aging, and painfully burned skin is all too real, and using a broad-spectrum SPF is literally every single dermatologist's No. 1 recommendation. But who said you had to settle for a nasty breakout in order to stay protected?
We've searched high and low for the top-rated SPFs. Here are the ones that rank high alongside testimonies from women who are just like you.
Neutrogena Clear Face Breakout Free, SPF 55
"The search for non-greasy sunscreen for my face is over. This one goes on smoothly and does not leave a greasy film. It completely disappears after being rubbed in, no more rubbing my face raw to get the white coat of sunscreen to rub in. I use this as my daily sunscreen under makeup for everyday use. Both my daughter and I have not had any breakouts or skin irritation from its use." —LAS, Amazon User
SkinCeuticals Sheer Physical UV Defense, SPF 50
"My skin is prone to dryness and acne. I've tried a few UV defense products without any luck. I tried a sample of this, and three days later purchased it. I prefer the tinted UV defense because you can go out without any makeup but the tint provides minimal color to your face. I really like the sheer feeling you get after application. Most UV products have that oily feel, but this product feels light. It is also blendable with foundation, concealer, or BB/CC." —Amazon User
Coola Sport, SPF 50
"I hate the feel of sunscreen and never used it much unless I was planning a day outdoors in the sun. The sunscreen we bought in stores always felt oily or sticky, made my skin look pasty, and it rubbed off against anything I touched even hours after application. I ordered the unscented version [of COOLA], and it is heaven. I wear it every day now! It doesn't get rubbed on my clothes or the couch or my car all day long." —Ariane209, Amazon User
La Roche-Posay Anthelios Mineral, SPF 50
"Love this face lotion. Can be worn under makeup or without. Very natural coverage, so it does not look like you are wearing a tinted moisturizer, which is a good thing. Takes the redness out of my face and makes my skin look like a slightly better version of itself. Perfect for the gym/working out in the sun. Have not broken out." —KatieD, Ulta User
André Lorent Ultra Sport Sunscreen, SPF 30+
"The best sunscreen ever. I have tried many expensive luxury brands and drugstore brands and this one is the only one that lives up! Non-greasy and not the typical sunscreen smell. Yes, it leaves a little chalky color . . . but most goes away if you take the time to really rub it in. It does the job of keeping you from getting burned. I like the fact that if I sweat with this on, I don't feel like my skin is slimy like with other sunscreens." —modweekender, Amazon User
Alba Botanica, Very Emollient Sunscreen, SPF 50
"I love this stuff! It's hard to find fragrance free sunscreens and almost impossible to find one that isn't a thick white cream. This sunscreen is a convenient spray and it works great. I used it when I'm in the sun for hours and do not get burned." —Vicki, Amazon User
Tatcha Silken Pore Perfecting, SPF 35+
"I have sensitive, combination skin and this sunscreen is amazing! It lives up to its claims and doubles as a primer, providing a smooth canvas for makeup application. I apply it at the end of my morning skin care routine, before makeup application. It keeps my oily T-zone matte all day, and the rest of my face is well moisturized. I cannot recommend this sunscreen highly enough." —Sngray11, Sephora User
Sun Bum, SPF 30
"The texture and feel when I put it on was incredible! It felt like I wasn't even wearing sunscreen. No oily or chalky feel. Honestly, the moisturizing aspect made it feel better than my normal skin. While I was applying it, I wore a black T-shirt and rubbed my arm against it, and nothing! No streaks, no white marks, nothing at all. Color me impressed." —Bridget R., Amazon User
Eau Thermale Avène Water Resistant, SPF 50
"Light and moisturizing, I use it every day. I'm outdoors and active and Eau Thermale Avène hydrates and protects my skin (including my face) without clogging my pores." —Amazon User
Mad Hippie, SPF 30+
"I love this product! My skin tone is of a darker hue and have been searching for an all-natural SPF that spreads on clear. I know from experience that a lot of times SPFs can leave a white, chalky residue, especially with my darker complexion. I have my proportions set up proper now that it glides on clear as long as I do not over-apply." —Amazon User
Bliss Triple Oxygen, SPF 33
"I am obsessed with this moisturizer. I love the fact that I don't have to put an extra layer of a sun protector over my skin care products; this has both in one! I also love how quickly this moisturizer absorbs and dries into the skin and doesn't leave my skin looking oily. I will definitely have this in my bag all summer long!" —Alisha, Bliss Reviewer