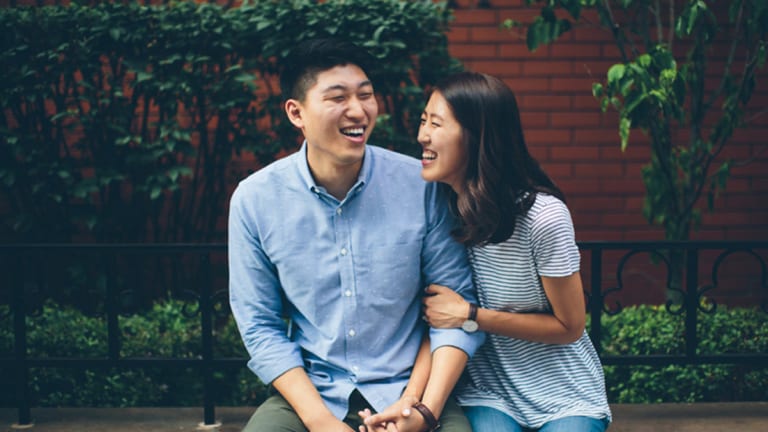 5 Real-Life Love Stories That Prove Summer Romance Can Last
'Tis the season for sparks to fly
Gone are the days of holing up indoors and dodging from car to home to avoid the cold—and thank goodness, because it sure is hard to find an S.O. in that kind of climate! With salty waves splashing the shore and hot sun toasting our shoulders, summertime has a special kind of romantic magic. That's why this is the time to step outside your comfort zone, say hello first, and give your Bumble app a much needed break.
As we officially head into these warm, spirited months, we thought it'd be fun to share how a few women met their guys during the summertime. Here are five stories that will get you excited for the hot weather ahead.
01. Jump in! The water is nice!
Recently relocated to a brand new city, Karen was having a hard time meeting new people. "Going the bar scene alone is not for the faint of heart and definitely not up my introverted alley," she recalls sharing with a coworker. After asking Karen if she knew how to water ski, her coworker offered the invitation to an upcoming ski team practice. "Going alone to a new type of event, where I knew exactly one person, is something I can confidently say I had never done before, but I went hoping to meet people."
Hooked on the idea of being in the water several hours every week, Karen joined the team. Her coworker confirmed she had pegged a guy for Karen: the one with the red beard who aced big jumps and could ski barefoot. "A huge smile came across my face. I had always been a sucker for any guy with red hair."
"I went through that summer becoming friends with Ben and everyone on the team. He was one of the nicest people, and he could see that even though I could water ski, I wasn't up to the level needed for the team. He knew I wanted to get better and knew I would need coaching to get there." Jumping in the water one night to help her master a new skill, Ben completed an exercise "over and over and gave me pointers. Ben's dedication to coaching me that evening made me like him even more."
Building a close friendship over two summer ski seasons, the two officially became a couple. Now married almost a year and parents to their new baby boy this month, Karen encourages—especially to introverts—"Friends first, forever always. Slow but steady wins the race!"
02. Maybe your friend's plus one will be single!
"I had just graduated from grad school and went up to a wedding for one of my best friends from school," shares Stephanie. "My friend, Carrie, came to the wedding and brought a date, who happened to be her late husband's best friend." Carrie's husband had passed away at a young age, and his friends accompanied her to every event that first year to support her. After realizing that Steve had traveled to her hometown recently for work, the two began talking, and danced to every slow song that night.
After one cancelled first date, and a little perseverance, the two began dating full-on that summer. "We spent so many nights walking to our favorite restaurants, eating out on sidewalks or patios or rooftops, going to baseball games, and just hanging out and talking in the parks. I swear those sultry summer nights kicked our romance into overdrive!" She shares, "We officially started dating July 19th, got engaged the following July 19th, married 9 months later, and found out we were having a baby on… you guessed it, July 19th! You could say we have a soft spot for July 19th!"
03. There is treasure to be found at garage sales!
"I was volunteering at a garage sale for my church and our mutual friend actually called my now-fiancé, Ben*, to come and help," explains Allison. "We connected and realized we had a few mutual friends and exchanged numbers. I didn't have any intention of dating, I honestly exchanged numbers so we could coordinate a group hang out later that week."
The group hung out a few times that June, and Allison and Ben eventually spent more time together individually. "Because it was summer, and we both happened to be living with our parents, we frequently went to local parks or lakes to hang out outside. We also went to watch our friend play intramural soccer and he used, 'Let's go cheer on our friend' as an excuse for us to all hang out together. It quickly became clear that we both had feelings for each other. I was initially resistant, because I was moving soon, but we ended up doing long-distance for two years."
04. Fireworks could cause sparks to fly on the 4th of July.
Rachel and her now-husband originally met each other freshman year of high school, but years later they met again and things turned from old high school friends to a forever romance.
"I was invited by a friend to stay with her at a cottage over the 4th of July weekend," remembers Rachel. "I was hesitant as I hadn't hung out with that group of friends in a long time, but I figured it would still be a good time. I didn't expect to stay all weekend, but I ended up staying until Monday."
That extra time for fun is just what Rachel and Charlie needed to connect. "We were out on the boat all four days, having a blast in the amazing weather. At night there were bonfires and we shared some kisses that caused sparks. As I left that Monday to drive home, I thought to myself, 'Wow, could I really date Charlie?''' Realizing she would only date him if it were serious, Rachel told herself that if he texted or called within two days, she would consider dating him seriously.
"As soon as I pulled into my driveway, I had a text from Charlie saying, 'I hope you made it home safe.' I got the butterflies in my stomach and a huge smile across my face." Six years from that 4th of July, Rachel and Charlie are celebrating their three-year wedding anniversary and the joyful news of a third child on the way. "I am so happy I stayed that long weekend six years ago."
05. Don't hesitate to steal his salad.
"My roommate invited me out to join their family for dinner at my favorite restaurant," shares Sara. Her roommate's brother happened to be in town to celebrate Father's Day. "At dinner, I asked him if he was done with his caesar salad, he said 'yes' and gave it to me. I found out later that he definitely wasn't done, he just thought I was pretty," laughed Sara. After her roommate left to hang out with her boyfriend, the two ended up watching a Bridezilla marathon and then Wedding Crashers. "Oh, and how's this for foreshadowing? I wasn't a bridezilla, but we did have wedding crashers!"
Because he was in college and on summer break at the time, it was super easy for him to come and visit for long periods of time. "My apartment had a great pool, so it was natural to just lay out all day and invite people over," Sara explained. "We were able to go on so many dates that were affordable and didn't involve just sitting down for dinner. It helped us get to know each other in a more well rounded way. There wasn't the desire to stay inside and watch Netflix all day."
"Oh, and summertime in Texas is all about the country music concerts and outdoor festivals. If you respect each other AND can bond over music and food, you need to put a ring on it."
*Some names changed for privacy.
Photo Credit: Cynthia Chung Photography