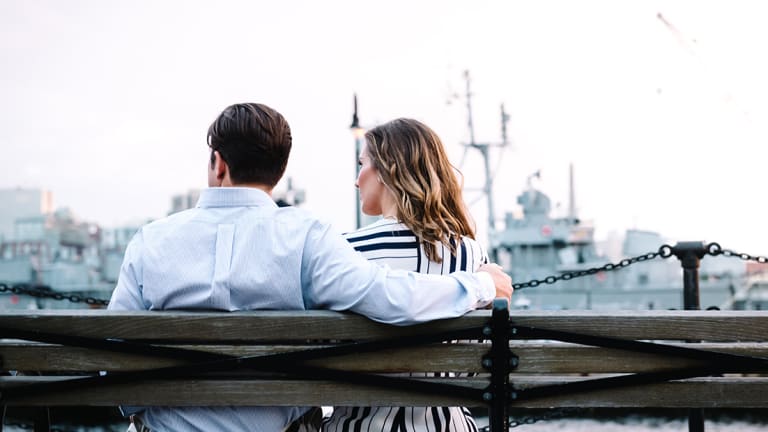 5 Times Dating During the Summer Is the Worst
Please don't hold my hot and sweaty hand.
Summer is finally here, and it's a great season for romance. That being said, summer also brings its own unique dating dilemmas for us to sweat (and it's not necessarily the heat!). Whether you're college sweethearts suddenly separated for the summer or you find yourself having just met a guy right before a big family get-together, the timing can be weird. Everybody thinks of summer as a time for carefree flings, but here are five reasons it can be more of a pain in the arse.
01. It's hot and gross outside.
Summer is the perfect time for romantic picnics, romantic evening walks along the beach, romantic afternoon hikes…unless of course it's disgustingly hot outdoors. Why oh why do all the cute rugged men fantasize about romantic hikes when it's 100 degrees outside? It's pretty hard to exist, let alone hold hot, sweaty hands, when you both would rather be in a tub of ice. 
02. Awkward situations with friends? Fine. Awkward situations with a date? Pass.
In the summer we make more plans than ever. That's great but presents some dilemmas. Suddenly you're wondering whether you should invite him to your friend's BBQ, the picnic with your college buddies, the fireworks at your cousin's house. How soon is too soon? Oh, and what about when your new guy wants to take you to a pool party with all his friends? It doesn't mean you have body image issues if the idea of being in a bathing suit with your new crush doesn't thrill you. It's one thing to hang with your girls by the pool, or play pickup beach volleyball with some cute randoms by the beach; it's another thing entirely to be half-naked on a second date, amiright?
03. Meeting the parents way too early.
There is nothing like a gentleman who picks you up for a date right at your door...unless of course you are staying at your parents' house over the summer. Just the idea of Dad opening the front door and sizing up your new guy makes you want to army crawl out the door! If you're home from college for the summer or planning a vacation back to your hometown, your date will probably meet your parents way sooner than normal. Even if you've been dating a few months, the prospect of a Fourth of July spent with one of your families can feel like a lot—because it is.
04. Bad timing. 
All winter long you have been hoping to meet someone awesome. Then come summer, when you finally do—you skip out of town for a month? It's not like you can cancel that vacation (wait...can you?). When it comes to finding love, timing is everything. Whether you are leaving on vacation for a week or he is headed to Maine for a wedding, a lot can happen to knock your fragile romance off course. What if this guy meets someone else and you miss your chance? While the answer is clearly: relax, if he meets someone else then it's not meant to be, it's still a summertime dilemma that can ruin a relaxing week away at the beach.
05. Location, location, location.
Meeting a guy over the summer is the perfect setting for your very own version of The Notebook—which can lead to some major drama! When the summer starts to cool off and fall has you heading back to real life, what do you do with your summer beau when it's time to go? Was it just casual, or is keeping up a long distance relationship worth it? Not being certain about your longterm location can make navigating your love life a lot more complicated—unless of course your guy is Noah Calhoun, in which case, make it work, girl!
Photo Credit: Alice Donovan Rouse