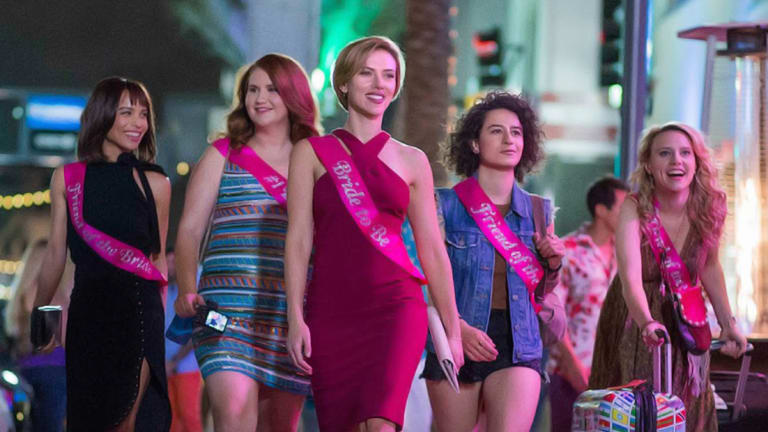 How 'Rough Night' Just Wasted a Great Female-Director and Female-cast Opportunity
We could have done better.
The much-anticipated film Rough Night, directed and co-written by Lucia Aniello and starring a cast full of wickedly funny, talented women including Scarlett Johansson, Kate McKinnon, Jillian Bell, Ilana Glazer, and Zoe Kravitz opens this weekend in theaters. With a female director, co-author, and almost exclusively female cast, Rough Night is something of an anomaly in the film industry. And while I tend to think it is a little condescending to hype a movie or book or what-have-you just because it was created by women, it's hard not to be intrigued by such a thoroughly female production.
For such an exceptional cast, however, the movie itself is pretty unexceptional. To say that the film is derivative is an understatement. Rough Night is literally a gender-reversed version of the 1998 film Very Bad Things, in which a group of men accidentally kill a prostitute during a bachelor party in Las Vegas. The movie starts out innocently enough, a group of young ladies out for a crazy bachelorette weekend, but quickly degenerates into a steady stream of jokes about strippers, masturbation, genitalia, fellatio and, well, sex. With its dark, sophomoric humor and bachelor/bachelorette party-gone-wrong storyline, Rough Night is also heavily reminiscent of other more recent films such as The Hangover and Bridesmaids (with some pretty obvious allusions to Weekend at Bernie's as well). Staying true to its genre, Rough Night is fairly raunchy, earning the film its place as, as Variety puts it, "the first hardcore R-rated studio comedy directed by a woman in nearly two decades." 
Despite its raunch and predictability, Rough Night is being celebrated in the mainstream as a feminist victory. In the wake of Patty Jenkins' Wonder Woman success and Sofia Coppola's historic Best Director win at Cannes, Rough Night is thought to be part of a string of wins. Writing for Variety, film critic Owen Gleiberman admits that the film itself is nothing special, but still represents a win for feminism. "Do we want to see more women directors who have the scalding audacity of a Kathryn Bigelow, or who can turn a tent-pole origin story like Wonder Woman into a cultural event the way Patty Jenkins did? Duh and duh. That said, we also need more women to direct the [Middle of the Road] entertainment of the week," Gleiberman writes. 
Co-writer and director Anniello, herself, stated that she felt pressure not to "mess it up for the next woman to come along." Rough Night, in theory, represents an important step forward in the march toward gender equality.
Consider me unconvinced. 
Gleiberman's assessment, that women have achieved something meaningful by recreating the kind of vulgar films that men have been churning out for decades, echoes a common train of thought in feminist thinking: that if men are doing something, women should be doing it as well and in equal measure. It is not enough to prove that women are funny (duh). We need to prove that we are also capable of humor as dirty and off-color as men's (also duh). True gender equality, as measured by Rough Night, requires that women stake their claim not only in greatness, but also in mediocrity, filth, and potty humor.
Forgive me for finding little purpose in this crusade. Is gender equality only achieved when women are responsible for creating 50 percent of the world's crappy cinema? I don't think so. If I'm right, I'm not sure that we can chalk Rough Night up to anything but another kinda-funny, kinda-charming, but mostly-tasteless movie that happens to be produced by and feature women.
Please don't mistake my disapprobation as a double standard. I'm not giving the film extra points for being written and directed by women, so I won't dock it for that reason either. I'll go as far as to say that the film has almost enough laughs to make me overlook a lot of its stubborn allegiance to low-hanging-fruit sex humor. To borrow Gleiberman's phrase, "Middle of the road" actually sums it up nicely: Rough Night is a largely unremarkable film with some solid laughs and a lot of filth. But does it represent an important step for women in film? Hardly. And demonstrating that women are capable of creating films as debased as those traditionally produced by men is a poor reward for what I can't help but call a lost opportunity.
Photo Credit: YouTube