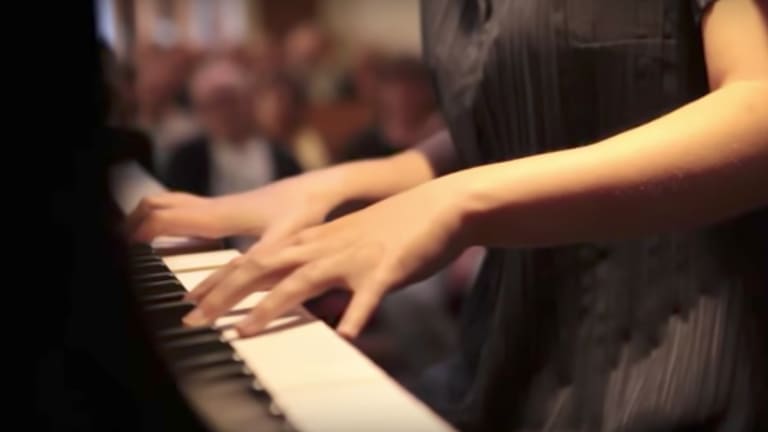 4 Ways the Rachel Flowers Documentary Will Give You So Much Joy
If you need proof for the power of love and music, look no further.
Inspiring is an exhausted word, but after I finished watching Hearing Is Believing, the new nonfiction feature from award-winning producer/director Lorenzo DeStefano, I couldn't think of a more apt description. It might even make you rethink the word. From its crowd-sourced inception to its well-waited arrival (it's streaming online now), it tells a story of humble beginnings, family, music, and falling in love with your calling.
It's also a story about happiness.
Born fifteen weeks premature, Rachel Flowers came into this world weighing one pound, five ounces, leaving family and doctors with low hopes for her survival. After three months in the hospital, Flowers survived, but her prematurity caused the loss of her eyesight. "During that time the nursing staff allowed me to bring my guitar in to play music," her father recollects in the film, as he holds his guitar. "I wrote this piece for her. She was my serendipity."
That love of music and of family is a clear theme in Hearing is Believing. Most 4-year-olds begin music lessons clumsily pecking at the keyboard (I know, I was one of them), but Flowers started out by playing entire movements of Bach and Beethoven—by hearing them only a few times. But this is a story about much more than child genius. As the film evolves, you not only see Flowers' talent in action, but you also see her heart; her joy and distinctive laugh are absolutely contagious.
Hardships, by their definition, are unfair. When unwarranted misfortunes come our way, it's easy to find ourselves wallowing in self-pity or anger. Yet adversity often allows us to rise to the occasion; it draws up our strengths in a way that a life of ease never would. At one point, Flowers' instruments were stolen in a home robbery. Poof, gone—thousands of dollars of instruments. After her initial shock and tears, Flowers spent an hour playing the piano (that wasn't stolen) to regenerate. "She got her joy back," her mom says. 
The moment echoes a constant theme in the film. "You just have to keep moving," explains Flowers' mom when recalling how, surgery after surgery, it was becoming clearer that her daughter was indefinitely blind. This kind of outlook summarizes the Flowers' family approach to life in general; they take adversity in stride, and instead of focusing on it, they cultivate its fruits.
The film also hits home a message on the strength of love as a most powerful driver. Flowers' first experience of music was an act of love: her father playing for her in the hospital. Her love of music—inspired by her family's love for her—is deep, incredible, and constant. She's motivated not by fame and glory but by her own understanding and pursuit of adding beauty to the world. This kind of inspired life is contagious. The people who surround her—her musical mentors and people in the professional musical field—are amazed not only by her sheer talent but also by her drive and her love of what she does.
Music speaks to us in a way that neither words nor even pictures can express. "Music is a balm for the soul, you know," explains one of Flowers' music mentors. "When you've got the music, you feel . . . embraced by something magical . . . how important it is for music to keep our spirit alive." Too often in our fast-paced visual world, we lose sight of this simple power of sound. Addicted to visual stimulation, it can actually be hard to sit and just listen. This documentary itself—with so many breaks of musical performances—gives us just that kind of opportunity.
Despite the stunning story and sounds of Hearing is Believing, there was still something yet that surprised me. Flowers' story is a reminder that talent does not always beget ego. In her day-to-day life, the documentary shows, Flowers appears to go on wholly unaffected by her exceptional talent. Down to earth, never putting on airs above her working-class Californian roots, Flowers doesn't simply cultivate her genius in music—she cultivates her genius in being completely authentic in everything she touches.
The film leads viewers to believe that, for Flowers, happiness isn't an accomplishment. It's not being famous, making money, or touting her beauty (or the beauty she creates); it's an existence she exercises. Making music brings her joy, and it's a contagious joy that makes you think: What brings me joy?
Hearing Is Believing ultimately reminded me that "doing is believing" in yourself, in those you love, and in pursuing what brings you joy. Which is more than you can say for many of the streaming offerings in TV and film today. Watch, hear, be moved, and believe.
Photo Credit: YouTube